February First Thursday: Metal, Machine Music and More
Peter Beste at Sugar
Sugar Gallery shows
Peter Beste's
stark images of Norwegian black metal musicians, a documentary project Beste completed over the past four years. "In the early 1990s, these self-proclaimed 'Norwegian Heavy Metal Satanists' burned fourteenth-century wooden churches, desecrated graveyards, and incited blood feuds as part of their campaign to rid Norway of Christianity and revert to ancient Viking customs," explains the press release.
Opening Reception • 6-10pm • Feb. 1-28
Sugar Gallery
• 625 NW Everett #108 • Tel. 503.425.9628..................(more)
Posted by Jessica Bromer on January 31, 2007 at 3:12 | Comments (10)
Permalink
---
Rose vs Cloepfil, Plagens vs. Green: who owns whose e-ass?
Ahhh there is nothing better than
one architect (Charles Rose) talking smack about another one (Brad Cloepfil), while name dropping Kanye West ...and when the commenters on Portland Architecture start bringing electricity, sidewalks, straight A students in NYC and whether Portlanders are qualified to identify a cow or not
it's like the smell of napalm in the morning!
Oh and the oft reactionary Peter Plagens attempts to besmirch Tyler Green and other art bloggers with some lazy blanket rhetoric
and gets utterly "pwned"
(look it up Peter, it is already passe). At PORT we make pretensions of
serious
art
criticism
and back it up, along with
first on PORT
news
and important clarifications
when rank disinformation is being published as fact.
*Update:
Peter Plagens responds to Tyler Green's response
... sounds like writers like to focus on other writers like artists focus on other artists, they look closely at the parts they like and leave the rest. Not surprising really but in grad school my profs spent a lot of time and energy to break us of those habits. If anything it just seems like non blogger art writers envy the freedom of blogging. I can say there is a tremendous exercise in self restraint that one has to engage in if you are going to blog much. Ive seen some rather talented traditional writers use a blog in very ill advised ways (from a legal standpoint even).
*Update Update (thanks to Jessica's web surfing): Discussion producing blogger Edward
Winkleman takes on the subject of what a blog is
and 50+ comments ensue. PORT isn't a typical blog, we are intentionally stretching the format. Why?... partially because Portland needs more thoughtful critcal art writing and the scene's rapid changes in sophistication require much more dynamic, internationally-relevant publishing.
Posted by Jeff Jahn on January 30, 2007 at 8:54 | Comments (2)
Permalink
---
Lecture 1, 2, 3
Three public lectures (all at different times!) take place this week before First Thursday...(more)
Posted by Melia Donovan on January 29, 2007 at 10:30 | Comments (0)
Permalink
---
Portland's Aerial Tram Opens - Sci-fi transpo in real life
Sci-fi transportation is here-- impressive in form and function. Portland's new aerial tram transforms how we see the city and ourselves. It changes how many will move about the city from this point on.
- Photography by Sarah Henderson -
...(more)
Posted by Sarah Henderson on January 27, 2007 at 12:10 | Comments (5)
Permalink
---
Do It
Now that you have recovered from the holidays, its back on the horse! Below is a list of opportunities I think are good for your health (and your career)...(more)
Posted by Jenene Nagy on January 27, 2007 at 10:53 | Comments (10)
Permalink
---
The O counts to 10
It's great the Oregonian did its 10 most influential movers and shapers articles
here
and
here
, I wouldn't dispute any of the choices but at 10 it is too few and one-dimensional for a town in the grips of such activity and change. Still, these are the sorts of discussions the Oregonian should be inciting, though doing it by an poll insured a strong bias weighted towards those whose influence is less controversial or so longstanding it cannot be questioned like Liz Leach or Arlene Schnitzer. Of the 10 only Leach is controversial and even then she's now mostly just controversial for having been successful (thank you Liz). All selection methods have flaws and Portland's scene has about 30 people who really are influential in important ways, maybe the WWeek or Portland Monthly can outdo this, but for most Port readers the list is not news and kinda like one of Rolling Stone's frequent lists of the greatest songs of all time.
The non-controversial bias is why no artists were named. All artists of any relevance are controversial to the point of being "political factions" in some way, even if they are only controversial because of their relevance.
The omission of all artists is a major problem, as the hyperactivity and increasing international reach of Portland artists has been the engine driving the changes in town (as first pointed out by Randy Gragg in the Oregonian years ago)...(much more)
Posted by Jeff Jahn on January 26, 2007 at 17:09 | Comments (7)
Permalink
---
Some small scale shows you may have missed
Carrie Iverson's Survey @ the PDX Window Project
Man what a great month of shows (from Hirst to Tharp, Riswold and Julie Orser). Even considering the coverage from other publications there was simply no way to review it all and some worthy things got passed over. Here are some interesting small scale art shows that come down this weekend to consider checking out...(more)
Posted by Jeff Jahn on January 25, 2007 at 20:35 | Comments (0)
Permalink
---
Glitter and Doom at the Met
Otto Dix
Skat Players, 1920
Neue Nationalgalerie, Staatliche Museen zu Berlin, Preußischer Kulturbesitz
Before taking in
Glitter and Doom: German Portraits from the 1920s
, I visited another of the Metropolitan Museum of Art's current special exhibitions,
Americans in Paris
............(more)
Posted by Jessica Bromer on January 25, 2007 at 7:33 | Comments (1)
Permalink
---
A Distinguished Guest: Clyfford Still at PAM
On my most recent stroll through the Portland Art Museum I came across another distinguished painting on loan, Clyfford Still's 1947-R-no.1, which set the auction record for a Still late last year at a mere $21,296,000. Aside from gawking at the price (Im over it), which most certainly would have brought the ire of an artist famous for focusing on philosophical integrity rather than the art market, it's a great chance to see one of the few unrestricted Still's in private hands. He's one of my favorite artists and I absolutely respect his far-sighted
convictions and principles
.
During his lifetime Still only sold 150 unrestricted paintings, which is why this work is so valuable. Still chose to keep the rest of his output in his estate, which will eventually be housed in the
Clyfford Still Museum
in Denver (Portland's Brad Cloepfil is the architect for the project).
Now the important part, the painting...(more)
Posted by Jeff Jahn on January 24, 2007 at 11:49 | Comments (3)
Permalink
---
East Side live/work space & funding cuts?
The Tribune had
a short but interesting article today
about possible live work spaces for artists on the East Side. It's true the East Side hasn't seen many city initiated steps for arts spaces and as usual commissioner Sam Adams appears to be in the thick of it all. The arts are becoming more and more of a political issue here but we hadn't seen much movement yet. Here's a no brainer, create a suitcase travel fund for Portland artists. They are ambassadors and it's odd that I can bring artists here using the funds of other cities but can't send Portland artists elsewhere with similar programs. Have a small oversight committee of 3 well versed and active curators to determine who gets the nod.
*Update:
Also, the
WWeek had this piece
on funding cuts which effect the IFCC and the Multnomah Arts Center. Every major neighborhood in the city should have an neighborhood arts space.
Posted by Jeff Jahn on January 23, 2007 at 20:11 | Comments (4)
Permalink
---
Impending Doom?
Ahhh it's a gloomy time of year (except it's sunny in Portland right now). We will have our own Glitter and Doom review up soon but till then
Jerry Saltz has his take on two shows of doom in NYC
.
Speaking of too much money as a way to doom the direction of nonprofits, last week
Edward Winkleman had this awesome post on Triple Candie's controversial show
. Money doesnt solve all problems, it creates new ones by quantifying everything which is ok but at a certain point it hijacks the art ecosystem. The interesting thing about Portland right now is how managable and open it is, while having some serious money beginning to go around. There is still room for art that is difficult to quantify as a commercial exchange... at least here it is difficult to quantify, giving it a different feeling which in itself is becoming attractive to places that can quantify it.
Posted by Jeff Jahn on January 23, 2007 at 10:32 | Comments (0)
Permalink
---
Art Talk Radio on KPSU
Tonight on Eva Lake's Art Star program on KPSU radio (5-6:00 PM) some of PORT's critics including Katherine Bovee and myself will be on the air and talking about art criticism. An interesting exercise to be sure since it is like talking about tap-dancing about architecture. You can
stream it here
and I'll provide a link when the archive is up. For the local and oldschool it's 1450 AM in the Portland, OR/Vancouver, WA metro area, tune into 98.3 FM on the PSU campus.
Posted by Jeff Jahn on January 22, 2007 at 11:08 | Comments (1)
Permalink
---
Social Calendar • Jan 22-Jan 26
Here's the best of what's on offer in Portland this week for sharpening your skills. These openings, lectures and events are highly recommended as being consistently stimulating and generous in scope.
Rigo 23 mural in SF
Mon • Jan 22 • 8:15p
Rigo 23 • PSU MFA Monday Night Lecture Series
5th Avenue Cinema • Room 92
510 SW Hall St
Tues • Jan 23 • 6:45p
Marc Joseph: New and Used • Jessica Jackson Hutchins: Stylite Optimism
Artist Talk : Reed Psychology Auditorium, room 105
Reception to follow: Douglas F. Cooley Memorial Art Gallery
Reed College • Hauser Memorial Library
3203 SE Woodstock Blvd
Fri • Jan 26 • 6:30p
John O'Brian • the back room
House Spirits Distillery (Medoyeff) • 2025 SE 7th Avenue
(more)
Posted by Melia Donovan on January 22, 2007 at 9:12 | Comments (0)
Permalink
---
Mao Chairman Mao: Jim Riswold at Augen Gallery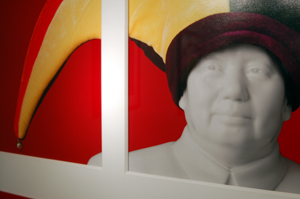 Detail from "Mao Home and Garden" Exhibition, Jim Riswold 2006
What is Power? Where does it come from, and who
really
has it? What grants it to those that wield it, brandishing the formless, seething orb with the stealth of the keenest guru? The power of Grayskull? Good fashion sense? A dashingly short moustache and celebrity smile? The color red? What is it exactly that places the supposed powerful at the top of the power-hungry food chain, and when are they removed from said salty pedestal only to be replaced by another? It is an invisible battle of quite abstract yet very human ideas, yet
Posted by Amy Bernstein on January 21, 2007 at 23:39 | Comments (2)
Permalink
---
Indoor Wildernesses: a thematic art walk in Chinatown
The weather has relented (for now), time to get out of the house...
Indoor Wildernesses is a serendipitous thematic art walk of 4 shows, 3 galleries on 1 corner...
all explore a common theme: nature inside the gallery environment, all achieve very different ends
When: January 24th 6:30-8:30PM
Where: Corner of NW 5th and Couch @ Motel, Organism & the Portland Art Center
Rational:
The presence of the outdoors and wilderness motifs in particular are everywhere in contemporary art so when four shows all appeared on the same corner in Portland's Chinatown it seemed like serendipity was knocking. Why not explore four very different shows to greater highlight their intersecting but very divergent content, goals, motifs and effects?
Also, please forgive the self promotion but it is also an excellent chance to get out and visit one of the Portland art scene's most rewarding corners. The fours shows present divergent motifs such as the charged psychological cave environment, life changing encounters with wild deer, man made materials in the woods and ecology in North Portland...(more)
Posted by Jeff Jahn on January 20, 2007 at 9:33 | Comments (2)
Permalink
---
Tilt Party...YEAH!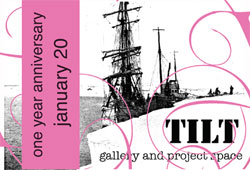 As many of you (hopefully) know,
Tilt Gallery and Project Space
has spent the past year working hard to bring you consistently challenging and innovative work from local and national artists. Highlights from our first year include an
"auspicious"
start from Portlander
Stephanie Robison
, a site specific project by the talented and
multifaceted
Avantika Bawa, and a bold solo exhibition by
Paula Rebsom
.
Believe it or not, its been a year for us at Tilt and we are celebrating with an Anniversary Party this Saturday, January 20 from 8-11pm. Come enjoy some food and drink and see work by gallery artists
Avantika Bawa
, Paula Rebsom, Stephanie Robison, and
Stephen Slappe
. Along with rubbing elbows with our new stable of artists, you will have the opportunity to view exciting work from the flat file as well. We hope you will join us!
Tilt Gallery and Project Space • Anniversary Party
Saturday Jan. 20 • 8-11p
625 NW Everett • Suite 106
Posted by Jenene Nagy on January 19, 2007 at 12:58 | Comments (0)
Permalink
---
Rauschenberg acquisition for PAM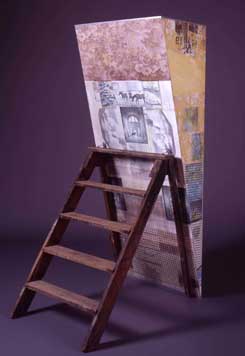 The Portland Art Museum has announced the purchase of a major assemblage sculpture by Robert Rauschenberg, "Patrician Barnacle (Scale)." The deal was originally conceived to bring 1 million dollars to the
Blue Sky
photography gallery, which boasts board member Christopher Rauschenberg (the artist's son). It's a very nice work, a steal at that price and a cultural momentum building exercise for both sides. The deal is noteworthy as this fundraiser for Blue Sky could have raised more on the open market or at auction, but Portlanders understand money isn't the only thing... just a tricky thing! Major kudo's to the thoughtful donor Carol S. Hampton and chief curator Bruce Guenther, he's sweated this one out for over a year.
It is to be installed in the Jubitz Center for Modern and Contemporary Art...(more)
Posted by Jeff Jahn on January 19, 2007 at 10:19 | Comments (3)
Permalink
---
OSP in Seattle: prompts looking at public art in Portand?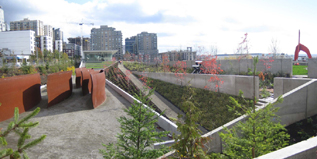 The
Olympic Sculpture Park
opens this Saturday in Seattle and at a time when many Portland citizens question whether
our public art is both too insensitive and not sophisticated enough
. Many Seattlites complain it's just trophy-ism, showcasing Microsoft money that doesn't really invest in the people of Seattle... a kind of high end art ghetto? One thing is for sure with public art, it's practically impossible to please everyone.
*Update
Jen Graves at the Stranger
,
Regina Hackett at the PI
and
Shiela Farr at the Seattle Times
review it.
Also,
Tyler Green aggregates info on Seattle's Olympic Sculpture Park here.

It's your typical Seattle public project (expensive as hell and slick), just with art.... but it is exciting on paper because I like Serra, Roxy Paine and Calder but how does it all gel? I'm curious how all the very disparate art works together? Is it just another blue chip art park? To date my favorite bit of Seattle public art is Barnett Newman's Broken Obelisk in Red Square. Weve been a little distracted because Portland's aerial tram opens on the 27th, it is public art, weirder, only slightly less expensive and a lot more useful. Still one has to say Seattle takes public art more seriously than Portland does. There are lessons to be learned by both cities from one another.
Posted by Jeff Jahn on January 19, 2007 at 9:50 | Comments (0)
Permalink
---
Double Dave • Oregon Art Beat • Chambers Fine Art
Preparations for "Float"
Tonight get a double dose of Dave Eckard on Oregon Art Beat and at Chambers Fine Art. Oregon Art Beat will have a discussion of his performance piece for PICA titled "Float" (above). Chambers Fine Art will host a reception for the artist's latest show "Locus" – latex and charcoal paintings on panel...(more)
Posted by Melia Donovan on January 18, 2007 at 9:32 | Comments (3)
Permalink
---
Julie Orser returns to PNCA
The snow has been keeping most everyone from traveling much beyond their neighborhood but if you are near the downtown check out
Julie Orser's latest multi-channel video installation "Anna Moore" at PNCA's Feldman Gallery
in the Pearl. A 99 PNCA alum with an MFA from the California Institute of the Arts in 2005, Julie's one of the hotter new video artists in LA. I've been looking forward to this show for months and it's a shame there was no opening on the 16th. She will be back in PDX for a free talk on January 31st. See it @ 1241 NW Johnson.
Posted by Jeff Jahn on January 17, 2007 at 9:56 | Comments (1)
Permalink
---
Joe Macca *UPDATE
Watch a Movie with Joe Macca

*UPDATE: The movies have been postponed and location and titles have been changed due to weather and what actually arrived from Netflix. Tonight, Thursday and Friday will have Pink Floyd: The Wall, Lie with Me and the Last Picture Show. Reservations are limited to 3-4 people-it's in his bedroom now-not the gallery. Call 503 771 5003 for more information.

...(more)
Posted by Melia Donovan on January 15, 2007 at 16:02 | Comments (13)
Permalink
---
Fear and Loathing in Philadelphia
After heading to sleepier parts of Pennsylvania for the winter holidays, I had the chance to visit two of America's premier East coast cities--New York and Philadelphia. My New York coverage will be posted in the near future.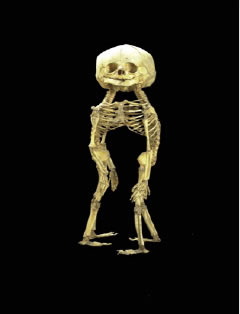 Co-joined twins from the Mütter Museum, Philadelphia
Former resident
David Lynch has described the City of Brotherly Love
as "a very sick, twisted, violent, fear-ridden, decadent, decaying place," "filled with violence, hate and filth" and, "the sickest, most corrupt, decaying, fear-ridden city imaginable." Lynchian hyperbole aside, I have to agree that Philadelphia is a mad, gritty city. Nonetheless, it's filled with of cultural treasures. While pretty much everything was closed during my New Year's visit, I've cobbled together a mini-tour of my former home's artistic offerings based on memory, research and rumor....................(more)
Posted by Jessica Bromer on January 15, 2007 at 12:23 | Comments (0)
Permalink
---
18 Painters • Mt. Hood Community College Visual Arts Gallery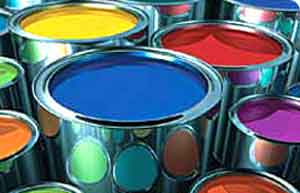 Opening tonight at Mount Hood Community College is the show "18 Painters".
What's the only thing that connects the work? Paint.
Artists include: Brendan Clenaghen, Brian Borrello, Michelle Ross, Margaret Evangeline, Judy Cooke, James Boulton, James Lavadour, Willy Heeks, Ken Kelly, Stephanie Doyle, Kristan Kennedy, Marc Katano, Joe Macca, Pat Barrett, G. Lewis Clevenger, Kathryn Van Dyke, Lucinda Parker and Melinda Stickney-Gibson.
18 Painters • Mt. Hood Community College Visual Arts Gallery
opens: Fri Jan 12 • 6 -8:30p
runs: Jan 8 - Feb 2 • M-F • 9-5
503-491-7309 or barrettp@mhcc.edu for more information