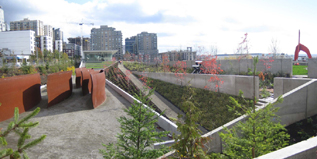 The
Olympic Sculpture Park
opens this Saturday in Seattle and at a time when many Portland citizens question whether
our public art is both too insensitive and not sophisticated enough
. Many Seattlites complain it's just trophy-ism, showcasing Microsoft money that doesn't really invest in the people of Seattle... a kind of high end art ghetto? One thing is for sure with public art, it's practically impossible to please everyone.
*Update
Jen Graves at the Stranger
,
Regina Hackett at the PI
and
Shiela Farr at the Seattle Times
review it.
Also,
Tyler Green aggregates info on Seattle's Olympic Sculpture Park here.

It's your typical Seattle public project (expensive as hell and slick), just with art.... but it is exciting on paper because I like Serra, Roxy Paine and Calder but how does it all gel? I'm curious how all the very disparate art works together? Is it just another blue chip art park? To date my favorite bit of Seattle public art is Barnett Newman's Broken Obelisk in Red Square. Weve been a little distracted because Portland's aerial tram opens on the 27th, it is public art, weirder, only slightly less expensive and a lot more useful. Still one has to say Seattle takes public art more seriously than Portland does. There are lessons to be learned by both cities from one another.
Thanks for signing in, . Now you can comment. (sign out)
(If you haven't left a comment here before, you may need to be approved by the site owner before your comment will appear. Until then, it won't appear on the entry. Thanks for waiting.)