Maggie Casey at 12128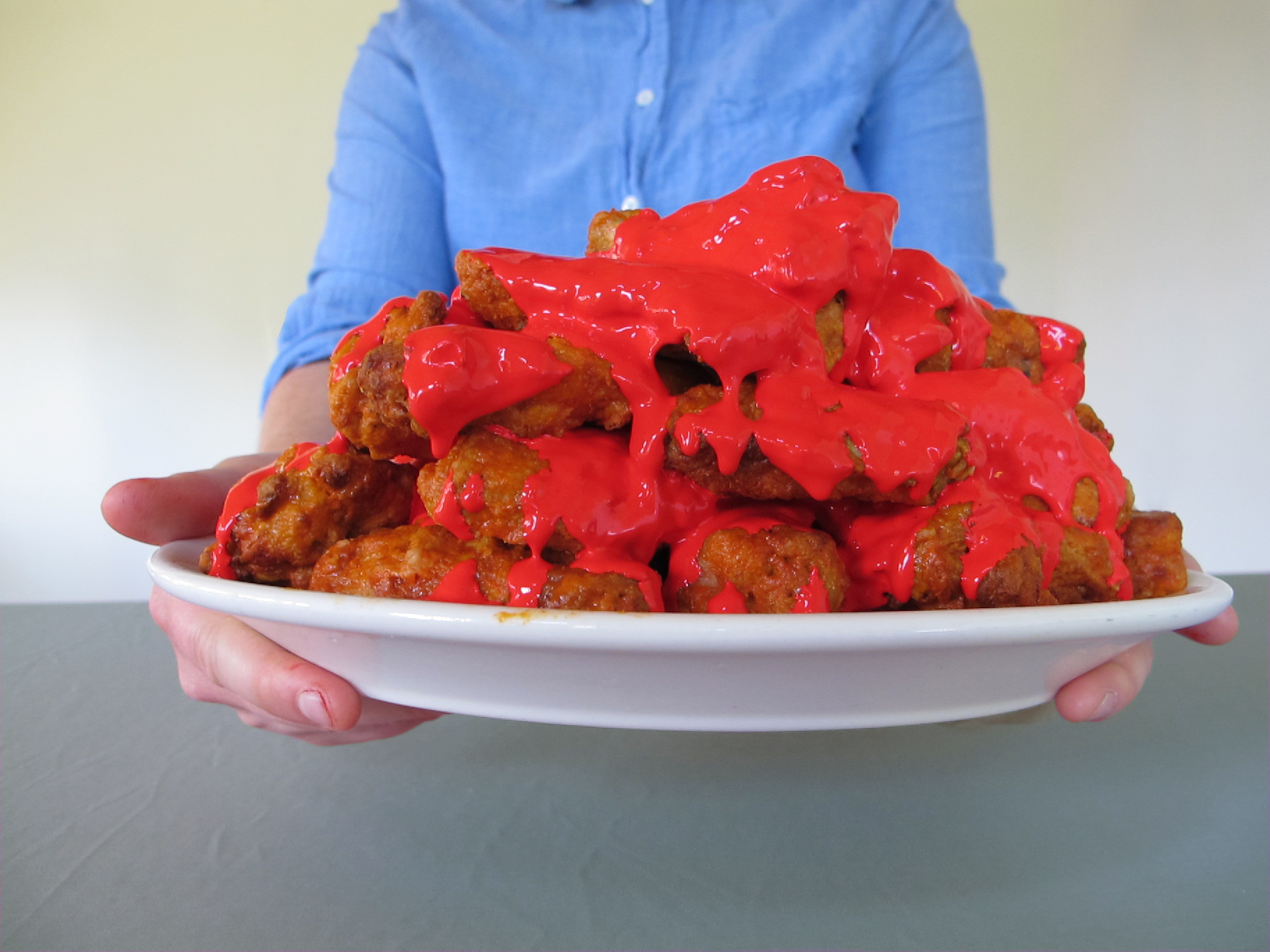 From the 13c., name given to the rite of Vespers of the Office of the Dead, so called from the opening of the first antiphon, "I will please the Lord in the land of the living" (Psalm cxiv:9), from L. placebo "I shall please," future indic. of placere "to please" (see please). Medical sense if first recorded 1785 "a medicine given more to please than to benefit the patient." Placebo effect attested from 1950.[1]
"The most effective approach is big and red."
1. From the Online Etymological Dictionary, accessed 1:15pm on 6/29/12
Maggie Casey | Placebo
June 29th | 7-10 PM
12128 | 12900 NW Marina Way
Posted by Tori Abernathy on June 29, 2012 at 0:24 | Comments (0)
Permalink
---
Summertime Opportunities
Photographers from all levels of experience have until August 1st to apply for Hearst's third 8x10 Photography Biennial. Open to artists aged 18-35, the competition is an effort to showcase the work of under-acknowledged, gifted young photographers. To preserve an air of openness to the inexperienced, all entries are judged on the (anonymous) set of images alone. The work of the eight winners will be featured in two exhibition spaces in the atrium of the Hearst tower in New York. "This year's panel of judges is made up of editors, creative directors, curators, and renowned photographers including Elle's Roberta Myers, Town & Country's Alexandra Kotur, Gallerists James Danzinger, Yancey Richardson and Yossi Milo, collector John Demsey and photographers Matthew Pillsbury and Timothy White." Click
here
to learn more about the contest and how to enter.
(More: billboard, furniture, and painting competitions)
Posted by Tori Abernathy on June 27, 2012 at 16:03 | Comments (1)
Permalink
---
Drawings by Laura Lucille Witman 1927 to 1934
Drawing by Laura Lucille Witman
Tonight Ampersand presents: The Morning After the Night Before Drawings by Laura Lucille Witman, 1927 to 1934. It's a classic example of an an amateur's body of work receiving the public treatment... which makes perfect sense since so many MFAs spend tens of thousands of dollars to replicate the effect. It's a classic case of cultural anthropology.
Here is there PR:
"Our July exhibition takes its title from a captioned drawing made in 1927 by a young woman named Laura Lucille Witman. The drawing is one of several found glued to the pages or loosely tucked away in a brightly-colored & brittle-paged scrapbook from the same era. Markings on the drawings allow us to deduce that Lucille was a sophomore in 1927 & was married by 1934, the year her maiden name gives way to O'Neil & the same year she made drawings of a lustrous Mae West & a wistful-eyed Hollywood cowboy. For a young woman living in Victorville, California, situated as it is on the fringe of the Mojave Desert, Hollywood must have been a glamorous dream made somewhat distant by the barrier of the San Bernardino Mountains. No wonder, then, that her drawings are filled with the risque trappings of imaginary movie starlets. They are flappers with lush lips, beauty marks, heart & arrow tattoos, garter belts & ever-distant, dreamy eyes. Arguably naive in execution, the drawings nonetheless convey the unique personality of a young woman enthralled by popular culture & the imagination of an amateur artist who made its visual language distinctly her own."
They also are presenting, "a selection of silver print photographs by Portland photographer, Bobby Abrahamson, who spent the better part of a year shooting Polaroid Type 55 portraits of the people he encountered on the streets of St. Johns, a distinct neighborhood in North Portland where Abrahamson lives. The show coincides with a larger exhibition of the same work at Blue Sky here in Portland during July."
Opening Reception: June 27 | 6-9PM
Ampersand Gallery & Fine Books
2916 NE Alberta St., B, Portland, OR 97211

Posted by Jeff Jahn on June 27, 2012 at 9:51 | Comments (0)
Permalink
---
Monday Links
Michael Heizer debuted his
Levitated Mass at LACMA this weekend
. He's probably my favorite living artist and I like the way he places incredible demands upon institutions and viewers... there's something about artists being too accommodating/accessible these days that lessens their impact and by staying away from this opening Heizer did the right thing. He seems to be saying, sure this seems like a big deal to viewers in LA but I'm actually up to something much bigger and better in Nevada desert. And
he is
.
I don't think anyone will be all that surprised that
Giacometti sculptures suppressed the appetite for chocolate compared to Mark Rothko's paintings
... but it is an interesting/amusing study.
Posted by Jeff Jahn on June 25, 2012 at 1:37 | Comments (0)
Permalink
---
Collisions in June
Victor Maldonado and Jonathan Leach @
SOUTHERN/PACIFIC
Gallery Homeland's
SOUTHERN/PACIFIC
travels to Portland for its second iteration. The
Lawndale Art Center
hosted the first in Houston and the last will be somewhere in Marfa. Participating artists are working closely together to produce new and exciting arrangements that are informed by their shifting contexts. galleryHOMELAND says "breaking beyond the white walls
SOUTHERN/PACIFIC
branches out into the art world and into the public. With the main exhibitions creating the foundation, film screenings, panel discussions, performances, and workshops will be happening throughout the duration of the show." From what I can tell, artists in Houston have thrived under city-wide (financial) support of works that extend 'beyond the white walls' in a manner quite unlike the
puppy-friendship-bracelet-and-kitten
flare of artists here. It's always fun to see worlds collide and partnerships form. Participating artists include John Calaway, Calvin Ross Carl, Joseph Cohen, Jillian Conrad, David Corbett, Arcy Douglass, Sean Healy, Hana Hillerova, Roxanne Jackson, Jeff Jahn, Terrell James, Jonathan Leach, Victor Maldonado, Julian Mock, Ann Marie Nafziger, Alyce Santoro, and Von Tundra.
SOUTHERN/PACIFIC
June 22 - July 30
Opening Reception | June 22 | 6-9PM
| 2505 SE 11th Avenue
(More: Research Club's possibly last brunch, PICA's symposium)
Posted by Tori Abernathy on June 22, 2012 at 12:43 | Comments (0)
Permalink
---
Chase Baido's Enter: The Troll at PSU
Chase Baido's Enter The Troll at PSU's AB lobby gallery
Every year a hoard of recent graduates is unleashed upon the art world and about 90% of them use one of these hackneyed strategies for their thesis exhibitions; some sort of mattress, raw wood or plywood, something about masturbation, people standing uncomfortably in their underwear or in the nude, crystals, some sod transported to a gallery or some very standard feminist critique. This year is no exception... (more)
Posted by Jeff Jahn on June 21, 2012 at 10:27 | Comments (0)
Permalink
---
MSHR at Appendix for the Solstice
MSHR instruments
We tend not to cover performance art much being a visual art focused site but
MSHR
's performances look to be as much interactive sculpture/installation as performance... that and what better way to celebrate the summer solstice than at Appendix? Here's the PR:
"MSHR is a collaborative project by Brenna Murphy and Birch Cooper from
Oregon Painting Society
. The duo harnesses elemental forces to nurture ecstatic cybernetic ecosystems. Their sculptural human-electronic interfaces offer visitors interactive ocular/aural experiences within an augmented reality of mirrored glowing sand glyphs, sonic ancestral rainforest codes and misty laser feedback corridors. In two presentations, MSHR will ritualistically engage a trans-dimensional organic synthesizer to unfold earthly doors to terrestrial transcendence."
Oh yeah... well don't cross the streams!
Solstice opening: Wednesday, June 20th
Opens 7PM | performance 9PM

Last Thursday closing June 28th
Opens 7PM | performance 9PM

Video Screening: Sunday July 1st
MSHR curates a 45-minute compilation of influential video art, 9PM


Appendix Project Space
south alley between 26th and 27th Avenues off of NE Alberta Street
Posted by Jeff Jahn on June 19, 2012 at 22:06 | Comments (2)
Permalink
---
Monday Links
The New York Times had an
interesting article on Josiah McElheny
.
Last year it was announced that YU was to do something with him
but precious little info has been forthcoming. BTW this is what we are talking about when we say there hasn't been clarity in programming (set a time and a date on the calendar about 6 months out, define what they will be doing and then deliver.... name dropping then no followup isn't the best way to increase confidence, or perhaps
Percival's departure
effected this).
It's a bit of a tired art world joke these days to farm out work to Chinese painter mills (
Ai Wei Wei
was there first of course) but
Greg Allen had several destroyed Gerhard Richters recreated
. It is interesting, though the fakes aren't too convincing.
Kink FM did this video interview with Jack Shear, the Director of the Ellsworth Kelly Foundation on the occasion of
Kelley's print show at the Portland Art Museum
. It is a great summer show for PAM and I did a rather involved interview with Jack and Jordan Schnitzer, which I'll be posting in the near future.
Posted by Jeff Jahn on June 18, 2012 at 12:26 | Comments (0)
Permalink
---
Getting Physical in June
Video still: Dance by Type A (Adam Ames & Andrew Bordwin)
Possibly the first promising group show of the summer is PLACE's "Let's Get Physical," where all of the artists assay the kinesthetic aesthetic.
Featuring Rachel Ellison (Chicago), David Horvitz (NY), Lilly McElroy (LA), Elaine Miller (Chicago), Heidi Schwegler (PDX) and Type A (NY), all of these artists, "address and utilize the physical self, movement and action as an integral instrument and method in their visual works. They ask-- how does the body adapt, protect, resist, control or relinquish control, react and express in a self-designed and self-enclosed performance or action."
Curated by Mariana Tres (2006 Oregon Biennial and one of Portland's brightest artists); you should check this out.
LET'S GET PHYSICAL
Opening Reception | Saturday June 16th | 5-8 PM
PLACE | 700 SW 5th Ave | Pioneer Place Mall, Atrium, 3rd (more... Saul Steinberg @YU and Ellsworth Kelly @PAM)
Posted by Tori Abernathy on June 15, 2012 at 14:03 | Comments (0)
Permalink
---
Mike Kelley at the Portland Art Museum
Detail of Mike Kelley's City 0000 (2009-2011), all works lent by Nicolas Berggruen Charitable Trust (all photos Jeff Jahn)
There are some artists whose work always seems to exist out of time because it deals in themes drawn from a past that never really seems to leave us, namely the roots of civilization and the nostalgic sense of the individual moving within its matrix of hierarchies and permissions. This is a special class of artist, ones who engage the world almost as if they are cultural anthropologists, often through personal source material.
Mike Kelley was such an artist and similar to Cy Twombly his work always seemed to be a humanistic island unto itself and difficult to place in an art historical lexicon that even today is still driven by timelines and trendy stylistic arbitrage. Instead, with Kelley there was always a persistent melancholy, melded with childhood ideals and notions of adult normalcy and transgression, all suffused with a strong Catholic upbringing whose traditions of syncretism... (more)
Posted by Jeff Jahn on June 14, 2012 at 17:14 | Comments (0)
Permalink
---
Paul Clay at Recess
RECESS presents How to Immigrate to the United States of America, a new series of video works by
Paul Clay
.
"How to Immigrate to the United States of America is a surreal and dry-humoured series of video works that questions ownership of national and linguistic heritage and our attachments to geography and place. Creating alternate realities through digital video doctoring, special effects, and 3D renderings, the videos walk with the gringo-latino divide that polarizes perceptions, identities and communities in the USA.
Canadian-Irish American, Paul Clay draws heavily from his experiences in and around Hispanic culture and from his reverence of the natural and digital world. He has written and produced several music albums, one entirely in Spanish. Clay received a Bachelor of Arts in Art from Reed College, Portland, Oregon."
RECESS
Opening Reception: Thursday, June 14 | 7:00-10:00 PM
1127 SE 10th Ave
Regular Hours: June 14th - 31st | Wednesday - Saturday | 1:00-5:00 PM
Posted by Jeff Jahn on June 13, 2012 at 13:23 | Comments (0)
Permalink
---
Catch up links
Ralph Rugoff picks his
top ten favorite invisible artworks
.
Tyler Green reported that the
Corcoran may or may not have 22.5 million more in cash to work with
, begging the obvious question... do they still have it?
Politifact rates Sam Adams' claim that only 18% of Elementary School students in Portland are getting an arts eduction as true
. This is startling and a major blemish on Portland's ever increasing international reputation as a progressive leader. The thing is, does that truth move Portland voters towards adopting the CAN initiative in November? I'm not so sure. It is a harsh fact but without a much better economic climate I fear November is not the best time for CAN's $35 a year income tax to be put to a vote.
There is something to not putting all of your eggs in one basket and Portland should be adopting a more sophisticated approach to civic funding of the arts even without CAN. For example a city like Houston has an over-arching policy that all arts funding be directed at making that city an "arts hub" on an international level. Portland by comparison has a rather dippy approach, which generally favors process over excellence. It is a comparatively insular approach and causes much frustration amongst an art scene, which is active internationally and thus can compare the realities at home and abroad. There is a schism where Portland doesn't support it's most noteworthy creatives with grants etc... yet the most feel good community art (with little merit beyond that) gets funding. We shouldnt just celebrate community as a blanket term we should be asking "what kind of community?" and "do we reward excellence?"
Hyperallergic chooses
9 artists to watch from Bushwick
.
Posted by Jeff Jahn on June 12, 2012 at 16:24 | Comments (0)
Permalink
---
North Coast Seed Building Open Haus
One of the greatest things about Portland's art scene is the way artists, architects, clothing designers etc. all work in close proximity and perhaps nowhere is that better exemplified than in at the annual
North Coast Seed building
open house. It's a feel good event and though it would have been nice to have a few more of the higher profile artists with their spaces open, it was definitely a worthwhile event.
Photographer Tatiana Wills shares the large, well appointed Studio 106 space with Blaine Fontana, Eugenie Fontana and Scott Hewson
...(more)
Posted by Jeff Jahn on June 11, 2012 at 7:00 | Comments (1)
Permalink
---
Weekend planner, umlauts optional
The North Coast Seed Building, home to some of of Portland's best artist studios
It is time again for one of the best open studio events in Portland, The North Coast Seed Building's annual affair... This year they have germanized its spelling with OPEN HAÜS. Who are you to stand against the fury of their capitalized umlaut? Seriously though, with over 30 studios (some used by the best artists in town) it is a great event. Last year over 400 people attended... and that was without umlauts! So get yer lederhosen on and check this out.
"Participants range from Illustrators to Painters to Visual & Product Designers to Wood Workers to Photographers and Performers. Please join us for food, wine, art and a stroll through the historic North Coast Seed BUILDING and the artists' studios that inhabit it."
North Coast Seed Building OPEN HAÜS
Saturday, June 9th, 4 - 10 PM
2127 N Albina Ave.
... (more Jenene Nagy at PDX and Perceptual Control at Worksound)
Posted by Jeff Jahn on June 08, 2012 at 11:22 | Comments (0)
Permalink
---
First Thursday June 2012
Chase Biado's Enter: The Troll at PSU's EXIT MFA thesis exhibition AB Lobby space
This month, there are too many talented people receiving their BFAs and MFAs to mention here. The majority of this will come from PNCA. Although it might seem like an overwhelming constellation, it will be well worth wading through. I recommend starting in
PNCA's Swigert Commons at the main PNCA building
and working your way outwards. The sparkling diamonds in the rough, though, will come from the
BFA show Exit at PSU
. Chase Biado will be in the AB Lobby, Andre Fortes and Ross Farrier are in the MK Gallery, and the Autzen features the work of J.P. Huckins, Chloe Womack, Krystal South, and many others. It might be a good idea to start there, because the show will end promptly at 8 p.m.
EXIT | The 2012 PSU BFA Thesis Exhibition | various PSU galleries
Exhibition Dates: Thursday, June 7, 2012 - Monday, June 21, 2012
Opening Reception: Thursday, June 7, 2012, 5 - 8 p.m.
Gallery Hours: Monday-Friday: 10-5 p.m.

PNCA's MFA in Visual Studies Thesis Exhibition
First Thursday reception June 7th 6-9PM | May 21 - June 8th
Swigert Commons | 1241 NW Johnson St.
... (more: Germans at Blue Sky and Victory galleries + Alex Felton at PICA for one night)
Posted by Tori Abernathy on June 06, 2012 at 11:57 | Comments (0)
Permalink
---
The Corcoran's institutional lessons
The post of the day belongs to Tyler Green who assiduously digs through the
longstanding institutional malaise that is the Corcoran
. It's obvious from reading the piece how the lack of decisive long range planning has hamstrung the institution's ability to even make short term decisions like programming work. It can never be just the building or just one show... it is game of chess and a series of long term strategic moves, not checkers.
It reminds me how the
MoCC faced a similar situation and has made a merger with PNCA work
by not hamstringing key staff members like Namita Wiggers (disclosure board members are friends and we did talk privately). In that situation I decided to play the skeptic to give that key staff leverage because allowing your curatorial/fundraising staff to plan effectively is essential... they are the captains that pilot the ship away from deadly reefs. Also, having a board that can make tough decisions is equally key in the long term and it is clear from Tyler's piece that there is a complete disconnect between the board and institutional leadership... I fear it wont end well for the Corcoran. Personally, I hope the National Gallery ends up with the building and perhaps even the collection. Suburbia isn't a good place to move to once you've been in the heart of the nation's capital. I see this as a cautionary tale... an institution has to be always moving forward, with a good board. Recently
PICA "learned that lesson"
, though
YU should take heed
... by having a board and solid programming rather than opportunistic programming and an undeveloped board consiting of the founders who have admitted publicly that they don't have the "credibility" needed. Without those things you simply don't exist as the Corcoran is about to find out.
Posted by Jeff Jahn on June 05, 2012 at 11:39 | Comments (0)
Permalink
---
Monday links and thoughts
Artnet has
images and some discussion of the Made in LA Biennial
. Overall, it doesn't seem like the work is terribly special and definitely not better than what can be seen regularly in Portland's alternative spaces BUT the presentation of it and the overall vibe of the show is infinitely better than what we saw in last year's CNAA's and the recent Portland2012 effort. The difference is the overall intention of the Made in LA's curatorial team to be relevant (both in the city and abroad). There is widespread dissatisfaction amongst Portland's community of sophisticated artists/collectors with our institutions right now. So, if I sound like I'm annoyed with our institutional curators whose job is to attempt to present the local scene... that's because you simply don't get out enough and it really shows. Hint, try curating a show that strays beyond a white, gray and black color scheme or relies on craft as a crutch rather than a ramp from which the viewer is catapulted into the air. Portland is very exciting as a scene but institutionally isn't keeping up with the better artists (who happen to be getting a lot of national/international looks & attention), instead Portland often navel-gazes at artists it has been over-familiar with for 2 decades and don't excite anybody. In other words, step it up (this feeling is widespread and not just my own). BTW, good on Jarl Mohn for upping the ante in LA... for those who are paying attention will recognize his name from the Judd show we did back in 2010.
Holand Carter reviewed Sue Coe
, who turns up
in Portland from time to time
.
The
Guardian interviews Jenny Holzer
on the subject of her early work.
And last but not least PNCA released this architectural flythough of the planned renovation of the 511 building by
Brad Cloepfil/Allied Works
. It's a great fundraising tool methinks. Despite the one person talking on a cellphone in a gallery space!
The design itself has come a long way since its earlier more "museumy" iterations. It seems light filled, with numerous multilevel sight lines and very flexible layouts befitting an art school. It reminds me a little of
Toyo Ito's Tama Art University library
with all of its arc and light elements, which is a good thing (though it just isn't as bold as Ito's design). I like the flying walkways but the thin ceiling mounted movable wall systems always look cheap and wont be good for installation art, just paintings and works on paper a floor based system is more flexible too. This
511 building (which we were the first to see as a game changer
)... along with the
Kengo Kuma designed Japanese Garden expansion
are very exciting architectural projects for Portland.
Posted by Jeff Jahn on June 04, 2012 at 14:03 | Comments (0)
Permalink
---