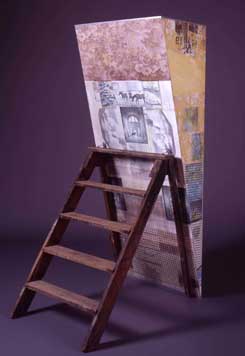 The Portland Art Museum has announced the purchase of a major assemblage sculpture by Robert Rauschenberg, "Patrician Barnacle (scale)." The deal was originally conceived to bring 1 million dollars to the Blue Sky photography gallery, which boasts board member Christopher Rauschenberg (the artist's son). It's a very nice work, a steal at that price and a cultural momentum building exercise for both sides. The deal is noteworthy as this fundraiser for Blue Sky could have raised more on the open market or at auction, but Portlanders understand money isn't the only thing... just a tricky thing! Major kudo's to the thoughtful donor Carol S. Hampton and chief curator Bruce Guenther, he's sweated this one out for over a year.
It is to be installed in the Jubitz Center for Modern and Contemporary Art.

Fav press release quotes for y'all to dissect, infer and discuss:
"The collections of an art museum are its core, serving as the basis for exhibitions, research, and programs," said Brian Ferriso, the Marilyn H. and Dr. Robert B. Pamplin, Jr. Director. "The addition of this major work by Rauschenberg represents a critical next phase for the Portland Art Museum's development as we focus our efforts on expanding and strengthening our collection."
Patrician Barnacle (Scale), 1981, is part of Rauschenberg's Scales and Spread series in which he returned to mixed-media and found-object collage work after almost a decade of experimentation in other forms. The nearly eight-foot-tall wedge appears precariously balanced against a found wooden ladder evoking a sense of dependence and independence, movement and stasis.
The wedge is covered with printed fabrics, transfer photographs on fabric, oil and acrylic overpainting, and found objects. In the work, Rauschenberg seems to offer comment on the state of the world around us through imagery of nature at its most pristine and humanity's often-harsh impact on the land. As one moves around the work, the images change from pastoral to industrial, patrician to peasant, and the color palate shifts from light and soothing to dark and dramatic.
"I was attracted to Patrician Barnacle because of the place it occupies in his oeuvre; and its complex imagery which suggests a narrative between humanity and earth, class and social constructs, the first world and the other," commented Bruce Guenther, Chief Curator and Curator of Modern and Contemporary Art.
Patrician Barnacle (Scale) has had a distinguished exhibition history. Since its first gallery exhibition to its installation in the Guggenheim's monumental Rauschenberg Retrospective in 1997, the sculpture has been exhibited around the world.
This is the first unique Rauschenberg in the Museum's collection. To date the Museum has only had a handful of Rauschenberg multiples and editioned work to represent this protean artist's seminal career.
"The recent Mark Building addition and its Jubitz Center for Modern and Contemporary Art allow the Museum to pursue, acquire, and present significant works, such as Patrician Barnacle," said Ferriso.
The funds to purchase the sculpture were donated by Carol S. Hampton and her late husband John Hampton.
"I am extremely grateful to Carol Hampton for her incredible generosity, and to Bruce for his determination in helping secure this important acquisition," said Ferriso.
I'm completely amused by the ladder aspect as Rauschenberg famously sat on a tall ladder in front of a vaulted window for the documentary film "painters painting."
This is a great purchase for the museum. PAM needs more "big" pieces like this one. And the "painters painting" reference was the first thing that popped into my mind when I saw this entry. I love that documentary.
Go and see it, it has been installed on the 3rd floor. It really sets off the room, which was keyed to Rauschenberg's innfluence in assemblage anyways.
Kinda shimmery and threatening too. The ladder has definitely seen some use and it really adds to the piece. Also, new to the walls of PAM works by, Gerhard Richter (Maria), a Richard Prince joke painting (next to the Bavington... funny pairing that works on an apropriation/translation level), a Robert Ryman and a nice Warhol Jackie O. ...all loaners but worth the trip. The Rauschenberg is a keeper, one of his best late period works.
The Hirst show is drawing visitors as well... the museum seemed busy today.