North Coast Seed Building Open House
Saturday, the
North Coast Seed Building will host its 17th annual open house
. Some of Portland's best artists and designers rent their studios here from Ken Unkeles (who deserves a key to the city for his activities as a great landlord). You can check our our
North Coast Studios photoblog from 2008
if you are curious. This is one of the best events in Portland and it is easily accessible by Max Yellow Line and has free parking.
North Coast Seed Bldg Studios + River City Bldg Studios
Saturday June 29th | 4 - 10PM
2127 N. Albina + 820 N. River St.
(between Widmer Brothers Brewing and the Rose Garden off Interstate in the NOPO Junction neighborhood)
Posted by Jeff Jahn on June 28, 2013 at 14:08 | Comments (0)
Permalink
---
Openings & Events | June 26th - 29th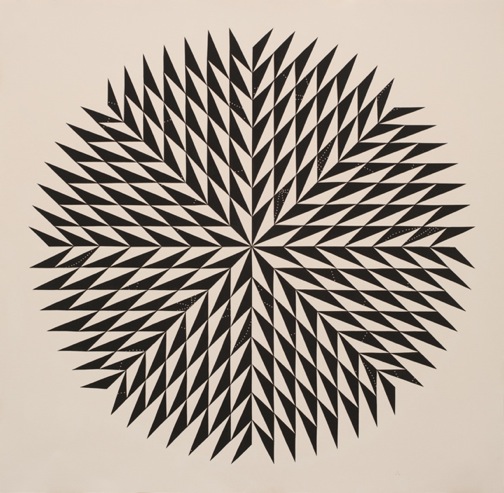 Lena Wolff
Black Dahlia (variation with white dots), 2013
collage with hand-cut & hole-punched paper
40 x 40 in
Ampersand
is pleased to present
Call & Response
, featuring work by Bay Area artist
Lena Wolff
& Colorado-based artist
Corey Drieth
. While rooted in the patterns & iconography of American quilt making, Wolff's works explore the nuanced visual languages of op art, geometric abstraction & color theory. They are comprised mainly of cut paper painted with watercolor & gouache. Wolff reveals a dynamic organization that involves rhythm, repetition & a sense aliveness.
Corey Drieth's
gouache & wood paintings explore contemplative spiritual experience inspired by religious traditions such as Zen Buddhism & Quaker Christianity. Citing artists such as Georgia O'Keefe, Agnes Martin & Richard Tuttle as precedents, his work aligns with the American traditions of small-scale, non-representational abstraction. Drieth's new drawings, composed of graphite & white colored pencil on aspen wood, directly explore two kinds of order, the organic & the analytic. The works are rooted in childhood memories of his father drawing diagrams on pieces of wood used to construct utilitarian & decorative objects. "I thought that the marks on the wood were in and of themselves interesting, incomplete & full of potential," notes Drieth.
Call & Response
|
Lena Wolff
&
Corey Drieth
June 26 - July 21, 2013
Preview Reception | June 26th | 6-9 PM
Also open late on Last Thursday
Ampersand Gallery & Fine Books
| 2916 NE Alberta St., B, Portland, OR 97211
Still from Bad Religion
Bad Religion
was made for an exhibition in San Francisco where a group of artists were asked to make work in response to a short, ephemeral video prompt provided by the curators.
Stephen Slappe
began his entry by giving himself one rule, that he would only watch the video prompt three times. During the initial viewing, he took in the video, making no attempt to purposefully record any specifics. The second and third viewings involved much note taking, jotting down short phrases about the tone, content, and formal details of the video.
Slappe got the sense that the characters were always fragmented or obscured, it felt mysterious and ritualistic. The trajectory of one character toward another character communicated both urgency and inevitability. For
Bad Religion
, he lifted these tonal and structural qualities, amplified, then transposed onto new images and sounds.
Bad Religion Video Loop
|
Stephen Slappe
June 27 - July 24, 2013
Opening Reception | June 27th | 6-9 PM
The Light+Sound Window Gallery
| 1422 NE Alberta St, Portland OR
& there's more happening on the 28th and the 29th !
Posted by Emily Cappa on June 25, 2013 at 15:58 | Comments (0)
Permalink
---
Idea links
Posted by Jeff Jahn on June 25, 2013 at 9:21 | Comments (0)
Permalink
---
A pre-buildout peek at PNCA's new 511 Broadway building
In 2015 PNCA's new Arlene and Harold Schnitzer Center for Art and Design will become one of the most transformative building projects in the history of the city of Portland. Generally, we don't cover social events but this project is special. In fact,
PORT was the first in the media to see the potential for the project
, not just for the school but the city... so when PNCA threw a pre-buildout tour, we thought it was time to share a little more of it with the world.
With Portland's own "Starchitect"
Brad Cloepfil
on board for the design (
see details here
) this becomes a watershed philanthropic moment for the city. Photography by Sarah Henderson of
sirenapictures.com
, for PORT.
The 511 Building first opened as a Post Office in 1918. Photography by Sarah Henderson of
sirenapictures.com
, for PORT.
Customized hard hats for the PNCA 511 campaign, Creativity Works Here.
Posted by Sarah Henderson on June 22, 2013 at 20:32 | Comments (0)
Permalink
---
Frank Lloyd Wright Links
Frank Lloyd Wright would have been 145 this month. Also, his fantastic Marin County Civic Center has turned 50 years old as well and you have never seen it like this before (ie a spaceport in the Star Wars Universe):
Here are some
classic pictures of Frank Lloyd Wright's Johnson Wax research tower
, which is
now undergoing a two level restoration
.
Posted by Jeff Jahn on June 21, 2013 at 11:27 | Comments (0)
Permalink
---
June 20th and 21st Openings & Events
Beatles expert
Scott Freiman
will be at the Hollywood Theatre on Thursday. He has studied the band from an early age and will be presenting his multimedia lecture, "Deconstructing Sgt. Pepper," to the theatre for a second time. Freiman combines his career as a composer, producer, and educator with his in-depth knowledge of The Beatles to bring an event that is part film, part concert, and part lecture.
For more information, watch his
trailer
.
"Deconstructing Sgt. Pepper"
|
Scott Freiman
June 20th | 7 PM | $10
Hollywood Theatre
| 4122 NE Sandy Blvd, 97212
The Low-Residency MFA in Visual Studies hosts an evening lecture with 2013 Artist-in-Residence
Sarah McNeil
.
Sarah McNeil tells stories with sculptural installation and contemporary animation. Growing up in a family of antique auctioneers in a small town on the coast of Maine, she inherited a love of handcrafted objects, historic artifacts & the richly layered narratives behind them.
Sarah McNeil Lecture
June 20th | 6:30-8:30 PM
Museum of Contemporary Craft - The Lab | 724 NW Davis St. Portland, OR, 97209
& there's more for the 20th and the 21st!
Posted by Emily Cappa on June 19, 2013 at 14:24 | Comments (0)
Permalink
---
Venice Biennale 2013 Part I
In a world full of major recurring events... only the Venice Biennale holds the record for being a persistent affair since 1895, slightly edging out the modern Olympic Games, which started in 1896 and the first World's Fair in Brussels in 1897.
This year is seen as a kind of return to the event as a catalog of humanity so there is a sort of anthropological thread that runs through the anchor show at the Arsenale (Over 200 countries also have separate pavilions and there are countless other exhibitions both official and unsanctioned as well.
Mack McFarland was kind enough to send us hundreds of snaps, which we will edit down into something more digestible. First off, he's sent us to the Arsenale's "The Encyclopedic Palace" and the curatorial pacing of the exhibition by Gioni really comes through in the photos. Group shows like this are difficult to pull off without looking like the midway of some county fair so you'll see how he used a lot of earthy installations or ones that mimic a crowd of people to set up a kind of festival atmosphere without too much busking. -Jeff Jahn
(All photos Mack Mcfarland) The keystone of the exhibition is Marino Auriti's The Encyclopedic Palace ... a proposed model from the 1950's for a tower that would house, "The Encyclopedic Palace of the World." The finished building would put the range of human achievements on display.
Roberto Cuoghi's Belinda (2013)
Jakub Julian Ziolkowski went all Cthulhu on painting, obliquely presenting mankind as the solar system's nastiest pink fleshy monster
... (more)
Posted by Guest on June 19, 2013 at 9:21 | Comments (0)
Permalink
---
Monday Links
We've got one of our classic June log jams of content for you with no less than four major pieces coming your way in the next two weeks. The first should be here soon (it involved a lot of geological maps etc. to double check). Till then here are some links:
Indoor fracking installation creates debate in London
... gotta love how Londoners are willing to debate about fracking themselves indoors.
Occupier protesters at Basel are forcibly evicted from an Art Favela installation
.
How
James Turrell knocked the art world off its feet
in the Times.
Still this
re-installation at the Whitney illustrates why I will always choose Robert Irwin
over his one time friend Turrell... there's less magician's showmanship and far more content.
Posted by Jeff Jahn on June 17, 2013 at 9:07 | Comments (0)
Permalink
---
Friday links
We've got a fantastic major art historical essay for you soon but to tide you over here are some links:
In Basel, artists like Huang Yong Ping are responding to a world of conflict
... by recreating Bin Laden's final compound. This is one of Ping's best efforts.
I really like how
Painting in Place is literally repositioning painting
. Obviously this is nothing new (is it ever in painting?) but it seems to be a bit of pushback against the market and the sometimes nagging feeling that the art world has disengaged itself from the rest of the world. We should do this in Portland, bank presidents check your walls... I'll be calling.
Michigan's Attorney General opines that Detroit's public art collection held in trust by the museum can't be sold to settle the city's debts
. This isn't over yet but this condition of being held as in "charitable trust" for the public is a key argument.
I like how the British can give some guff to their visual art world without being threatened... here's
a cartoon featuring Jeremy Deller and most of the figures from British history
. PORT is actively seeking a cartoonist BTW email me at Jeff (at) Portlandart.net.
Posted by Jeff Jahn on June 14, 2013 at 10:06 | Comments (0)
Permalink
---
June 13th and 15th Openings & Events
On Thursday, June 13, The Northwest Film Center is thrilled to present
STRESS POSITION
, the latest work by Vancouver, B.C.-based filmmaker A.J. Bond.
Inspired by a flippant remark about the treatment of prisoners at Guantanamo Bay, Bond made a bet with close friend and longtime collaborator actor David Amito to see which of them could withstand a week of psychological torture at the hands of the other.
Shot in an avant-garde "torture chamber" in an isolated warehouse, what begins as a bizarre and darkly humorous reality TV scenario quickly spirals out of control, testing the limits of their friendship and exposing the connection between filmmaking and torture.
CLICK
for Trailer
CLICK
for Advanced Tickets
STRESS POSITION
| A.J. Bond
Screening | June 13th | 7 PM
Northwest Film Center's Whitsell Auditorium Portland Art Museum
| 1219 SW Park Avenue, Portland, OR
Admission | $9 General | $8 Students, Seniors | $6 Child
& more exciting things happening on the 15th !
Posted by Emily Cappa on June 12, 2013 at 23:38 | Comments (0)
Permalink
---
Monday Links
Jerry Saltz is
in LOVE with the Met's new rearrangement of its European painting galleries
. To tell the truth I kinda enjoy getting completely lost whenever I go to the Met and I love Jerry's bit about so many museums creating galleries that make you smell the foodcourt.
When an
early internet art piece's archaic code no longer works is the piece compromised if it is brought up to the new standards
? Since the internet is in many ways an active performance venue whose rules make its inter-netting possible I think it is ok for now. When the internet is repaced by something else I think that update might be a far thornier issue. As it stands there are still people playing Zork on various platforms but it was a game not an art piece.
Edward Winkleman and Elizabeth Dee on
the place of mid level art dealers in the world of the megadealers
.
Posted by Jeff Jahn on June 10, 2013 at 2:11 | Comments (0)
Permalink
---
Weekend Picks
http://eutecticgallery.com/brad-mclemore-cognition/
Contemporary wood fired sculptures are on display at
Eutectic Gallery
by
Richard Brandt
,
John George Larson
, &
Brad McLemore
.
"The passage of time and the story of the sensuous human experience lay on my work. I erode, then build again, reminiscent objects from the past, cycled through the fire, to the future to erode again."
Richard Brandt
is inspired by his passion for adventure, experimentation, and the discovery of his true nature. The utensils for tea and his love for the land guide his forms and pace.
John George Larson is a painter and wood fire ceramic artist from southwest Minnesota. He discovered clay at age fourteen as a means of expression and as an alternative way of exploring fundamental physics. John is currently building his fifth wood kiln and maintains his studio in Milan Minnesota. He uses native clays and other indigenous materials to create his works. Under a constant spell to discover the truth, the resulting works are an exploration into the magnification of the object as metaphor and the physical and mental limitations of the human body.
McLemore is a Portland based ceramic professor, and this shows through his work. Guiding students in the observational of natural and human-made structures, his work is formally designed and abstract. His objects currently on display at Eutectic are relics of industrial design. They have been lost, decayed or edited over time, and remain fragments of a greater, discarded system. Organized to implicate utility, the somewhat awkward forms are not tools, yet try to charm with a certain hand-hewn conviction.
COGnitiohn
|
Richard Brandt
,
Brad McLemore
Opening Reception | June 7th | 6-8P M June 7 – July 28
Eutectic Gallery
| 1930 NE Oregon St. PDX, OR | entrance on 20th
Friday June 7th 20 artists at Portland Storage will have their annual open studios. This is always a lively event.
Open Studios | June 7th | 5 - 9PM
215 SE Morrison Street
Tonight, galleryHomeland kicks off Weird Shift Con with The Long Share, an exhibition in keeping with the conference of shifted reality that it supports.
"The Conference, an aggregate of interdisciplinary investigations, presentations, performances and puzzles that promise to implode, sinter and splinter (ir)reality prismatically into many new streams for retrieval and report."
"The Long Share exhibit (including works by Peter Claugh, Julia Oldham, Tom Sherman, Stephen Slappe, Soda Jerk, Weird-Fiction and others!) to additional amenities, including the Research Commons, the PDF Library, the dossiers, and the Map Room, paired with fine coffee and edibles, will provide other itineraries betwixt and between the scheduled events." It should be wierd.
Opening Reception: The Long Share | June 7th | 6:00-9:00
Weird Shift Con: The Conference. June 14-16, 2013
galleryHomeland
, 2505 SE 11th Ave
& there's much more throughout the whole weekend . . .
Posted by Emily Cappa on June 07, 2013 at 11:31 | Comments (0)
Permalink
---
June 2013 First Thursday
Merridawn Duckler
www.blackfish.com/exhibitions/ritual-show
"Ritual, The Show"
has transformed Blackfish gallery space. An exhibit created by Blackfish member Merridawn Duckler and guest artist Geordie Duckler, invites visitors to partake in three separate experiences that combine ritual and art.
Blackfish is also hosting "Ritual," a companion, group exhibition of works in various media that explore ideas about ritual.
Ritual, the Show
|
Merridawn Duckler
, Geordie Duckler
Ritual Group Exhibition | Artists
First Thursday Opening | June 6, 2013 | 6-9 PM
June 4 - 29, 2013
Blackfish Gallery
| 420 NW 9th Ave. | Portland, OR 97209
Klaus Moje, Chromatic Evolution 1 & 2, 2013
fused, kilnformed, ground and polished glass, 47.5 x 72 x 1.375inches (installed)
Photo: M. Endo
www.bullseyegallery.com
Many have tried to explain color through poetic characterizations and elaborate analytical and organizational systems. Despite these efforts, conversations about color remain subjective with little tie to hard fact.
In conjunction with
BECon 2013
, Bullseye Gallery presents
Chroma-Culture
, an exhibition focused on color, featuring fifteen artists from around the world. Color is subjective, explained scientifically as the sensation of the visual spectrum. It is a physical process in which electromagnetic waves of a particular length stimulate receptors within the eye. Within are brain, we transform this into color and form.
Each of the
Chroma-Culture
artists, using kilnformed glass, approaches color in unique ways, making works that tackle the visual, psychological, symbolic, and cultural implications of color.
Chroma-Culture
May 01 - June 29, 2013
Bullseye Gallery
| 300 NW 13th Avenue, Portland, OR 97209
& there's more !
Posted by Emily Cappa on June 04, 2013 at 18:34 | Comments (0)
Permalink
---
Sunny Southern Links
Adrain Searle gives his review of the Venice Biennale
. I make no secret that I prefer the more unvarnished edge of British arts writing (it IS where I got my start) and there is always something classic about the British take on Venice.
Then there is the huge
Miami Convention Center design competition pitting Rem Koolhaas' OMA team vs. BIG
. To these eyes it is OMA's stunning integrations of indoor/outdoor park spaces and creative parking/shipping solutions that sets it apart. Art Basel Miami Beach would be so much more enjoyable with such interplay. The current and very old school design makes visitors feel like rats running a maze.
Benjamin Sutton kicks off part one of a five part series on
light and space art with a look at the current leaders in the field
.
... and the
Huffington Post wraps up their Venice blogging with some parting remarks
.
Posted by Jeff Jahn on June 04, 2013 at 13:05 | Comments (0)
Permalink
---
Eight Years of PORT
It is hard to believe, but June marks PORT's 8th anniversary as Portland's most fearlessly critical and in depth source of visual arts discourse and information.
We've gone from those
early days in 2005
, when people wondered if the internet was even an effective place for art criticism... to 2007 with
notice from the Walker Art Center
and an Art in America Round Table. For 2012 alone we boasted over 1.3 million unique readers and
a nod from the Wall Street Journal
.
One of the things I'm most proud of is the way the site has allowed a group of writers to articulate themselves as a variety of strong voices and we have interviewed the likes of
Catherine Opie
,
Ed Ruscha
,
Ai Wei Wei
,
Okwui Enwezor
,
Richard Serra
and
Critical Art Ensemble
(just last month). What's more we have a backbone, noted for
independent critical analysis
of
institutions and regional trope
s and are often first to point out major turning points like
PNCA's eventually successful bid for the 511 building
or
OCAC's new Vollum Center
. We often break stories, like the
Portland Art Museum's new identity
and
PICA's Precipice Fund
.
Criticism isn't simply a description or a parroting back of the artist's statement, which does nothing to improve the state of the arts. Instead, we ask difficult questions and pursue an understanding of the way art operates and comes into being.
Ultimately, it is this commitment to defining and relevant reviews + essays that are at the heart of what we do. Here are ten examples that that celebrate what PORT does:
Storm Tharp
2007
William Kentridge
2007
Rothko's Portland
2009
Alfredo Jaar and Carsten Holler
2011
No Painting Left Behind
2011
Interior Margins
2012
Folkert de Jong
2013
We pay especially close attention to developing artists like
Travis Fitzgerald and Gary Robbins
or
Chase Biado
because criticism brings feedback at a crucial time.
There is something about criticism that makes the discussion broader, more present and sharper for everyone. Criticism, especially that with a finer edge actually can motivate discussion. That type of true criticism is inherently inconvenient and perhaps the best corrective to the constant packaging and pure public relations that even art is subject too. Criticism helps us step back from ourselves and re-examine our priorities and experiences through a different understanding. A "Critic" brings experience beyond opinion, often sussing out the more arcane motivations and effects of art. It all takes time... in the case of PORT (a community of writers) it takes 8 years.
Posted by Jeff Jahn on June 01, 2013 at 22:01 | Comments (0)
Permalink
---