Derek Bourcier's More Doubt and Wonder at PSU's Littman Gallery
Tomorrow, February 28th is the last day for an intriguing debut for Portland artist Derek Bourcier, he's also giving an artists talk with coffee from 1-2PM at
PSU's Littman Gallery
. The fact that a coffee chat gets such high billing here is in keeping with Bourcier's sly self-deprecating slight of hand, evident in most of the works.
Derek Bourcier's Mr. Lonely
Take for instance the most visually arresting piece in the show, "Mr. Lonely." Consisting of several humidifiers mounted on drum hardware and humidity from a basement room it is a fairly frank paean to frustrated male ambitions. It has its roots in the work of Charles Ray whose pathos is disarming while it's grandaddy Marcel Duchamp made found objects legit. I'd even be willing to label this run of the mill immature navel gazing designed to amuse art school friends if it weren't very common for young men in their 30's or older to be forced to move back in with their families in this sluggish economy. The effect is soul crushing and I've known a few such men who chose to die at their own hands rather than endure that situation.
...(more)
Posted by Jeff Jahn on February 27, 2013 at 22:02 | Comments (0)
Permalink
---
Aaron Rose: for OCAC's Connection Lecture Series
Aaron Rose
Portland born curator, gallerist, artist and filmmaker
Aaron Rose's talk Everything Starts Small
is over a week away (March 11th) but the lecture is filling up fast. Rose is most known for putting together the
Beautiful Losers exhibitions and film
which brought San Francisco's mission school (Barry McGee,
Chris Johanson
, KAWS, Shepard Fairey and Margaret Kilgallen... etc.) to the fore as coherent street art movement recognized in museums. Portland has at least 1 group of artists like this (using provisional design/architecture, installation art, light & space + video to re-imagine and create a parallel built environment to the one found in Portland so this is of some interest to a close knit group of;
Jordan Tull, Damien Gilley
, Von Tundra, Paula Rebsom,
Arcy Douglass
,
Jenene Nagy
, Josh Smith, Laura Hughes, David Corbett,
Jesse Hayward
, myself,
Laura Fritz
and Oregon Painting Society... etc.).
Overall, Portland loves lectures and OCAC's free Connection Lecture Series of talks have quickly become the most consistently high level series in the city, thus requiring an RSVP by March 6th. It is filling up fast I suggest you make yours now using: lectures@ocac.edu or 971 255-4165.
Aaron Rose | Everything Starts Small
March 11, 2013 | 7:00 PM
OCAC Connections Lecture Series
RSVP required by March 6th: lectures@ocac.edu or 971 255-4165
Tiger Woods Center | Nike Campus | 1 Bowerman Drive | Beaverton
Posted by Jeff Jahn on February 26, 2013 at 9:52 | Comments (0)
Permalink
---
Toko Shinoda: Grande Dame of the Understated
Toko Shinoda
Yohaku is the Japanese term used to refer to the abundance of white space within visual composition. This white space is also referred to as the the ideological "nothingness" of Chan Buddhism in China and Zen Buddhism in Japan: the nothing that is everything, a powerful entity. . .(more)
Posted by Amy Bernstein on February 22, 2013 at 20:59 | Comments (0)
Permalink
---
Weekend Gatherings
Untitled, (Ansel Adams, landscape 1)
, Todd Johnson, 2011, inkjet print, image courtesy of the gallery
Todd Johnson has been an active photographer, educator, and curator in Portland for over a decade. For some reason or another (likely that he doesn't get out much and this fair city thrives on nepotism), his own work is seldom in public view. In his exhibition at Marylhurst's Art Gym, he explores myth and forgery through the influence of Ansel Adams. The PR states that the show "reflects his interests in the history of West Coast landscape photography, celebrity, collecting and, as he puts it, 'myth and legend, identity and fraud, historical and contemporary, amateur and professional, junk and treasure.'" While at the Art Gym, take a look at reflections on the last five years of the innovative residency program, Signal + Fire.
The Misadventures of Ansel Adams: Garage Sales, Geo Tracking and General Tomfoolery | Todd Johnson
Opening Reception | Febraury 24th | 3-5 PM
The Art Gym | Marylhurst University
17600 Pacific Highway | Marylhurst, OR



Nim Wunnan and Gabe Flores @ False Front
With his personal work, Nim Wunnan is most noted for two dimensional graphite and ink drawings. Gabe Flores, on the other hand, churns out installations that often make use of multiples of colorful objects, stark white surfaces, mirrors, or some combination thereof. In their new exhibition at False Front, they have both stepped out of their comfort zones. In doing so, they have reinvigorated the question-asking-part of what should be an evolving art practice. In doing so, they have tapped into something personal and therefore they have some valuable experience to impart on their viewers. "Originally conceived as a way to swap their typical media (painting for Wunnan and installation for Flores), this show draws on each artist's personal history, exploring how they sense and perceive. Wunnan's severe synesthesia and Flores' experience with what he terms 'alternative perceptions to the statistical norm' overlap in a shared interest in peak experiences, sensory displacement, and their relationship to their active arts practice."
Private Screening | Gabe Flores + Nim Wunnan
February 23 - March 23
Opening reception | February 23rd | 7 -10 PM
FalseFront | 4518 NE 32nd Ave. Portland, OR 97211


Josh Berger has been made important contributions to the arts community in Portland over the years, not least as PLAZM's art director. Some months ago, he suffered a bicycle accident that resulted in a traumatic brain injury. This Sunday, PICA is holding a fundraising event to help alleviate some of the medical debt incurred following the incident. "Featuring e*rock spinning tunes and short musical sets from Sam Coomes (Quasi, Heatmiser), Ray Reposa (Castanets, Raymond Byron & the White Freighter), Tuvan throat singer Enrique Ugalde (Soriah), Grey Anne, and special guests. With food, wine, coffee, and Fort George Brewing beer." PICA will also be auctioning off 100 original artworks from local artists for the low price of $100.
A Benefit Party & Art Auction for Josoh Berger
February 24th | 3-6 PM
PICA | 415 SW 10th Ave (Third Floor)
$10-$10 suggested donation

Posted by Tori Abernathy on February 22, 2013 at 14:25 | Comments (0)
Permalink
---
Oracle at Archer Gallery
Patrick Kelly's Carbon Trace C
The latest show at the Archer gallery, Oracle, looks promising if only for the subject matter being "mystery". Oracle features Marie Sivak, Patrick Kelly and Susie Lee, though of the three I only tend to find Kelly to be mysterious. Still, I'm always interested in any show that seeks to present or evoke the unknown (
like this one
).
According to the PR: "Although physically real and tangible, the works evoke a sense of otherness. Exquisite alabaster sculptures are at the center of Marie Sivak's installation. Both weighty and delicate, the sculptures are surrounded by a gossamer network of nylon tubes that float above and around, while soft flickering video images play against the matte white surfaces. Patrick Kelly's drawings have a powerful dimensionality that is constantly in flux. In Kelly's drawings, heavy graphite lines are repeated endlessly. The light cast on planar and curved surfaces built by Kelly's graphite lines reveals each of these surfaces in sequence as the viewer's point of view shifts." Lee's works, filmed in a nursing home and related to Goya's Black Paintings should be familiar to those who saw the 2011 CNAA's or last Year's Northwest Biennial at the Tacoma Art Museum.
Oracle: Marie Sivak, Patrick Kelly and Susie Lee
February 20 - March 16, 2013
Reception: February 23rd, 4 - 6pm
Archer Gallery, Clark College
1933 Fort Vancouver Way, Vancouver WA
Posted by Jeff Jahn on February 19, 2013 at 22:40 | Comments (0)
Permalink
---
The True Final Craft/Perspectives Panel for Hallie Ford Fellows Inaugural
2010 Hallie Ford Fellows, Daniel Duford, David Eckard and Heidi Schwegler
Tomorrow at 6:30PM the Museum of Contemporary Craft is holding the last (it was to be the first but was rescheduled) of 3 Craft/Perspective panel discussions related to the
We Tell Ourselves Stories In Order To Live exhibition
of Hallie Ford Fellowship recipients. This
final of 3 talks featuring individual artist presentations by 2010
Hallie Ford Fellows; Daniel Duford, David Eckard and Heidi Schwegler. This was the group that got everyone very excited as a changing of the guard in Portland because none of these artists were represented by local galleries, hadn't been the typical names that received awards previously and had a more contemporary outlook... especially Schwegler.
There's already been a lot of
discussion related to the nature of these awards here on PORT
. But all that aside it isn't these artist's job to address the panel selections (which have become somewhat less adventurous since the first group)... instead it is their job to discuss their work and here is possibly the only opportunity you will have to have these three discuss what they do together in one room (because they have very little in common besides being art educators and an attachment to craft).
Panel Discussion: February 19th | 6:30 - 8:00 PM
Museum of Contemporary Craft (The Lab)
724 NW Davis St.
Posted by Jeff Jahn on February 18, 2013 at 21:58 | Comments (0)
Permalink
---
Monday Links
Posted by Jeff Jahn on February 18, 2013 at 5:53 | Comments (0)
Permalink
---
Weekend Performances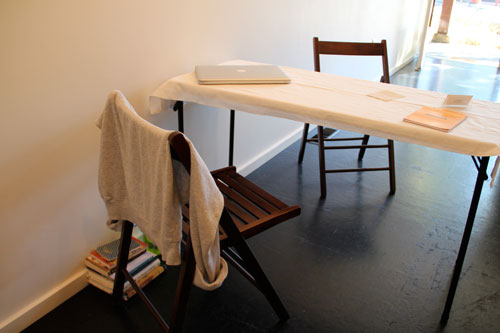 Jennifer Ambrust at Nationale
Jennifer Ambrust, who has been offering free advice to members of nationale for the past few years has recently retired from her web and graphic design work to launch a new creative consulting firm,
Ambrust & Co.
The next session of
Free Advice
hosted by Ambrust will take place on Saturday, the 16th. "Working intuitively from a wealth of scholastic and experiential knowledge including creative entrepreneurship, artist mentorship, small business & gallery administration, graphic & web design, Critical Theory, cooking & nutrition, yoga, Jungian psychology, Buddhism, and energetics, Armbrust meets one-on-one with participants, proffering an alchemy of observational insights, resource referrals, recommendations and somatic experiences in response to expressed queries."
Free Advice
| Jennifer Ambrust
February 16th | 12-2 PM
Free for gallery members | $5 for non-members
Reservations welcome | info@nationale.us
Nationale | 811 E Burnside
Katherine Groesbeck at Place
Seattle-based artist Katherine Groesbeck will be conducting a wish-making performance this Saturday complete birthday cakes. "Even though I know longer believe in the magic of genies, birthday candles, or shooting stars, I still make wishes just in case I'm wrong. The remnants of my inner child compel me to continue wishing. For the next eight weeks I will explore the magic and the lure of wish making." Coinciding with Groesbeck's festive goings-on, performance artist Michael Reinsch will be turning art audience into consumer as he turns out art-on-demand. "This project utilizes retail strategies adopted from made to order production such as speed, efficiency, and attention to high customer service standards. The viewer orders pieces of art from a menu board posted behind a professionally manufactured service counter." Adrienne Huckabone will also have a new video work on view that fetishizes the imagery of advertising.
Katherine Groesbeck |
Wish Making & Practicalities
Michael Reinsch |
On Demand
Opening Reception | February 16th | 5-9 PM
White Gallery |
Place
| Third floor of the Pioneer Mall | 700 SW 5th Ave
Posted by Tori Abernathy on February 15, 2013 at 15:51 | Comments (0)
Permalink
---
Toko Shinoda at Portland's Japanese Garden
Toko Shinoda, Gratitude (lithograph)
Portland's fantastic Japanese Garden is kicking off its 50th anniversary year visual arts programming with
an exhibition of drawings and prints by Toko Shinoda
. At 100 years old Shinoda is herself a Japanese national treasure and innovator in calligraphy drawing from both abstract expressionism and minimalism as well as the long history of Japanese Calligraphy. Those who know their history know that both
avant garde
American art movements had more than a few path crossings with the traditional art form. Curated by Norman Tolman, the exhibition will present one work work from each year of the garden's existence.
According to the garden's PR: "Working in a medium that traces its roots back 3,000 years to ancient China, Shinoda was influenced by the Abstract Expressionist movement of the 1950s and today her works combine a refined minimalism with a dynamic abstract energy. Her masterful brushstrokes are often complemented with a subtle touch of color and convey a Zen-like sense of tranquility. Interviewed by The Japan Times on the occasion of her 90th birthday, Shinoda described her work as, 'a balance between dynamism and traditional elegance.'"
50 Prints & Paintings, Toko Shinoda at 100
February 15 - March 17th
Portland Japanese Garden
611 SW Kingston
Posted by Jeff Jahn on February 15, 2013 at 6:23 | Comments (0)
Permalink
---
Jean Michel Basquiat Valentine
Jean-Michel Basquiat, Valentine (1983) Long term loan of Paige Powell at Portland Art Museum (Jubitz Center 3rd floor)
Just wishing PORT's readers a Happy Valentine's Day with this very unique Jean-Michel Basquiat on display at the Portland Art Museum as an interesting and nearly inscruitable meditation on relationships. It is one of the most unique Basquiats I've ever seen. It is a seemingly inward and private painting, portraying two monkeys grooming each other awash in a gentle field of pink. The figures are rendered with an intense roughness that offsets the saccharine color field and heart shape that their forms create. ...(more)
Posted by Jeff Jahn on February 14, 2013 at 16:08 | Comments (0)
Permalink
---
Dieng & Maldonado at Linfield
Devon Maldonado (L) Modou Dieng (R)
It may be a bit of a trek into wine country for Portlanders but Linfield College's gallery does some of the best truly contemporary shows in the area and
An Interactive Installation: Modou Dieng in collaboration with Devon A. Maldonado
looks like it is worth the trip.
According to the PR: "Dieng has collaborated with VanHouten-Maldonado on "An Interactive Installation," an exhibit that draws inspiration from a history of heroes and antiheroes in Mexico and Senegal. The exhibit examines the way history is represented in a contemporary context in the information age.
Viewers are asked to interact with the work using a provided 3D lens, in order to investigate cultural history and ethnicity using contemporary tools. A clash of digital and analog cultures determines a hybrid aesthetic of history and ethnicity, the artists say."
The PR photo alone conjures the classic Warhol/Basquiat show and other images call to mind Warhol and Basquiat having a bit of fun at Richard Prince's expense. It feels like internationalist payback in a post pop, post painting, post colonial, post photography, post heroic, post POST perhaps pre-revolutionary exhibition. It doesn't have that traditional Northwest vibe at all.
Detail of Dieng's work at MoCADA
Modou in particular is one of the most internationally connected artists in Portland (he's one of the key people behind the
Portland NOW Triennial
) and I'd be remiss to not mention his participation at Brooklyn's MoCADA (Museum of Contemporary African Diasporan Arts)
eMERGING: Visual Art & Music in a Post-Hip-Hop Era exhibition which opens on February 14th
. See both shows on both coasts if you can.
An Interactive Installation | MMiller Art Center, Linfield College (McMinnville campus)
February 11 - March 16, 2013
Opening Reception: Saturday, February 16th | 3 to 5 p.m.
Artist talk at Nicholson Library on the Linfield Campus, room 127, Wednesday, Feb. 27, at 5 p.m.
Posted by Jeff Jahn on February 12, 2013 at 14:38 | Comments (0)
Permalink
---
Not So Final Craft/Perspectives Panel for Hallie Ford Fellows Inaugural

(L to R) Ellen Lesperance, Akihiko Miyoshi, and Michelle Ross
Tomorrow at 6:30PM the Museum of Contemporary Craft is holding the last of 3 Craft/Perspective panel discussions related to the
We Tell Ourselves Stories In Order To Live exhibition
of Hallie Ford Fellowship recipients. The talk features, "individual artist presentations by 2012 Hallie Ford Fellows; Ellen Lesperance, Akihiko Miyoshi, and Michelle Ross, followed by a moderated conversation around a central question that currently influences the local creative climate."
To be sure, whenever someone hands out money, somebody will inevitably grouse but
the exhibition has been a lightning rod for a wide ranging discussion here on PORT
... just not in the way the Ford Foundation seem to have planned. Instead, by situating the discussion around the somewhat old-school combination "making" and hand made analog processes in some ways the show misses ideas first laid out in Donald Judd's incredibly influential essay Specific Objects (which counter-intuitively was all about being general in a specific way by making objects quite secondary to their collateral effect upon a room and viewer. This ultimately presaged the now omnipresent digital realm.) Thus comparatively, 7 of show's 9 artist (exceptions are Schwegler and Conkle) have a very conscious old-school approach to art, much of it academic as well. This isn't an indictment or review of the work as much as a mirror I feel needs to be held up to these awards panels in regards to so called "contemporary award"s for art in the Northwest. Furthermore, these three artists are all capable speakers so come and see what they have to say about being lumped together in both flattering and not so flattering ways.
By purposefully concentrating on more, "traditional disciplines" the Ford Family Foundation practically begged for this kind of "yeah but" critical response (i.e. where is the exploration of digital forms or installation that doesn't call attention to the way it is made). I respect that and the opportunities for discussion it creates are important. Fact is though most contemporary art treats the human hand as a simply a choice to use, or not. It isn't paramount to the discussion of the human condition (especially in this digital age), simply a common one among numerous other strategies. By fetishing the hand/analog process, it is like having desert all of the time and the Ford Family Foundation is hardly the only institution guilty of taking a very standard and stereotypical "genre" based approach to Northwest art as opposed to an ideas/experience based one (which inherently treats all genres, materials and strategies as equals).
Panel Discussion: February 12th | 6:30 - 8:00 PM
Museum of Contemporary Craft (The Lab)
724 NW Davis St.
Posted by Jeff Jahn on February 11, 2013 at 12:58 | Comments (0)
Permalink
---
Weekend Events in February
Still from
Purge
, directed by Antti Jokinen. Image courtesy of PIFF.
The Portland International Film Festival opened yesterday and will be running through February 23rd. There are far too many gems for us to cite them here, but in case you're unfamiliar with PIFF: "Drawing an audience of over 35,000, the Portland International Film Festival (PIFF) is the biggest film event in Oregon, premiering more than 100 international shorts and feature films to Portland audiences." I'm always personally fond of the film shorts, the first set of which screens this Saturday at 1PM in the Whitsell auditorium. I'm also interested in seeing the documentary filmed in North Korea,
Comrade Kim Goes Flying
: it looks as though it will prove to be a corny underdog story laden with the cheery undertones of propaganda films. There is so much more to see over the next couple weeks and you can find the full listings on their website.
The Portland International Film Festival
| presented, in part, by The Northwest Film Center
February 7th - 23rd
Whitsell Auditorium | 1219 SW Park Avenue
Regal Fox Tower | 846 SW Park Avenue
World Trade Center Theater | 121 SW Salmon Street
Cinema 21 | 616 NW 21st Avenue
Documentation of Jon Gitelson's
The Last Snow In Brattleboro
.
This weekend down in Springfield, an exciting new show exploring new geographies and mapping techniques is opening with the works of three out of state artists. The work in the show, from what I can tell without having yet witnessed it myself, seems both playful and cleanly stark. The works "investigate the materiality of the landscape, the complexity of perceptual experience, and the relationship between our physical and mental experiences of place. Lamson's video A Line Describing The Sun tracks the path of the sun during a one day performance in the Mojave Desert while Mann's photographs of imagined landscapes speak of the desire to run away into the unknown. Gitelson's The Last Snow In Brattleboro tracks the last snow to melt in his hometown in order to convince himself of Spring's arrival."
Three Ways to Draw the Landscape
| William Lamson, John Mann, and Jon Gitelson
February 9th - March 2nd
Opening reception | February 9th | 6-9 PM
Ditch Projects
| 303 S. 5th Avenue #165 | Springfield, OR
Posted by Tori Abernathy on February 08, 2013 at 18:15 | Comments (0)
Permalink
---
Artist Opportunities
The Anderson Ranch (former PORTster Jenene Nagy is the director of painting, drawing and printmaking) has
residency opportunities in both Fall and Spring terms open
. Deadline for applications is Februaury 15th, 2013. There are 28 spaces for established and emerging artists, including 4 fully funded-residencies. It is a ten week program. Disciplines include; ceramics, sculpture, furniture design & woodworking, photography & digital media, painting & drawing as well as printmaking. Fall Term: October 9 - December 18, 2013 and Spring Term: February 5 - April 16, 2014..
Full details here
.
Last week, the
Ford Family Foundation opened their annual call for three unrestricted $25,000 Hallie Ford Fellowships for mid career Oregon artists in the visual arts
. Applications are online only (using the Cafe system), and due by March 15th. Here
on PORT we have discussed the first 9 fellows
, who are currently
on view at the Museum of Contemporary Craft
(which everyone should see).
Also, photographers may want to consider this open call from Blue Sky:
The Optica
l. Here is a chance to have your work evaluated by photographer and collector Allan Chasanoff. He is a connoisseur of the "interval of confusion before the image resolves," or images that, "refused to make visual sense, delighting in its resistance and delighting again when that resistance was overcome - a delicious tension and release." No fees, just drop off up to three unmounted prints by March 1st.
Details Here
.
Posted by Jeff Jahn on February 08, 2013 at 11:07 | Comments (2)
Permalink
---
First Thursday of February
WHEN WILL MY LOVE BE RIGHT, 2013, galvanized welded and riveted steel, leather, brass, copper and seashell, 26" x 25" x 40 1/2", installation view, photo by Jeff Jahn
Arnold Kemp, chair of the Visual Studies program at PNCA, was awarded a Guggenheim Fellowship in 2012. His current exhibition at PDX Contemporary
When Will My Love Be Right
references a song recorded by Robert Winters and Fall in the 1980s that comes out of a genre transforming gospel and r&b into the funky and secular. On view will be a series of handmade mens' accessories, seashells, poetic texts, and images made from the manipulation of aluminum. "These works conceptualize a sense of touch, a sense of empathy and a sense of humor. In thinking about the characters that are described in the various 'aluminums' I find that characters emerge also in the mundane objects of the shoes, the shells and the leather belts that bear a buckle that simply names them as SHY. These works are poetic, associative, and sensual in their insistence on the possibility of mundane objects to portray tense spasms of the soul peppered with pain, laughter, irony and question marks."
When Will My Love Be Right
| Arnold J. Kemp
January 22nd - March 2nd
Opening Reception | February 7th | 6-9 PM
PDX Contemporary | 925 NW Flanders
Derek Bourcier @ Littman Gallery
I'm very excited to see the solo exhibition by one of my favorite Portland-based emerging artists, Derek Bourcier. He has a curious way of uncovering the magically vital force of objectness. "More Doubt and Wonder is an exhibition of conceptual sculpture and video that trusts in the unseen, the contained, and the imagined as a means to communicate ideas of isolation, imagination, and artistic self-doubt. Bourcier conflicts the inclination to create objects as a necessary part of life with feelings of uneasiness in that form of expression." At the White Gallery just down the hall, there will be a series of 'drawings' by Dunja Jankovic.
More Doubt and Wonder
| Derek Bourcier
February 7-28, 2013
Opening Reception | February 7th 5-8 PM
Littman Gallery
| PSU Smith Hall, Room 250 | 1825 SW Broadway
Still from
With Eyes that Might not See
, Claire Zitzow, 2012, 10' 15" HD video, stereo sound, image courtesy of the artist
In February at White Box, two exhibitions are opening that focus on place and human intervention into representations of natural landscapes. The exhibition by
Claire Zitzow
exploring the Coloradan landscape "consists of four new sets of works reflecting on a mediated relationship to landscape that occurs through observational study, a multiplicity of image production, and the experiential."
Goldfields
is a three-channel video installation by Dawn Roe that "consideration[s] cultural memory in relation to the opposing perspectives of indigenous and colonial settler narratives, pastoral landscape representations, folklore and myth."
Claire Zitzow |
Remains To Be Seen
&
Dawn Roe |
Goldfields
Opening Reception | February 7th | 6-9 PM
White Box
| at University of Oregon | 24 NW 1st Ave
Posted by Tori Abernathy on February 05, 2013 at 14:39 | Comments (0)
Permalink
---
Becker Collection & Sarah Gilbert at Reed College
Henri Lovie (b. Prussia, 1829–1875),(detail) Battle of Shiloh or Pittsburg Landing, Tennessee: Left Wing near the Peach Orchard, April 6, 1862 Graphite and gray wash on wove paper
We are now into Obama's already very polarized second term as President and films like Lincoln and Django Unchained are still the major must see films in the theaters, all bringing the the USA's bloody and divisive Civil War era close to our modern consciousness. Thu,s it is timely that the Cooley Gallery's latest show,
FIRST HAND: CIVIL WAR ERA DRAWINGS FROM THE BECKER COLLECTION, BOSTON COLLEGE
brings us another abstracted but first hand observational account to perhaps the most defining event in our country's history. It is also a coherent follow up to the previous Kara Walker show as well.
Here is the PR: "The Douglas F. Cooley Memorial Art Gallery, Reed College, is proud to present over 140 original Civil War era drawings from the Becker Collection at Boston College. The Becker Collection contains over 600 hitherto un-exhibited and undocumented drawings by American artist Joseph Becker (1841–1910) and his colleagues, nineteenth-century artists who worked as artist-reporters for Frank Leslie's Illustrated Newspaper during the Civil War. Artist-reporters were charged with observing, drawing, and sending back for publication images of the battles, troop movements, and daily activities of the era. Completed in the field, their drawings were couriered to Leslie's offices where they were transformed into wood engravings, then cast as metal plates and printed. At times, it took as little as three days for drawings to make their way from the battlefield into Leslie's pages.
Civil War Drawings from the Becker Collection is the first opportunity for scholars and the public to study selections from this important and unknown collection, and to appreciate these national treasures for their aesthetic qualities and relationship to contemporary forms of illustrated journalism. The original drawings selected for the exhibition by curators Sheila Gallagher and Judith Bookbinder document key developments in American history in lively and specific forms, as the country struggled to establish its national identity. In addition to Becker, the exhibition includes works by Henri Lovie, Edward F. Mullen, William T. Crane, and Charles E.H. Bonwill, among others."
First Hand: Civil War Era Drawings From The Becker Collection, Boston College
February 5 - April 20
Cooley Gallery | Reed College
3203 SE Woodstock BLVD.
HOURS: Noon to 5 P.M., Tuesday – Sunday, free
Located in the main floor of the Reed Library

Sarah Gilbert (photo Dan Kivitka)
Sarah Gilbert's After Image at Reed's Feldenheimer gallery explores the very popular intersection of science and art (artists like Damien Gilley, Oregon Painting Society, Carl Diehl, MSHR, Laura Hughes, Kyle Thompson, Josh Pavalacky, Zachary Davis and Laura Fritz are all practitioners) though Gilbert's take is more gadget based, dealing with the very real human/cyborg convergence (the other artists tend to dematerialize objects to varying degrees). There is an opening on First Thursday (far from the Pearl District so Ill post it with its campus brethren).
According to the PR, "Sarah Gilbert creates objects, images, and installations that explore changing definitions of the human and posthuman, both in physical form and as conceptual categories. As an artist working in glass, film, and a variety of other materials invested with rich historical craft traditions, she is interested in how objects shape our experiences, and the ways in which we define ourselves through the labor of our bodies. Her projects strive to make visible links between the past and the present, drawing on material memory and the tension between figuration and abstraction as springboards for contemplating our experience of time."
After Image | Sarah Gilbert
January 28 - Feburary 19, 2013
Edith Feldenheimer Gallery, Studio Art Building
Reception with the artist: February 7, 4:30 - 6:30 PM
Gallery Hours: Monday–Saturday, 12:00 - 6:00 PM
Posted by Jeff Jahn on February 05, 2013 at 10:08 | Comments (0)
Permalink
---
Monday Links
Jerry Saltz revisits the infamous 1993 Whitney Biennial
... the much hated "identity politics" show. This is a fun read.
What can art museums
learn from the new Museum of Mathematics
? Still, I'm not entirely convinced that touching is the only way to expand the horizons of the young. In Portland, OMSI already has plenty of touchy feel-y exhibitions and I think there is something to be learned by having work that commands a certain "don't touch" respect. PAM's security guards have their hands full with the adults who think they can touch everything already! That said museums are definitely exploring interaction... The Carrie Mae Weems show at PAM includes a table with interactive Iphone apps.
In a related news,
OPB Interviewed Weems for Think Out Loud
.
Posted by Jeff Jahn on February 04, 2013 at 10:13 | Comments (0)
Permalink
---
What Can Sigmar Polke Teach Us?
Works by Sigmar Polke from the Nicolas Berggruen Charitable Trust (L to R) Providentia-Schleife (1986), Untitled (1989), Druckfehler (1986), Lumpy Hinter dem Ofen (1983), Untitled (1983), photo Jeff Jahn
by Victor Maldonado
Today, February 3rd, 2013 is your last opportunity to view eight wall works and one suspended work by legendary German Pop artist
Sigmar Polke at the Portland Art Museum
. The suspended work, Untitled (1989), is a mixed media on synthetic fabric double-sided masterpiece, singular in nature and unlike any of the output from America's Pop-fathers, Rauschenberg and Johns, of whom Polke was an early adopter. Perhaps Warhol's serial approach to screen printed pictures also echos in this exhibit but it is the hand-made nature of these nine pieces that imbues them with a sense of lasting power.
...(more)
Posted by Victor Maldonado on February 03, 2013 at 12:08 | Comments (0)
Permalink
---