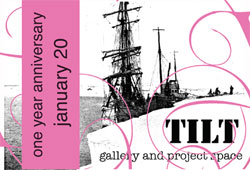 As many of you (hopefully) know,
Tilt Gallery and Project Space
has spent the past year working hard to bring you consistently challenging and innovative work from local and national artists. Highlights from our first year include an
"auspicious"
start from Portlander
Stephanie Robison
, a site specific project by the talented and
multifaceted
Avantika Bawa, and a bold solo exhibition by
Paula Rebsom
.
Believe it or not, its been a year for us at Tilt and we are celebrating with an Anniversary Party this Saturday, January 20 from 8-11pm. Come enjoy some food and drink and see work by gallery artists
Avantika Bawa
, Paula Rebsom, Stephanie Robison, and
Stephen Slappe
. Along with rubbing elbows with our new stable of artists, you will have the opportunity to view exciting work from the flat file as well. We hope you will join us!
Tilt Gallery and Project Space • Anniversary Party
Saturday Jan. 20 • 8-11p
625 NW Everett • Suite 106
Thanks for signing in, . Now you can comment. (sign out)
(If you haven't left a comment here before, you may need to be approved by the site owner before your comment will appear. Until then, it won't appear on the entry. Thanks for waiting.)