2016 Contemporary Northwest Art Awards at PAM


It is that time again the 2016 Contemporary Northwest Art Awards and according to the video above there is a subtext of welcoming those who were not born in the USA featuring the work of; Willem Volkersz, Samantha Wall, Victoria Haven, Lead Pencil Studio (Daniel Mihalyo and Annie Han), Dana Lynn Louis, Helen O'Toole and Akio Takamori. So, will that chamber of commerce kind of ideation be enough to head off the oft repeated nickname of the Conservative Northwest Art Awards? True, many artists in the Northwest are from elsewhere but there is also a tradition of rewarding those who don't shake things up so much... even when Portland and Seattle are dynamic places. True, Seattle's top troublemaker Jack Daws won the Betty Bowen award last year but that should have happened a decade ago! Overall, we may be welcoming but for whatever reason we don't rock the boat much at the institutional level with few surprises. Usually it is just a lot of Northwest cliches of like nature, craft and figuration without much interrogation of what kind of nature, craft and figuration? At the same time so many artists have international careers so I ask, why? Frankly most group surveys have a similar problem where the announcement of the list overwhelms the actual exhibition time and again. Maybe this one will be different? These were initially designed to be like the SECA awards.

The show is curated Bonnie Laing-Malcolmson, The Arlene and Harold Schnitzer Curator of Northwest Art and curatorial advisor Jessica Hunter-Larsen, curator of IDEA Space, Interdisciplinary Experimental Arts, at Colorado College. The show is Laing-Malcolmson's last exhibition and it is somewhat of an impossible job... especially when your own back yard has the most adventurous art scene with conservative collectors who are not very involved. Each year though Laing-Malcolmson has moved PAM in the right direction, question is if they can replace her with someone both dynamic and convincing enough to move the needle reflecting the tectonic changes we have undergone?

2016 Contemporary Northwest Art Awards | February 13 - May 8
Portland Art Museum
1219 SW Park Avenue
Read More
Posted by Jeff Jahn on February 12, 2016 at 12:52 | Comments (0)
---
The Fifth Wheel at Linfield

"Speak, Thou Vast and Venerable Head" (video animation still) Julia Oldham, 2016

The Fifth Wheel is a multimedia exploration of the arguably hypermasculine novel Moby Dick by four female artists, Julia Oldham, Sarah Nance, Jane Schiffhauer and Alanna Risse. The exhibition takes its title from a description in the novel and though the gallery is rather difficult to get to for openings (from 5-7 on a weekday) unless you are already in McMinnville its a perfect weekend sojourn.

Not It | February 10 - March 19
Reception: February 10, 5-7PM
Artist Talk: Saturday, March 12 5PM
Linfield Gallery | Linfield College
900 SE Baker st., McMinnville, OR

Read More
Posted by Jeff Jahn on February 10, 2016 at 10:01 | Comments (1)
---
Celebrating James Archer

James Archer

The Archer gallery is celebrating its namesake James Archer on the occassion of his donating 129 artworks to the college. 40 of the artworks are on display at the gallery and you can read a little more on the gift here. I have a thing for the way these personal collections enrich institutions as it is the way most people first experience art. Often in a very casual way they simply come across something that strikes them when they are on their way to a class or some other activity. There is tremendous value in this and art isn't just for museums, so go and tell him how much he has done. One things we dont do well around here is thank our leaders... especially the ones who stick their necks out enough, James is one of those leaders.

Celebrating James Archer | RSVP khukill(at)clark.edu
Celebration reception: February 9, 7PM
Archer Gallery (Penguin Union Building) Clark College
1933 Fort Vancouver Way, Vancouver Washington
Read More
Posted by Jeff Jahn on February 08, 2016 at 11:33 | Comments (0)
---
Thoughts on Museum of Contemporary Craft dissolution

MoCC Exhibition view: Laurie Herrick Weaving, Yesterday, Today and Tomorrow (2011) Photo Jeff Jahn

Yesterday PNCA announced that it will sell the property which currently house the Museum of Contemporary Craft and transfer the collection to its new headquarters building at 511 NW Broadway just down the street creating a new Center for Contemporary Art and Culture (a name that could mean anything). It has provoked strong responses ranging from anguish to relief and PNCA's leadership is getting a lot of blowback (some fair, some is simply hurt finger pointing). We could use some deeper and more nuanced thinking regarding this sad news as PNCA's hand was simply forced after years of subsidies. The troubled museum, which began life as craft oriented social/professional club simply had difficulties making the transition as it tried to become a museum. In fact, it has always been on life support from PNCA since the merger in 2009, which PORT covered extensively...

...(more)
Read More
Posted by Jeff Jahn on February 04, 2016 at 14:06 | Comments (0)
---
First Thursday Picks February 2016
February has always been a good month for art exhibitions in the Portland art scene and everyone seems ready to get out and meet each other once again. Here are my picks:



The Histology of the Different Classes of Uterine Tumors, Wangechi Mutu (2005)

Internationally famous artist Wangechi Mutu creates chimerical anthropomorphichuman constructions exploring gender, identity and wry positioning within society... including immigrants. Her exhibition at the 511 gallery titled The Hybrid Human are a in that great tradition of the anthropological grotesque, like international Frankensteins for our time. This is the first in The Jordan D. Schnitzer Exhibition and Visiting Artist Lecture Series.

The Hybrid Human | January 19 - March 12
First Thursday: February 6, 6:00-8:00PM
PNCA (511 Gallery)
511 NW Broadway


...(more with Portland Japanese Garden and Portland Pataphysical Society)
Read More
Posted by Jeff Jahn on February 04, 2016 at 10:09 | Comments (0)
---
Monday Links
Hans Ulrich Obrist on the future of Contemporary Art. One of the things that distinguishes him from most big name curators is the way he readily admits their cultural cache supersedes that of curators and institutional immpreneur. Of course the idea that the "present" is slippery or splintered into intangible pieces is a very Los Angeles sort of notion and yet a lot of art is about being "present" and is not so slippy for anyone with an eastern outlook or access to the splintering the internet, which seems to record what is present with relentless detail. The difference is velocity of consciousness/awareness. Here's my quote, "The future is always over before you know it"... that means those with "an edge" find it through the obsessive over-familiarity of experience that is hard to rationalize...

Ken Johnson on Flatlands at The Whitney. The de-skilling thing is hardly new and the masters of this sentiment like; Rosenquist, Duchamp, Max Ernst, Picasso, Neo Rauch and Dana Schutz should continue to loom large in the minds of those contemplating the exhibition. The Internet didn't inspire current painting... perhaps painters dreamed (or memed) of the internet?

Werner Herzog discusses virtual reality.

The Knoedler trial continues...
Read More
Posted by Jeff Jahn on February 01, 2016 at 17:15 | Comments (0)
---
Save the Littman Gallery at PSU

Littman Gallery (foreGround exhibition 2012)

Apparently the future of the Littman Gallery at PSU (one of Portland's best art spaces) is in serious question as the school's administration is planning to restructure the Smith Student Center, which houses it. One plan is to reallocate the space for an African American and Pacific Islander center. This makes little sense, diminishing established and noted cultural resources for other cultural resources seems to completely miss the point of having cultural spaces in the first place and takes away from the college experience. The Littman has long been the best place for PSU to engage the community (see this interview with William Pope L. on the occasion of his Littman Gallery exhibition.)

Despite being student run the Littman has launched countless art careers and numerous exhibitions that have changed the city's cultural complexion. I've personally curated 3, including PLAY (2002) where Bruce Conkle first exhibited his snowman in a freezer eco-existentialism. PLAY also posited the idea that Portland was a place for experimental and conceptual new media art (back in 2002 this was a contentious idea). What's more, unlike other PSU galleries the Littman isn't hidden away in a building only art students see and fondly remember the interactions I've had with casual visitors to the exhibitions I've curated at the Littman.



As an art city that needs spaces open to new programming Portland simply cannot lose this valuable cultural resource and the fact that it is run by the students also makes it more susceptible. It greatly diminishes the invaluable experience that the student gain from running the space as well.

The Littman Gallery staff has asked you to email them with your support here: littmanandwhite@gmail.com and please spread the word.

*Update: in a rare bit of good cultural news for Portland the Littman Staff just announced that the gallery is no longer in danger of being closed, mentioning that the all of the responses made the difference.
Read More
Posted by Jeff Jahn on January 27, 2016 at 20:25 | Comments (1)
---
Intersecciones: Havana/Portland at L&C

Rafael Villares

Portland has had its typical sleepy January start but Intersecciones: Havana/Portland at Lewis and Clark College's excellent Hoffman gallery looks like the official kickoff to an exciting 2016. The exhibition explores contemporary art in Cuba through the way 6 Cuban artists approach the Oregon trail as cultural ambassadors. It has been over half a century since relations between USA and Cuba have been normalized so this exhibition is a kind of document of emergent familiarity/unfamiliarity.

According to the Press release: "Susana Pilar Delahante Matienzo creates installations and public actions that poke at the troubled cultural space for people of African ancestry. Reynier "El Chino" Novo's reimagined cultural objects reveal the depleted energy of true political action. Elizabet Cerviño's spare performances draw from the haunted contradictions in historic spaces. Adriana Arronte's installations of exquisitely crafted glass, plastic, and metal objects complicate spaces of personal consumption. Rafael Villares's displaced landscapes create tensions between desire and reality. Yornel Martínez's alternative magazines provide manuscripts for artist exchange.

When the idea to curate a show of Cuban artists first emerged, we had no inkling of the historic change about to take place between the two countries. We happened to be in Havana on the day that President Obama met with Raúl Castro and announced he would take Cuba off the terrorist list. This provides the backdrop for Intersecciones. In the US public imagination, Cuba is either a Communist failure or a victim of US imperialism."

Intersecciones: Havana/Portland | January 28 - March 13, 2016
Opening Reception: January 28, 5 - 7PM
Ronna and Eric Hoffman Gallery of Contemporary Art
Lewis & Clark
0615 S.W. Palatine Hill Road MSC 95
Read More
Posted by Jeff Jahn on January 27, 2016 at 12:24 | Comments (0)
---
Candidates Forum for Arts & Culture


2015 was a year when a lot of what we love about Portland was put under pressure by the years of success in tourism and certain types of job creation. Though we hate the word "creative" when used by politicians it is good to find out what some of the candidates for Mayor and City Council have to say about the future of our city.

Confirmed participants include: Ted Wheeler, Jules Bailey, Amanda Fritz, Steve Novick, Stuart Emmons and moderated by April Baer of OPB. *Note there is some controversy as several recently declared candidates did not make the cutoff for the forum.

In particular the savvy visual art community has an interest in; ways to keep rents affordable, support for alternative spaces (a crucial seedbed for talent development), why nearly all the major art awards seem to regressively go to hand craft oriented academics to the exclusion of new media and less traditional concepts? (I'm calling for balance.) Lastly, I'd like to see the candidates answer about the perpetual fetish of quirkhype regarding Portland's cultural community rather than a serious discussion? To clarify, Portland is full of artists doing important work nationally and internationally and it is the root of Portland's competitive advantage over most other cities... we have a great community of very serious peers who get very little formal civic support and this is a question of how versed candidates are on talking points regarding patronage and stewardship? Quite specifically, Portland's next Mayor and Commissioners need to be on point culturally, not mere photo op purveyors of quirk or culturally passive regarding Portland's identity. I covered the topic in my 2012 Op Ed in the Portland Tribune but recent financial pressures have made the topic more pressing.

Candidates Forum for Art And Culture | January 26 (free)
Doors: 3:30 PM, begins at 4:00PM
Gerding Theater and Armory
128 NW 11th Ave
Read More
Posted by Jeff Jahn on January 25, 2016 at 13:12 | Comments (0)
---
Saving Centennial Mills?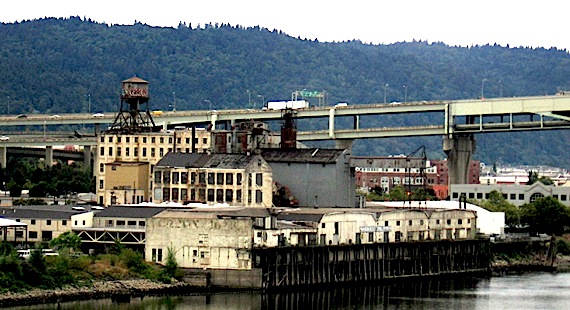 Centennial Mills (before partial demolition)

The remaining Centennial Mills structures at the northern edge of the Pearl District and the last major historical building cluster still sitting upon the Willamette River is still in peril and tonight developer Jordan Schnitzer and historian Chet Orloff along with Patricia Gardner (President, Pearl District Neighborhood Association) will discuss the building with the community. There is tremendous historical texture at the site and we have covered it numerous times here and here as has Portland Architecture and frankly its a complicated project that doesn't pencil out financially very easily (pollution cleanup, degraded structures, etc). That's why the news that the PDC was backing away from a deal last year was so disheartening as Schnitzer was interested in it beyond simple economic terms. Culturally it was an opportunity to both mine and preserve our past... something that has been rapidly been erased as exemplified by the Lovejoy columns. It could have been a moment to articulate Portland's ethos through placemaking. Now it is in limbo and the first public meeting is being held at 6:00 today.

The opportunities go beyond the sorts of developments that we have seen in other US Cities, instead think Thief's Island in Oslo... only with a Portland identity both new and old?

Recently we lost the Portland Gasco building because a suitable 3rd way could not be found and the preservation/future development question has become a civic crisis. In this case a third way was on the table...

Thursday, January 21, 6:00PM
1315 NW Overton (Pure Space in the Pearl District)
Read More
Posted by Jeff Jahn on January 21, 2016 at 12:48 | Comments (0)
---
Bowie edition links
David Bowie died just over a week ago and frankly I waspretty busted up about it. From 1999-2003 I wrote for Modern Painters magazine, during the London era when he sat on its advisory board... I know a lot of people who actually knew the man and it is pretty plain that most people know the art more than the person. He was deeply interested in critical dialog, not just garnering attention.

Here in Portland the constant din of people trying to out Bowie one another... even at New Seasons just made me want to pull back. Here are a few Bowie links related to Art that might be of interest:

David Bowie's top 100 books... you get a sense of his interest in artifice for its own essentially humanist sake.

Michael Kimmelman interviewed Bowie on his taste in art. Notice the edge the man has? ... even for artists he liked. BTW that is a Great Auerbach.

An interesting interview with the musician who worked the longest with him... all sorts of good things for any artist to take from it.
Read More
Posted by Jeff Jahn on January 18, 2016 at 13:07 | Comments (0)
---
Weekend Picks

"Hero" (2015), Marc Matchak

It was sad when HQ Objective left their Oak St. space in 2015 but they are back... on East Burnside now with Fortune Gallery and Press. Their latest exhibition, Folded Object Instructions and Recent Poems, features Marc Matchak and Jabari Jordan-Walker. The exhibition looks like a rebus of sorts:

"Marc says there is a tennis match going, but there is no victory and the rules are somewhat fictive. Jabari gave us instructions on how to build a folded object out of copper, yet its final form is impossible. Given these circumstances we may feel irresolute. These selected objects, companions in our small space for a time, are gently voicing concern about our expectations of fairness and order in our world." -Will Elder, curator

Folded Object Instructions and Recent Poems | January 16 - February 21, 2016
opening reception on Saturday, January 16, 12 - 6PM
HQ Objective at Fortune (Sat-Sun 12-6, or by Appt.)
2235 W Burnside St.




Michael Knutson, Symmetrical For-Layered Ovoids and Latices II, 2015, oil on canvas diptych, 60 x 80 in.

One of my main complaints with local curation of the Portland art scene is we dont do a lot of great thematic group exhibitions. In this case a group of hard core serial pattern abstractionists have stepped up and self-selected themselves at one of Portland's best spaces. Featuring; Cynthia Mosser, James K-M, Matt Cosby, Michael Knutson Rae Mahaffey, Sally Finch, Shu-Ju Wang and Tamara English. I always pay attention when artists organize and I'm a fan of Knutson, Mahaffey and English so I can recommend the trip.

THE PULL OF REPETITION | January 14 - February 13, 2016
Weekend Reception: Sat, Jan 16th, 2-4PM
North View Gallery
Portland Community College Sylvania Campus
12000 SW 49th Avenue

Read More
Posted by Jeff Jahn on January 15, 2016 at 17:44 | Comments (0)
---