First Thursday Picks July 2015
It is a hot one for the Portland art scene this First Thursday, here are what look to be the coolest shows (hint they all involve mandala-like symmetry):



Honour Mack,Emerging, oil and acrylic on canvas

Yale trained Honour Mack is the visiting artist for PNCA's Low-Residency MFA in Visual Studies and her exhibition Resolving Chaos should be a good introduction to students and the art scene alike. Her work traffics in the fascination with spirituality that some ascribe to the younger so-called millenial generation (it is sometimes true, as a gen-xer I reject the rule of stereotypes... for example I'm not cynical and it is obvious neither is Mack). It should be of interest to many Portland artists, though one has to ask, why would one want to resolve chaos if it is the natural state of flux for the universe?

Resolving Chaos | July 2 - August 8
PNCA
511 NW Broadway




Iconoclast

Nathaniel Thayer Moss's Incision at Hap Gallery marks his debut solo show in the Pearl District. Becausehis work challengs perception and draws on uber-geek/design source material, Moss was the first name I gave when this newish gallerist wanted some leads to check out. I've worked with him and he shows immense potential that doesn't really translate in photographs.

Incision | July 2 - August 1
Oprning Reception: July 2 6-8PM
Hap Gallery
916 NW Flanders


... (more)
Read More
Posted by Jeff Jahn on July 02, 2015 at 15:24 | Comments (0)
---
PORT is 10


This June marked PORT's tenth anniversary and with over 3,000 posts (2500comments) and a whopping 1.5 million+ unique readers in 2014 alone we are Portland's most critically attuned and comprehensively perceptive visual art website, period. We didn't want to dwell on that so instead we will make our 10 year a bit of a case study on the role of criticism and the way it interfaces with the visual arts ecosystem (here is a primer, a much longer essay is coming your way). Part of our role is to counter those Very Portland passive aggressive tendencies, while giving scope and scale to an Eutrophicated art scene with far more activity than any city this size should normally have. We do this by taking a position while acknowledging other ones in doing so. Art critics are incredibly rare and it goes without saying but 10 years on the internet is like living to 100 in human years.

We bet you wonder what you think about news today? Well its coming (we are the only outlet with enough experience to unpack it locally), and yes the Guenther piece is coming for your post holiday summer reading. It discusses way more than Bruce's time at PAM, pivoting to a discussion of the way curatorial roles have been shifting all along. Nice timing eh? Way back in 2007 we helped lead the online art discussion in Art In America and this year I want to re-open that can of worms in a revealing way that presents an anatomy of criticism's evolution. Wait till you see what we've got coming, including a hard publication, high level events (partnering with some of our sponsors), site redesign, + great interviews, deep historical analysis and bespoke reviews with "teeth"... the kind that reach far beyond the Pacific Northwest. Our reviews mean something because we don't judge things by the local or even current art world standards, we compare against relevant models (often historical) even in other disciplines. Portland isn't good at assessing scale and scope, and that's PORT's specialty.

It goes without saying that if there's a big story, people seek out what we think. One example would be ... (more)
Read More
Posted by Jeff Jahn on June 30, 2015 at 12:58 | Comments (2)
---
Environmental Impact Statement at Surplus Space


It is strange how rare group exhibitions that consider the environment are in Portland. Somehow, most of the institutional curators are unwilling to approach a major thread of discussion here (the 2012 Northwest Biennial at the Tacoma Art Museum did though). In that void... enters Environmental Impact Studies, a group who won a Precipice Fund grant and will be taking over Surplus Space for a week. Lead by Lisa Schonberg, Leif J Lee and my arch nemesis Amy Harwood (long story, she dressed in a bear costume in 2003 and attacked me with her sandwich board... then we co-curated the enviro-conversantIn Vicinity together in 2009. She's great.)

Basically Environmental Impact Statement will be conducting interventions in Mt. Hood's forests, where logging and pipelines have been threatening ecosystems for many years and the Surplus Space show will ideally bring some of that back to Portland featuring work by: Featuring work by: Jodie Cavalier, Jodi Darby, Lisa Schonberg, Heather Treadway, Amy Wheeler Harwood, Leif J. Lee, Alison Jane Clarys, Danielle Ross, Gary Wiseman, Sam Pirnak and others.

Environmental Impact Statement | June 29th - July 17th
Opening: June 29, 6:00 - 9:00PM
Closing Reception & Talk: July 17th 7:00PM
Surplus Space
3726 NE 7th Ave
Read More
Posted by Jeff Jahn on June 29, 2015 at 12:28 | Comments (0)
---
Ethan Rose Entwined at PDX Contemporary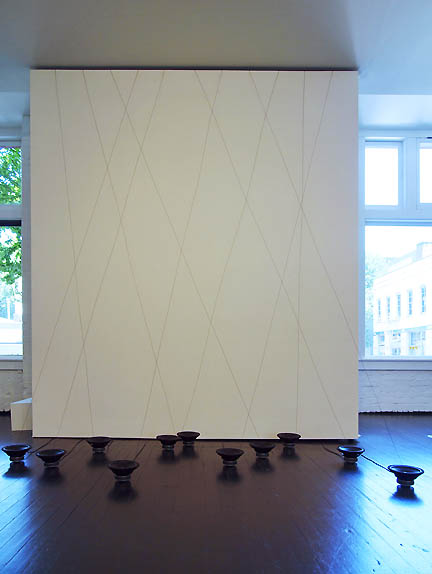 Ethan Rose's Entwined at PDX Contemporary (all exhibition photos Jeff Jahn)

It seems if like Ethan Rose's latest, Entwined, at PDX Contemporary is on the right path because all elements; sound, strings, speakers and works created utilizing those elements present a truly democratic experiential cacophony in black and white... (more)
Read More
Posted by Jeff Jahn on June 26, 2015 at 19:11 | Comments (0)
---
Art World Stories
Kenny Schachter's damage report for Art Basel. As much as these articles always seem to present themselves as an all new scenario, generally things have always been this way. The difference today is the scope, scale and stakes have shifted considerably... the art world consists of a series of negotiated confidences but what happens when art is considered a class of investment? Something that has been going on since the Romanoffs etc... only now it is far less of a medieval style market.

Which brings us to the revolving door article on museum curators and the top art galleries. Once again, institutional curators always have kept up relationships with galleries. What I find most interesting is that the most talented curators at the height of their powers and confidences like; Storr, Schimmel, Elderfield... all people I know and admire greatly, somehow don't feel like they fit at our top museums anymore. Museums have always been on the sometimes tense border between the interests of the 1% and their duty as custodians of culture/access for the public but what happens when all the best and brightest talent either becomes a museum director or an art consultant?

In a related story, "Death by Curation," and the dangers of blockbusters... but is it really a lack of curators with a integral programme?

Art pavilions have been a major trend for institutions and festivals trying to get beyond the art bunkers and white boxes and the latest trippy cocoon for the Serpentine Gallery is no exception. They can catalyze different types of engagement. Some artists like Jorge Pardo have made careers out of them, (his permanent one in Portland is a personal fave because it subverts function by substituting shelter for lighthouse-like navigation concerns).




Here is a fascinating obituary for those unfamiliar with Carl Nesjar, perhaps the only artist allowed to alter Picasso's work. There is something incredibly current about the level of delegation and collaboration that existed between these two artists and I'm a fan of Nesjar's personal ice fountain work as well.
Read More
Posted by Jeff Jahn on June 22, 2015 at 10:32 | Comments (0)
---
Weekend Picks

Sneak peek of No Boundaries at PICA (photo Jeff Jahn)

Aboriginal art (like all great things) is controversial, facing relentless questions of authenticity and exploitation... yet the strength of the best work stands and you will be able to see some of it in PICA's latest show, No Boundaries. It also foregrounds a strong discussion around collecting art (all coming from the Scholl's world renowned collection)... an example Portland's young patronage system needs more of. Great Art transcends, while embodying all orbital questions and tensions and this exhibition does occasionally deliver those moments where all the minuses become plusses.

True, No Boundaries is new territory for PICA in many understandably head scratching ways. For example, many of the contemporary aboriginal artists presented are no longer living yet PICA typically works directly with living artists. Also, this the only West Coast leg of a national museum tour, yet PICA is definitely not a museum. Still, I understood why PICA curator Kristan Kennedy wanted to do this (PICA is the least linear thinking of all of Portland's art institutions). So why? First, the Scholl's collection represents some of the most vital abstract work of the past 50 years, the kind no serious painter can ignore. Contemporary aboriginal art came of age in the 90's and caught on in Britain before other places... they are filled with contraditions. For example, some of the works on display are legitimate masterpieces, though the Scholls don't baby them with museum requisites like climate control. Lastly, No Boundaries is heart stoppingly good in addition to being a turbid collision of worlds... some of the greatest aboriginal artists on view like Paddy Bedford and Warlimpirrnga Tjapaltjarri exemplify the joy and heartache of this collision and thereby form a commentary on both a now vanished world outside of the art market, tragic race relations and true contemporary influence. It is incredibly current and nobody, especially painters should miss this traveling gem of an exhibition organized by my friend Bill Fox at the Nevada Art Museum. Where? The venue is in Chinatown kitty corner from the old PCVA and across from the old Portland Art Center's spaces.

Artists: Warlimpirrnga Tjapaltjarri (1958-), Paddy Bedford (1922-2007), Jananggoo Butcher Cherel (1918-2009), Tommy Mitchell (1943-2013), Ngarra (1920-2008), Prince of Wales (Midpul) (1938-2002), Billy Joongoora Thomas (1920-2012), Boxer Milner Tjampitjin (1935-2009), and Tjumpo Tjapanangka (1929–2007)

No Boundaries | June 20 - August 16, 2015
Opening Reception: June 20 7:00PM
Historian's talk with Henry Skarit | June 22 6:30PM (free) PICA (main exhibition at Mason Ehrman building annex, with a few leftover works at PICA HQ)
467 NW Davis, Portland Oregon
Hours: Th-Fri, 12:00-6:30PM Sat-Sun, 12:00-4:00PM





Last Fall, globetrotter & local art scene stalwart Liz Obert's latest work Dualities went viral with some nice media attention from Slate and today you can catch the work in Portland. Dualities explores the complexities and bifurcations present in those who live with mental illness. Obert's approach is diaristic, slightly reminiscent of Sophie Calle and I'm fascinated by the subject matter... myself and those nearest me are mostly very fortunate to not have to experience these issues but still I think all of us would be surprised how common, manageable yet untreated mental illness is.

Liz Obert Dualities | June 15 - August 15
Opening Reception June 19 5-7PM
The Olympic Mills Commerce Center
107 SE Washington St ...(more)
Read More
Posted by Jeff Jahn on June 19, 2015 at 9:00 | Comments (0)
---
Monday Links
Well, finally they've done something potentially "whelming" with Disjecta's Portland 20##Biennial series, which has always been more about the institution's aspirations than anything else. The 2016 version will be curated by Michelle Grabner, 2014 co-curator of the Whitney Biennial and someone I've known since she was in grad school. Grabner has a knack for getting past the sometimes juvenile local politics so she should well equipped to deal with those chasing the Whitney effect. She will need it as previous biennials have been more social gatherings than strong shows. Rather than probing looks at what an art scene in Portland constitutes/means they have been adept at showing us things we are already incredibly familiar with throughout the year before and the works themselves never seem to standout (rushed time frame and a sense of low stakes). Other challenges are the fact that the previous versions have included so many artists that this one will likely be forced to finally present new discoveries (something sorely missing previously) and group shows at Disjecta always seem to lose the plot (making the shows at commercial galleries a questionable practice and a caste system step up from the host venue). An outside curator is a good idea, but like their curator in residence program it also means they come in not knowing the terrain. Lately though, Disjecta's group shows have improved to reach unmemorable status (the last biennial mentioned craft but didn't go any deeper than checking off a local buzzword that is both fetished and pushed back at). This scene has been asking for better since 2010 and Michelle might be one of the few capable of pulling off something sophisticated enough to pay attention to. Besides, we cheeseheads tend to call it like it is so I'm curious what Michelle will make of the legendary Portland style passive aggressive tendencies. Also, here is a more exhaustive analysis of why and how local surveys and awards miss the mark, it is older but everything still holds. We haven't had an institutional survey that took chances and yet made an impact since the 2006 Oregon Biennial at PAM. As always, execution will matter most in the end... if the institution, curator and artists don't really take care and just let "the process" drive the result, it will resemble itself like these things often do. She has the backbone to counter the false more is more strategy they have been using and being an artist and not just a curator should help her. The question remains why both locals and outsiders have bun unable to contend with the scene here, which has become both increasingly local and international at the same time? Portland in general is tired of being reduced to catchphrases.

I'm shocked but pleased that even the Oregonian's editorial board is seeing the need to preserve important architecture like the Memorial Coliseum and the Portland Building. We've argued for this constantly for the past decade... and no the fact that TLC is required and they are architecturally notable is not lost in the cross talk... it is the cross talk.

Barbara Hepworth gets her due in Britain.

Francesco Clemente is back in a big way at Mass MOCA.

A look at Art Basel's influential jury in the NYT's.
Read More
Posted by Jeff Jahn on June 15, 2015 at 10:24 | Comments (0)
---
Weekend Picks: Gods, Heroes and Hipsters

The Portland Art Museum's Gods and Heroes, Masterpieces from the Ecole des Beaux Arts.

Historically the Ecole des Beaux Arts was one of the toughest and most prestigious of all of the art academies in Europe. It boasts a heavy hitting "last name only necessary" alumni roster including: Gericault, Delecroix, Moreau, Manet, Degas, Renior, Cassatt, Bonnard and Rodin... spanning into the 20th Century. The collection is one of the world's finest including 200 works from Prix de Rome contestants. They wouldhave studied some of the works on view in Portland.

The PAM Exhibition will focus on 140 pre Twentieth Century works by; Jacques-Louis David, Jean-Honore Fragonard, Anne-Louis Girodet, Jean-Auguste-Dominique Ingres, Antoine-Louis Barye, Jean-Baptiste Carpeaux, Jean-Antoine Houdon, Francois Rude and drawings by Simon Vouet, Antoine-Jean Gros, and Theodore Gericault. The Homeric and classicaly versed allegorical subect matter has always held an unexpected allure for Portlanders and I suspect it is the enmeshed civic/moral storytelling/ambiguities one finds in these works that endears them so. I certainly enjoy a good scene from the Trojan War and the way an artist might interpret a particular moment in Achilles tale. Perhaps check out the curators talk on Sunday at 2:00 to get a better grounding on the subject matter?

Gods and Heroes, Masterpieces from the Ecole des Beaux Arts | June 13 - September 13
Curators In Conversation: June 14, 2:00PM | Whitsell Auditorium
Portland Art Museum
1219 SW Park




What could be more different than Gods and Heroes?... Todd Johnson's Hipster-ish Malt Liquor and Cold Cuts photography exhibition at FalseFront tonight. Who knows, maybe 500 years from now academy trained painters might be painting their interpretation of what happens at Falsefront tonight?

Malt Liquor and Cold Cuts | June 13 - July 12
Opening Reception: June 13 6-9PM
FalseFront
4518 NE 32 Ave.
Read More
Posted by Jeff Jahn on June 13, 2015 at 12:00 | Comments (0)
---
Monday Links

John Waters' 2015 commencement speech for RISD. Art is a hitch hiking trip and it does just take one person to get on board. The final irony... becoming an insider. Hilarious and true! It happens...

Becoming the first artist in space? Novel stunt... but is it enough? It also says a lot that outer space doesn't seem that terribly challenging in itself.

Glasstire on arts criticism not being dead. Good to hear. I have been working an essay (for a long time) that addresses this and much more but a few things are just wrong. For example, positive reviews like this recent one and this on Storm Tharp do go viral. Interviews like this one with Luc Tuymans and this also go viral. If you do something truly intelligent and far more perceptive than we are accustomed to, people do pay attention to criticism. I'll be publishing the criticism essay this month as part of PORT's 10 year roundhouse, along with several other things people have been waiting for (yes THAT post). It will be worth it.
Read More
Posted by Jeff Jahn on June 08, 2015 at 18:48 | Comments (0)
---
Weekend Picks

Mel Katz 2009 (photo Jeff Jahn)

Mel Katz is easily one of the most important figures in the history of Portland's art scene so his 50 year retrospective at the Hallie Ford Museum is much anticipated. As a PSU and PNCA professor as well as a founding force within the PCVA, he brought new international standards to Portland. As an artist he was the only Portland based artist whose name and work I was familiar with (from afar) when I moved here 16 years ago. We interviewed him extensively here on PORT and the work remains as vibrant today as it ever was. Art can become cynical or defensive as a career progresses and it is a testament to Mel's achievement that no trace of those sentiments can be found in his work. His work stands as a proof in concept for worthy, high minded ideals and engagement. Make the trip to Salem.

On and Off The Wall | June 6 - August 23
Hallie Ford Museum
700 State Street
Salem Oregon





Vase by Tatsuzo Shimaoka

The Portland Japanese Garden does the best craft/design exhibition in Portland, partly because Japanese craft and design traditions are simply incredible. Their latest exhibition Kizuna, The Rebirth of Mahiko Ceramics explores the the work of Mahiko, a remote pottery town whose legendary kiln was destroyed by the 2011 earthquake and tsunami incident. The term Kizuna is loosely translates to, "the bonds between people," and has been repeated frequently since the 2011 disaster.

Kizuna, The Rebirth of Mahiko Ceramics | June 6 - July 5
Portland Japanese Garden
611 SW Kingston Avenue


... (more)
Read More
Posted by Jeff Jahn on June 06, 2015 at 10:46 | Comments (0)
---
First Thursday Picks June 2015

Ethan Rose at PDX

A great deal of sound art becomes gimicky quickly but what I like about Ethan Rose's latest "Entwined" is the way he uses sound waves to create visible waveforms. There is a lot of promise in such an honest approach and soundwaves are incredibly interesting visually.

Entwined: a sound installation | June 2-27
PDX Contemporary
925 NW Flanders




Gordon Parks, Department Store, Mobile Alabama (1956)

Gordon Parks is a legend in both photography and the history of civil rights. Sometimes Art simply is History. This is one of those confluences and Portland is lucky to have this show at Blue Sky. I think the press release says it all:

"In September 1956, LIFE magazine published a series of 26 color photographs by Gordon Parks that documented aspects of everyday life for the Thorntons, an African-American family, in and around Mobile, Alabama during Jim Crow segregation. The photo-essay, 'The Restraints: Open and Hidden,' contained only a fraction of the countless images that Parks shot during this time, but until the fortuitous discovery of 70 additional color transparencies in 2011, the bulk of the photographs taken for this assignment were thought to be lost. Throughout the month of June, Blue Sky will show a limited-edition portfolio of twelve of these rarely-seen color images, reprinted and loaned by the Gordon Parks Foundation for this special exhibition."

Gordon Parks | June 3 - 28
Blue Sky
122 NW 8th


...(more)
Read More
Posted by Jeff Jahn on June 04, 2015 at 16:38 | Comments (0)
---
Hallie Ford 2015 Fellows
Up to 5 this year the 2015 Hallie Ford Fellows in the Visual Arts are Ben Buswell, MK Guth, Tom Prochaska and Samantha Wall of Portland, and Jack Ryan of Eugene. Congrats to all.

Parsing it out it still seems like the awards favor:
men
academicaly afiliated locally as teacher or graduates at Oregon art schools
those who foreground "effortful" craft, even if the work is conceptual (avoiding technological and experiential work or which is purely conceptual)


On the plus side it seems like a better mix of younger and older midcareer artists who work in a variety of media... (more)
Read More
Posted by Jeff Jahn on June 03, 2015 at 14:04 | Comments (0)
---