Folkert de Jonge at Portland Art Museum

Detail of Folkert de Jonge's Operation Harmony (all photos Jeff Jahn)

Believe it or not, the edgiest exhibition in the city of roses is at the Portland Art Museum. For the record this does happen from time to time and the exhibition in question by Dutch artist Folkert de Jonge in the Miller-Meigs series space at PAM definitely eludes most easy definitions. With its mutilated bodies, whimsical materials and Dutch post colonial conceits, I'm still uncertain if I find it disturbingly provocative or yet another over-calculated international art farce, strategically designed to titillate and disgust? Ah, but such is the... (more)
Read More
Posted by Jeff Jahn on May 18, 2013 at 14:22 | Comments (0)
---
Openings & Events : May 16 - 21st

Photo : Ursa Waz
pica.org/event/mike-daisey-7


Mike Daisey, hailed by The New York Times as "the master storyteller," returns to Portland with the world premiere of his new work. In a single night, Daisey takes us on a fantastic journey through the sprawling landscape of journalism right now touching on how it functions, how it fails us, and how it chooses to tell our stories. Using his own scandal as a jumping-off point, he illuminates how the myth of objective journalism weakens and manipulates us and has made our public discourse easy to manipulate. It is a love letter to journalism highlighting the struggle to tell a story that actually shows us the truth. click to buy tickets


Journalism | Mike Daisey May 21st | 7 PM
Tiffany Center Emerald Ballroom | 1401 SW Morrison Ave. Portland, Oregon 97205
$20 - $40 PICA Members | $25 - $45 General




& there's more happening before . . .
Read More
Posted by Emily Cappa on May 15, 2013 at 23:36 | Comments (0)
---
Congrats to Alex Mackin Dolan

Park Avenue Armory (photo James Ewing)

Congrats to Alex Mackin Dolan who was just awarded a residency at New York's immense Park Avenue Armory. In fact, he is the residency's first visual artist... others being mostly performance based. Once again, clear evidence that Portland's art scene is producing sharp new artists that one gets to see develop in very cool, low key alternative spaces... who then completely leap frog the very conservative local-ennials, institutions and awards to end up on the international stage. Dolan has also been curating Appendix, one of Portland's hippest alternative spaces (often Appendix is more experimental than fully realized but I like the risk taking it engenders).

Only just recently in the past year or so has Alex really found his voice... harnessing the design language and cognative projections accrued around the idea of purity (which should be a huge challenge to evoke in that space). In other words, local curators who are not going to alt-space shows are hopelessly out of touch with a scene that is among the most dynamic on the planet. Mackin is just one of perhaps 15-20 hard core like-minded artists in perhaps 2-3 interrelated cliques who harness, interrogate and redirect design's cognitive/perceptual implications. All have a very international outlook and Alex is one of the youngest. I keep saying it, use Portland as a rebel base.
Read More
Posted by Jeff Jahn on May 15, 2013 at 11:00 | Comments (0)
---
Monday Links
Paul Goldberger asks if the new World Trade Center construction can fill the void? He's right that none of the buildings being put up are all that noteworthy on their own and it is a shame that Libeskind did not get to do the signature tower. To me the failure to do something truly inspiring was the exact moment that I realized New York had lost its edge over all other cultural cradles. In fact, I think it is harder to be great there now... not that it isn't possible... just harder (which isn't always a bad thing).

Hyperallergic thinks that the NADA art fair has grown up. That sounds like a good thing but is it? That is just a question that I don't have an answer for yet, ask me in a few years.

Gavin Brown on why the art and fashion world do and don't "get" each other. My theory is that they are too close... almost like sibling rivals for cultural resources and attention. They often need a cousin like music stars as an intermediary (David Bowie would be THE greatest of them all).

Art Info on the success and failure of Gutai. The recently closed exhibition on the mercurial movement was the best thing I saw in New York last month. Why? It had a freedom and willingness to try new things that seemed utterly missing in most of the galleries.

Saul Osterow's excellent essay on Tedd Stamm and Alan Uglow's paintings is a good read. His focus on the importance of difference and intuition is key to understanding this sort of work, Stamm's show at Boesky was fantastic and one of the highlights of my recent visit to Chelsea.
Read More
Posted by Jeff Jahn on May 13, 2013 at 11:56 | Comments (0)
---
Unveiling a Carson Ellis mural in St. Johns

Rendering of what Ellis' mural will look like when complete

St Johns is getting a new mural by illustrator extraordinaire Carson Ellis and the first part will be unveiled tomorrow May 11th at 10:00AM on 7741 N. Lombard. Details can be found on RACC's site and for a little more critical context PORT reviewed Ellis' show at PCC a few years ago here.

RACC certainly has been busy lately with a very cool public art pavillion by Jorge Pardo and a disappointingly "Quirky" lantern installation being installed in Chinatown but Ellis is an excellent choice for St. Johns. Ellis has a flair for evoking that now rare childhood nihilism you find in Russian folk tales and fusing it with an air of not so anachronistic chivalry (that plays so well with the St. Johns bridge). There is a sense of honest discovery in the work and frankly I've always found it more compelling than the Decemberist's music, which it is often used to support... in fact if I were to pick the most accurate depiction of Portland as a city Id pick her work... not say Portlandia, Grimm, The Shins or Decemberists. She simply has more edge than the whole lot of em.

According to RACC: "City Commissioner Amanda Fritz and Oregon Speaker of the House Tina Kotek will cut the ribbon at the celebration. The mural will be one of the first things that people see upon entering St. Johns from the east along N. Lombard. Carson's design was painted by Whitney Anderson, an artist with 20 years of experience painting murals, carnival rides and other outdoor works. Then, stick around for the 51st Annual St. Johns Parade that begins at 12:00 Noon."
Read More
Posted by Jeff Jahn on May 10, 2013 at 12:08 | Comments (0)
---
Openings & Events | May 9th - 12th

Jane Schiffhauer


Jane Schiffhauer's installation created by handmade undulating nets, ropes, foliage, human hair, and found objects explores the intricacies of our being in relationship to our surrounding environment. Body of Knots highlights the anxieties between what it means to be human and live in contemporary society. Schiffhauer seeks materials that are often contradictory in their nature as well as their purpose in order to comment on gender and the body. For example, ropes may bind as well as create a way of escape and nets may be used as a trap or to offer security.


Body of Knots | Jane Schiffhauer
May 9 - 29, 2013
Reception | May 9th 6-9 PM
Littman Gallery | PSU Smith Hall, Room 250. 1825 SW Broadway. Portland, OR 97201
www.pdx.edu/littmanandwhite/


Fern Wiley's minimal & nuanced drawings are a meditation on the passage of time and energy. Art making for Wiley is a product of her grappling to understand and conceptualize human experience. Currently, Wiley is working from more abstract points of reference, to examine our experience of time and space.


Accumulation | Fern Wiley
May 9th - 29, 2013
Opening Reception | May 9th | 6-9 pm
White Gallery | PSU Smith Hall, Second Floor. 1825 SW Broadway
www.pdx.edu/littmanandwhite/




click through for more art !
Read More
Posted by Emily Cappa on May 08, 2013 at 23:11 | Comments (0)
---
The Henry announces The Brink finalists 2013
The Henry just announced the finalists for The Brink Award, which is "designed as an award for emerging artists 35 and under in Washington, Oregon, and British Columbia on the "brink" of a professional career." Of all the art awards and "spotlight shows" in the region it is the only one that is focused on early career, progressive art in a setting that actually highlights the small # of artists chosen... something other awards seem to eschew for mid career work and a blind eye for new media and installation art (often with a taste for cluttered installations of the work when exhibited).

There are 3 Portland area artists nominated (Saxon-Hill, Halverson and Warren)... far better than the Contemporary Northwest Art Awards, which for the past 2 cycles has focused on mid-career, traditional material Portland artists (which is strange considering that Portland arguably has the most dynamic art scene in Oregon/Washington bringing new names with international reach all of the time. Another plus, The Brink includes British Columbia, acknowledging that Cascadia is an international art zone that crosses borders rather than an insular regional self congratulation society.

The 2013 finalists are:

Raymond Boisjoly, Vancouver, B.C.
Anne Fenton, Seattle, WA
Rob Halverson, Portland, OR
Sylvain Sailly, Vancouver, B.C.
Blair Saxon-Hill, Portland, OR
Nell Warren, Washougal, WA


"For the 2013 award, 47 nominations were received from a group of art professionals across the Pacific Northwest. The 2013 Jury is comprised of Vancouver artist Althea Thauberger, Pacific Northwest College of Art MFA Program Chair Arnold Kemp, and Henry Deputy Director of Art and Education Luis Croquer. The jury completed the review of artist submissions in early May.

Jurors will conduct studio visits with the finalists late this spring. The winner will be announced on June 7, 2013.

The Brink Award was established with the generous support of longtime Henry benefactors and Seattle philanthropists John and Shari Behnke. In partnership with the Behnkes, the Henry will confer this biennial prize of $12,500 to one of the above artists. The recipient will also be given a solo exhibition at the Henry, a publication, and a work of his/her art will be acquired for the museum's permanent collection.

The Brink is in its third biennial cycle. In 2009, the Brink was awarded to Isabelle Pauwels, Vancouver, B.C. and in 2011, to Andrew Dadson, also of Vancouver, B.C.

The Brink Award complements the Henry's role as a catalyst for the creation of new work, while simultaneously demonstrating the museum's commitment to artists working in our region."
Read More
Posted by Jeff Jahn on May 07, 2013 at 15:13 | Comments (0)
---
Monday Links
Artist statements are generally the absolute worst application of written language imaginable and Hyperallergic looks into this linguistic quagmire. Thing is writers are just as guilty of buying into their own words, it is just that their peers will actually read and ridicule them for their crimes against communication. Let's face it writers are like piranha. Not so for artists, even the ones who can write generally find a supportive group of friends who want to applaud their rare linguistically gifted ally. Thus the bar is simply very very low. Hell, even curators seem to have about a 60/40 chance to producing vocabulary in search of insight. Yet, in defense of artists actually making statements, most of the greatest artists and curators were masters of the words they employed. Judging from; Picasso's one liners, Kandinky's aspirations, Judd's specificity, Smithson's slyness and Komar & Melamid's comedy all hold up even if you dislike their art. Generally the biggest problem with artist's statements are they are forced, tortured wraiths of ideas that telegraph their intended targets (hidden behind favorite vocabulary) rather than proffer any insight into what they have presented. (Smokescreens!) Generally it is better to let the statements come from the process and not let a word lead the work... it makes you sound like a recent MFA grad, which is SO art school. Tip, distill a few very short stock epithets you can whip out and develop an essay around them only after using them for a long time in social settings.

Drama over Munch Museum in Norway... of course.
Read More
Posted by Jeff Jahn on May 06, 2013 at 11:54 | Comments (0)
---
Interview with Matt Kirsch, Associate Curator of the Isamu Noguchi Museum

Isamu Noguchi, Image Courtesy of Pace Gallery

"Isamu Noguchi: We Are the Landscape of All We Know" is on view at the Portland Japanese Gardens until July 21.


Isamu Noguchi was a brilliant sculptor and ideological innovator who pushed and challenged the notions of space and form into unprecedented territory. His oeuvre extended from freestanding sculpture into public parks and industrial design. To Noguchi, all of his work was art, and all of it maintained the inherent potential to shape the way we live and think. His legacy reverberates infinitely in today's art and design world as we endeavor to continue efforts to raise consciousness and pique the intellect through the shape of our created environments. I had the chance to talk with Matt Kirsch, the associate curator of the Isamu Noguchi Museum, the other day about Noguchi's art and life. . .(more)
Read More
Posted by Amy Bernstein on May 03, 2013 at 10:19 | Comments (0)
---
Friday links, California architecture edition
PORT has a large backlog of interviews and other articles for you real soon (starting this afternoon) but till then here is a glance to the South.

It looks like A New Sculptualism, a show about recent California Architecture at MOCA is on the verge of cancellation. (check out Thom Mayne's courthouse in Euguene for an example) It also puts Deitch back under the microscope, one which has pretty much paralyzed the past 12 months of his directorship. Sure it looks like MOCA is getting out from under the funding quagmire it has faced for over a decade but it also highlights how reliance on outside curators due to a depleted staff has truly gutted the West Coast's most important contemporary art institution. Put it this way, if a curator isn't tied to the minute internal plumbing of an institution, weird things like this happen... especially if the director has been heavy handed. Though I admire him as a gadfly gallerist, I still expect Deitch to leave MOCA around June 30th. Also, because we are all sick of this I'm calling it Deitchwatch and it is a lot like watching Hasselhof run in slow motion in the sand, only the Hof puts on a better show.



(c) SO-IL, UC Davis Art Museum design

In more upbeat news UC Davis has unveiled a truly exciting new art museum design by SO-IL. Where else but the stomping grounds of the light and space movement should there be an art museum that looks more like a garden than a concrete, metal and marble bunker? They have been doing a lot of similar things down in South America but this is the first art museum I've seen with this kind of scheme. I think everyone is pretty sick of the traditional white box that shuts out the world.
Read More
Posted by Jeff Jahn on May 03, 2013 at 6:22 | Comments (0)
---
First Weekend in May 2013 | Openings & Events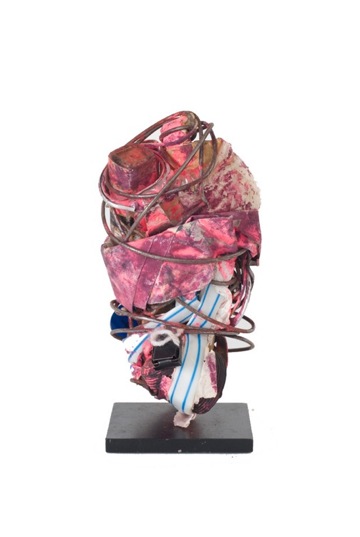 Philadelphia Wireman
Untitled (wire, paper, plastic), c. 1970-1975
wire, found objects
4 x 2 1/2 x 2 inches
PW 1019
www.adamsandollman.com/


Vaginal Davis' paintings of women on re-purposed surfaces are made using glycerin, tempera, watercolor pencils, food coloring, mascara, nail polish, & other beauty products. Her small works are self-portraits which also show her respect and admiration for movie stars, and imagined women of the past. According to Davis, they depict "women trapped in the bodies of women."

Davis' works will be presented along with wire and found material assemblages by the Philadelphia Wireman. Wireman's bundles consist of different gauges of wire wrapped around everyday objects and materials. Their maker, who has always remained unidentified, was able to communicate such power and energy through his transformation of ordinary materials. The pieces are often compared to African power objects and other ritualized traditions, but the works resonate equally with art practices. So intriguing.


VAGINAL DAVIS & PHILADELPHIA WIREMAN
May 3 - June 1, 2013
Reception | May 3 | 6-9 pm
Adams and Ollman | 811 East Burnside #213. Portland, Oregon 97214






nationale.us/aidan-koch-the-marble-hand-2013


For her show at Nationale Aidan Koch has appropriated the anthropologist's distanced lens, threading together, rearranging, and questioning fixed history. Her exhibit carries on her interest in form and storytelling which come from observing carefully rendered human forms from long ago. Once idolized and idealized she sought out to see if these works still contain power and attraction.


I want to travel only on the curve of an arm... | Aidan Koch
May 2 - June 2, 2013
Opening | Friday, May 3 | 6-9 PM
NATIONALE | 811 E Burnside. Portland, OR




. . . more !
Read More
Posted by Emily Cappa on May 02, 2013 at 23:04 | Comments (0)
---
May 2013 : First Thursday (& one for Wednesday too!)

Cynthia Lahti's Surprise, 2013

The artwork included in Cynthia Lahti's exhibit Elsewhere consists of drawing, collage, books and sculpture created during an 11 week artist residency in Berlin Germany in the fall of 2012. The artwork is influenced by the powerful feeling studying even the smallest artifact can evoke.

Through these works she is focusing on the way various materials affect the conceptual intent and impact of each piece. Elsewhere uses a slew of source material which is then altered, manipulated, and combined. Paper is used quite a bit, introducing an element of fragility, while also making historical references to Dada and Surrealism. At the heart of Lahti's works lie the potential of each material to evoke a different emotional response.


Elsewhere | Cynthia Lahti
April 30 - June 1, 2013
Reception | May 2 | 6-8 pm
PDX Contemporary Art | 925 NW Flanders, Portland Oregon 97209






Matt Leavitt, Remove / Taxonomy in Blue, 2013


Matt Leavitt created Curio after being inspired by representational archetypes he observed in commercials, scientific imagery and art galleries. He uses these archetypes to critique the isolation they suggest and is fueled by the harmonization of rational thought and direct experience.


CURIO | Matt Leavitt
April 27th - June 1, 2013
Opening Reception | May 2 | 6-8 PM
PDX Contemporary Art - Window Project | 925 NW Flanders, Portland, OR 97209




! ... continued ... !
Read More
Posted by Emily Cappa on May 01, 2013 at 0:09 | Comments (0)
---