Get on it
It is you final notice, today is the deadline to apply for the Betty Bowen award. Last year Ralph Pugay won it... a very rare thing for a Portlander to get this Seattle award despite Portland's Contemporary Northwest Art Awards' Schnitzer prize always going to Seattle artists. I chock that up to Portland's only true envy of Seattle... institutional patronage and I wish we would be less overt about it. Of course, Seattle would do well to seem less threatened as well. Just get over it. Overall, Portland and Seattle are true sister cities that find different approaches to similar concerns. Call it more sibling rivals that are all in the family than pure rivals. Lastly, the $10 application fee is still lame. Deadline: August 1st

Tomorrow is the application deadline for the Portland2016 biennial, curated by Michelle Grabner. Ive made no secret that I dislike how most of these institutional survey shows are handled and this series is no exception. It is more about an institution ingratiating itself and the artists as a collection of names, rather than anything with intellectual integrity. In other words its just the gears of a process, which produces exhibitions that don't tell us much more than a list of names. In this case that misplaced "list lust" has been consistently behind the curve... focused ob "names" who were breaking out 4 years ago (two show cycles). Michelle is a very bright old friend and I'm sure she will find a way to do something more interesting than "reheated regionalist Whitney Biennial leftover artist casserole" here. These things should pull surprises, introduce some new names etc. to be relevant and so far it hasn't had much of an effect on artists career in Portland (more like something that tagged along after the fact). Hopefully, its a good show and not just another list, the Portland art scene is far more sophisticated/dynamic than that and this is an opportunity for Disjecta to step up sophistication wise. Yes, there is an even lamer $20 entry fee. Deadline August 21st, apply here.

Just a reminder the next round Precipice Fund grants will open August 17, Deadline October 9.
Read More
Posted by Jeff Jahn on August 01, 2015 at 11:49 | Comments (0)
---
A Case For Abstraction: No Boundaries

"Warlpapuka" (Detail), Tommy Mitchell, 2012, Synthetic polymer paint on canvas, 40" x 40"


Forgive me.

In the middle of summer, this review is late. The heat this year is thick and heavy, wrapping around me like a needy lover. The days are long and drowsy, and the passing of time is difficult to feel. The ground beneath my feet is sharp and thirsty and flammable, while my body is the source of a river of sweat that makes a salty warm waterfall of my person. I am a waterfall person. . . (more)
Read More
Posted by Amy Bernstein on July 30, 2015 at 9:44 | Comments (0)
---
Renters on the move with Recess
Last night PORT's Tori Abernathy was on Koin 6 news discussing the Portland Renter's Assembly and the idea of rent control and its something we have been following (check out this review). First of all, the Koin story conveniently cut out any mention of art but the "space" Tori discussed was Recess's old home with studios etc. It was a thriving hive for Portland's vaunted "creative class". I hate that term but it is true a lot of what has made Portland so desirable (artists re-imagining the world) has also pushed many artists out of their hives. The artists are still here (for now) but something should be done as artists are the canaries in Portland's realestate coalmine. Is rent control the answer? Probably not, but it is worth exploring... perhaps 1 year residencies built into new residential projects? What about Vancouver BC's style of Community Amenity Contributions, which I've brought up many times? The simple % for art that such building projects generates isn't the kind of cutting edge art it is displacing. It is tame in many ways and I think of the difference is analogous between that between wild and hatchery salmon when I consider Portland's artist ecosystem and the type of art that is produced in undeveloped vs developed spaces.

With all that in mind Recess is renting from Air BnB for two events in Portland's Alphabet District. The first will be a series of talks on Wednesday then an exhibition on Friday.



Air BnB rental for Recess' latest.

A Good Place To Live: Talking Summary by Steve Kado
When: Wednesday, July 29th 7-8:30PM

Kado's talk is "is an effort to transplant the central issue of classical philosophy, the goal of understanding what would in both material and ethical terms constitute 'a good life.'"

Capacity is limited so RSVP info@recessart.com to reserve a space and address

The second part of the program is an exhibition titled Modern Apartment in Alphabet District. It takes place July 31th, 2015 from 3-7PM with hour long appointments starting and ending on the hour (space is limited to 15 so contact info@recessart.com to get your time and location)

Artists include: Will Elder, Steve Kado and Rebecca Peel and their "Interventions, both architectural and sentimental, agitate the uncanny viscosity of our unknown host's personal brand." It sounds intriguing.
Read More
Posted by Jeff Jahn on July 28, 2015 at 12:06 | Comments (0)
---
Wendy Given speaks at PNCA

Part of Wendy Given's Creatiio exhibition at Hap gallery in 2014

Tomorrow Wendy Given will discuss her work in the brand new Mediatheque hall at PNCA. Given is one of numerous local artists who explores the way nature creeps into our consciousness via the way it disrupts the sense of what is contemporary. In fact, it is often pagan and sci-fi at the same time... making the genre an heir to surrealism in some important ways. Basically, animals have a way of taking viewers out of time and creating an empathetic and or fight or flight present (some bright curator could do a challenging survey with her Malia Jensen, Vanessa Renwick, Vicky Lynn Wilson, Ellen George, Laura Fritz, Paul Clay, Paula Rebsom, Julia Oldham, Melody Owen, Rick Bartow, sometimes Heidi Schwegler and Seattle's Jeffry Mitchell exploring animal in the contemporary art ecosystem but our institutions don't really look all that hard at trends regionally, even though nearly all of these artists show outside the region in major institutions). Maybe it is the fact that most of these artists are women? We tend not to value empathy/nature in art, especially when it is existentially unsettling. Which is a great lead in to checking out Given's talk.

Artist Talk: Wendy Given
July 22, 6:30 - 8:00PM
PNCA (Mediatheque)
511 NW Broadway
Read More
Posted by Jeff Jahn on July 21, 2015 at 13:28 | Comments (0)
---
Kengo Kuma's designs for the Japanese Garden
Well, I've enjoyed my little vacation (a working one and my 1st in 10 years) from PORT but it is time to hit the beat again.



Cascading ponds and ticketing pavilion at the new entrance for the Japanese Garden.

The Portland Japanese Garden just released more developed designs for its expansion by Kengo Kuma. For an important reference in 2013 PORT spoke extensively with Kuma San and he discussed how a new type of Shoji screen as well as an ambitious plan to make the Portland's Garden a new model development in the tradition of the Japanese Garden balancing the traditional garden with enhanced visitor engagement in the living tradition of the Japanese Garden. Something that requires new buildings outside of the garden area.

...(more)
Read More
Posted by Jeff Jahn on July 14, 2015 at 10:30 | Comments (0)
---
First Thursday Picks July 2015
It is a hot one for the Portland art scene this First Thursday, here are what look to be the coolest shows (hint they all involve mandala-like symmetry):



Honour Mack,Emerging, oil and acrylic on canvas

Yale trained Honour Mack is the visiting artist for PNCA's Low-Residency MFA in Visual Studies and her exhibition Resolving Chaos should be a good introduction to students and the art scene alike. Her work traffics in the fascination with spirituality that some ascribe to the younger so-called millenial generation (it is sometimes true, as a gen-xer I reject the rule of stereotypes... for example I'm not cynical and it is obvious neither is Mack). It should be of interest to many Portland artists, though one has to ask, why would one want to resolve chaos if it is the natural state of flux for the universe?

Resolving Chaos | July 2 - August 8
PNCA
511 NW Broadway




Iconoclast

Nathaniel Thayer Moss's Incision at Hap Gallery marks his debut solo show in the Pearl District. Becausehis work challengs perception and draws on uber-geek/design source material, Moss was the first name I gave when this newish gallerist wanted some leads to check out. I've worked with him and he shows immense potential that doesn't really translate in photographs.

Incision | July 2 - August 1
Oprning Reception: July 2 6-8PM
Hap Gallery
916 NW Flanders


... (more)
Read More
Posted by Jeff Jahn on July 02, 2015 at 15:24 | Comments (0)
---
PORT is 10


This June marked PORT's tenth anniversary and with over 3,000 posts (2500comments) and a whopping 1.5 million+ unique readers in 2014 alone we are Portland's most critically attuned and comprehensively perceptive visual art website, period. We didn't want to dwell on that so instead we will make our 10 year a bit of a case study on the role of criticism and the way it interfaces with the visual arts ecosystem (here is a primer, a much longer essay is coming your way). Part of our role is to counter those Very Portland passive aggressive tendencies, while giving scope and scale to an Eutrophicated art scene with far more activity than any city this size should normally have. We do this by taking a position while acknowledging other ones in doing so. Art critics are incredibly rare and it goes without saying but 10 years on the internet is like living to 100 in human years.

We bet you wonder what you think about news today? Well its coming (we are the only outlet with enough experience to unpack it locally), and yes the Guenther piece is coming for your post holiday summer reading. It discusses way more than Bruce's time at PAM, pivoting to a discussion of the way curatorial roles have been shifting all along. Nice timing eh? Way back in 2007 we helped lead the online art discussion in Art In America and this year I want to re-open that can of worms in a revealing way that presents an anatomy of criticism's evolution. Wait till you see what we've got coming, including a hard publication, high level events (partnering with some of our sponsors), site redesign, + great interviews, deep historical analysis and bespoke reviews with "teeth"... the kind that reach far beyond the Pacific Northwest. Our reviews mean something because we don't judge things by the local or even current art world standards, we compare against relevant models (often historical) even in other disciplines. Portland isn't good at assessing scale and scope, and that's PORT's specialty.

It goes without saying that if there's a big story, people seek out what we think. One example would be ... (more)
Read More
Posted by Jeff Jahn on June 30, 2015 at 12:58 | Comments (2)
---
Environmental Impact Statement at Surplus Space


It is strange how rare group exhibitions that consider the environment are in Portland. Somehow, most of the institutional curators are unwilling to approach a major thread of discussion here (the 2012 Northwest Biennial at the Tacoma Art Museum did though). In that void... enters Environmental Impact Studies, a group who won a Precipice Fund grant and will be taking over Surplus Space for a week. Lead by Lisa Schonberg, Leif J Lee and my arch nemesis Amy Harwood (long story, she dressed in a bear costume in 2003 and attacked me with her sandwich board... then we co-curated the enviro-conversantIn Vicinity together in 2009. She's great.)

Basically Environmental Impact Statement will be conducting interventions in Mt. Hood's forests, where logging and pipelines have been threatening ecosystems for many years and the Surplus Space show will ideally bring some of that back to Portland featuring work by: Featuring work by: Jodie Cavalier, Jodi Darby, Lisa Schonberg, Heather Treadway, Amy Wheeler Harwood, Leif J. Lee, Alison Jane Clarys, Danielle Ross, Gary Wiseman, Sam Pirnak and others.

Environmental Impact Statement | June 29th - July 17th
Opening: June 29, 6:00 - 9:00PM
Closing Reception & Talk: July 17th 7:00PM
Surplus Space
3726 NE 7th Ave
Read More
Posted by Jeff Jahn on June 29, 2015 at 12:28 | Comments (0)
---
Ethan Rose Entwined at PDX Contemporary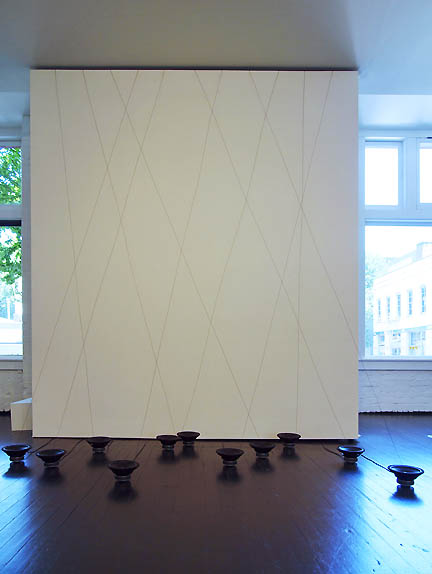 Ethan Rose's Entwined at PDX Contemporary (all exhibition photos Jeff Jahn)

It seems if like Ethan Rose's latest, Entwined, at PDX Contemporary is on the right path because all elements; sound, strings, speakers and works created utilizing those elements present a truly democratic experiential cacophony in black and white... (more)
Read More
Posted by Jeff Jahn on June 26, 2015 at 19:11 | Comments (0)
---
Art World Stories
Kenny Schachter's damage report for Art Basel. As much as these articles always seem to present themselves as an all new scenario, generally things have always been this way. The difference today is the scope, scale and stakes have shifted considerably... the art world consists of a series of negotiated confidences but what happens when art is considered a class of investment? Something that has been going on since the Romanoffs etc... only now it is far less of a medieval style market.

Which brings us to the revolving door article on museum curators and the top art galleries. Once again, institutional curators always have kept up relationships with galleries. What I find most interesting is that the most talented curators at the height of their powers and confidences like; Storr, Schimmel, Elderfield... all people I know and admire greatly, somehow don't feel like they fit at our top museums anymore. Museums have always been on the sometimes tense border between the interests of the 1% and their duty as custodians of culture/access for the public but what happens when all the best and brightest talent either becomes a museum director or an art consultant?

In a related story, "Death by Curation," and the dangers of blockbusters... but is it really a lack of curators with a integral programme?

Art pavilions have been a major trend for institutions and festivals trying to get beyond the art bunkers and white boxes and the latest trippy cocoon for the Serpentine Gallery is no exception. They can catalyze different types of engagement. Some artists like Jorge Pardo have made careers out of them, (his permanent one in Portland is a personal fave because it subverts function by substituting shelter for lighthouse-like navigation concerns).




Here is a fascinating obituary for those unfamiliar with Carl Nesjar, perhaps the only artist allowed to alter Picasso's work. There is something incredibly current about the level of delegation and collaboration that existed between these two artists and I'm a fan of Nesjar's personal ice fountain work as well.
Read More
Posted by Jeff Jahn on June 22, 2015 at 10:32 | Comments (0)
---
Weekend Picks

Sneak peek of No Boundaries at PICA (photo Jeff Jahn)

Aboriginal art (like all great things) is controversial, facing relentless questions of authenticity and exploitation... yet the strength of the best work stands and you will be able to see some of it in PICA's latest show, No Boundaries. It also foregrounds a strong discussion around collecting art (all coming from the Scholl's world renowned collection)... an example Portland's young patronage system needs more of. Great Art transcends, while embodying all orbital questions and tensions and this exhibition does occasionally deliver those moments where all the minuses become plusses.

True, No Boundaries is new territory for PICA in many understandably head scratching ways. For example, many of the contemporary aboriginal artists presented are no longer living yet PICA typically works directly with living artists. Also, this the only West Coast leg of a national museum tour, yet PICA is definitely not a museum. Still, I understood why PICA curator Kristan Kennedy wanted to do this (PICA is the least linear thinking of all of Portland's art institutions). So why? First, the Scholl's collection represents some of the most vital abstract work of the past 50 years, the kind no serious painter can ignore. Contemporary aboriginal art came of age in the 90's and caught on in Britain before other places... they are filled with contraditions. For example, some of the works on display are legitimate masterpieces, though the Scholls don't baby them with museum requisites like climate control. Lastly, No Boundaries is heart stoppingly good in addition to being a turbid collision of worlds... some of the greatest aboriginal artists on view like Paddy Bedford and Warlimpirrnga Tjapaltjarri exemplify the joy and heartache of this collision and thereby form a commentary on both a now vanished world outside of the art market, tragic race relations and true contemporary influence. It is incredibly current and nobody, especially painters should miss this traveling gem of an exhibition organized by my friend Bill Fox at the Nevada Art Museum. Where? The venue is in Chinatown kitty corner from the old PCVA and across from the old Portland Art Center's spaces.

Artists: Warlimpirrnga Tjapaltjarri (1958-), Paddy Bedford (1922-2007), Jananggoo Butcher Cherel (1918-2009), Tommy Mitchell (1943-2013), Ngarra (1920-2008), Prince of Wales (Midpul) (1938-2002), Billy Joongoora Thomas (1920-2012), Boxer Milner Tjampitjin (1935-2009), and Tjumpo Tjapanangka (1929–2007)

No Boundaries | June 20 - August 16, 2015
Opening Reception: June 20 7:00PM
Historian's talk with Henry Skarit | June 22 6:30PM (free) PICA (main exhibition at Mason Ehrman building annex, with a few leftover works at PICA HQ)
467 NW Davis, Portland Oregon
Hours: Th-Fri, 12:00-6:30PM Sat-Sun, 12:00-4:00PM





Last Fall, globetrotter & local art scene stalwart Liz Obert's latest work Dualities went viral with some nice media attention from Slate and today you can catch the work in Portland. Dualities explores the complexities and bifurcations present in those who live with mental illness. Obert's approach is diaristic, slightly reminiscent of Sophie Calle and I'm fascinated by the subject matter... myself and those nearest me are mostly very fortunate to not have to experience these issues but still I think all of us would be surprised how common, manageable yet untreated mental illness is.

Liz Obert Dualities | June 15 - August 15
Opening Reception June 19 5-7PM
The Olympic Mills Commerce Center
107 SE Washington St ...(more)
Read More
Posted by Jeff Jahn on June 19, 2015 at 9:00 | Comments (0)
---
Monday Links
Well, finally they've done something potentially "whelming" with Disjecta's Portland 20##Biennial series, which has always been more about the institution's aspirations than anything else. The 2016 version will be curated by Michelle Grabner, 2014 co-curator of the Whitney Biennial and someone I've known since she was in grad school. Grabner has a knack for getting past the sometimes juvenile local politics so she should well equipped to deal with those chasing the Whitney effect. She will need it as previous biennials have been more social gatherings than strong shows. Rather than probing looks at what an art scene in Portland constitutes/means they have been adept at showing us things we are already incredibly familiar with throughout the year before and the works themselves never seem to standout (rushed time frame and a sense of low stakes). Other challenges are the fact that the previous versions have included so many artists that this one will likely be forced to finally present new discoveries (something sorely missing previously) and group shows at Disjecta always seem to lose the plot (making the shows at commercial galleries a questionable practice and a caste system step up from the host venue). An outside curator is a good idea, but like their curator in residence program it also means they come in not knowing the terrain. Lately though, Disjecta's group shows have improved to reach unmemorable status (the last biennial mentioned craft but didn't go any deeper than checking off a local buzzword that is both fetished and pushed back at). This scene has been asking for better since 2010 and Michelle might be one of the few capable of pulling off something sophisticated enough to pay attention to. Besides, we cheeseheads tend to call it like it is so I'm curious what Michelle will make of the legendary Portland style passive aggressive tendencies. Also, here is a more exhaustive analysis of why and how local surveys and awards miss the mark, it is older but everything still holds. We haven't had an institutional survey that took chances and yet made an impact since the 2006 Oregon Biennial at PAM. As always, execution will matter most in the end... if the institution, curator and artists don't really take care and just let "the process" drive the result, it will resemble itself like these things often do. She has the backbone to counter the false more is more strategy they have been using and being an artist and not just a curator should help her. The question remains why both locals and outsiders have bun unable to contend with the scene here, which has become both increasingly local and international at the same time? Portland in general is tired of being reduced to catchphrases.

I'm shocked but pleased that even the Oregonian's editorial board is seeing the need to preserve important architecture like the Memorial Coliseum and the Portland Building. We've argued for this constantly for the past decade... and no the fact that TLC is required and they are architecturally notable is not lost in the cross talk... it is the cross talk.

Barbara Hepworth gets her due in Britain.

Francesco Clemente is back in a big way at Mass MOCA.

A look at Art Basel's influential jury in the NYT's.
Read More
Posted by Jeff Jahn on June 15, 2015 at 10:24 | Comments (0)
---