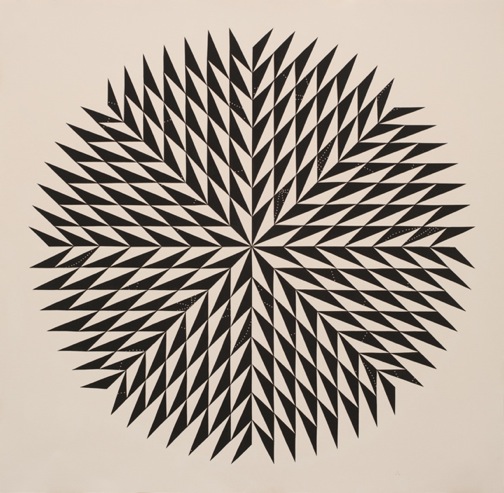 Lena Wolff
Black Dahlia (variation with white dots), 2013
collage with hand-cut & hole-punched paper
40 x 40 in

Ampersand is pleased to present Call & Response, featuring work by Bay Area artist Lena Wolff & Colorado-based artist Corey Drieth. While rooted in the patterns & iconography of American quilt making, Wolff's works explore the nuanced visual languages of op art, geometric abstraction & color theory. They are comprised mainly of cut paper painted with watercolor & gouache. Wolff reveals a dynamic organization that involves rhythm, repetition & a sense aliveness.
Corey Drieth's gouache & wood paintings explore contemplative spiritual experience inspired by religious traditions such as Zen Buddhism & Quaker Christianity. Citing artists such as Georgia O'Keefe, Agnes Martin & Richard Tuttle as precedents, his work aligns with the American traditions of small-scale, non-representational abstraction. Drieth's new drawings, composed of graphite & white colored pencil on aspen wood, directly explore two kinds of order, the organic & the analytic. The works are rooted in childhood memories of his father drawing diagrams on pieces of wood used to construct utilitarian & decorative objects. "I thought that the marks on the wood were in and of themselves interesting, incomplete & full of potential," notes Drieth.

Call & Response | Lena Wolff & Corey Drieth
June 26 - July 21, 2013
Preview Reception | June 26th | 6-9 PM
Also open late on Last Thursday
Ampersand Gallery & Fine Books | 2916 NE Alberta St., B, Portland, OR 97211

Still from Bad Religion

Bad Religion was made for an exhibition in San Francisco where a group of artists were asked to make work in response to a short, ephemeral video prompt provided by the curators. Stephen Slappe began his entry by giving himself one rule, that he would only watch the video prompt three times. During the initial viewing, he took in the video, making no attempt to purposefully record any specifics. The second and third viewings involved much note taking, jotting down short phrases about the tone, content, and formal details of the video.
Slappe got the sense that the characters were always fragmented or obscured, it felt mysterious and ritualistic. The trajectory of one character toward another character communicated both urgency and inevitability. For Bad Religion, he lifted these tonal and structural qualities, amplified, then transposed onto new images and sounds.

Bad Religion Video Loop | Stephen Slappe
June 27 - July 24, 2013
Opening Reception | June 27th | 6-9 PM
The Light+Sound Window Gallery | 1422 NE Alberta St, Portland OR

BOOK EXCERPT
Female Diversion. Unavoidable. Close the Door. No Hesitation at all Give him a move How does a Queen beat a Rook? Transatlantic Flight Morphy's Immortal Game Pawn Block Unfortunate Mishap. All about 1. e4 e5 2. Nf3 f6? Patience Pays. The Philidor Position in R+P vs. R. A useful technique called Enfilade.
Kramnik in Top Form Go home early Miracles almost happen. Two rooks vs one. Energetic Teamwork Caught from all Sides Invincible Rook Only precision wins Take the initiative Try to go home early Don't die Poisoned. Believe in Yourself. Can Mate in One be Tricky? Del Rio Theme Fritz 10 Teaser. A Magnificent Royal Tango Solve this Miniature
Remember Saavedra? The weak link. Don't hurry. Think! A Lesson in Geometry How to Solve a Difficult Study B + N vs. K Pure Pawn Masterpiece The Prodigal Son She can't hide A Strategy Master Class Logical Retro.
Philidor in the R+B vs. R Surrealistic Cavalry A Tough Nut to Crack
it will be clarified in it (in the book) the way the game goes, the basic rules and the more detailed and advanced settings, and there will be various chapters from the beginning of the a game till the end, scenarios, great games (44 complete settings, 91 *something* check), analysis of their moves, tricks and plots. All of it brought by great Alfans Pan (** it's a name of a person. The name is how I read it. maybe will be written differently) and compiled from other books and educated chess players (** really guessing about *chess players*) in this war of check

Born in 1990 in Podgorica, Montenegro, and raised in Cairo, Egypt, Darja Bajagic has lived in the United States since 1999. She received her BFA from the Pacific Northwest College of Art, and is currently an MFA Candidate at Yale University.

You Ve Been A Naughty Boy [C55] | Darja Bajagic
Opening Reception | June 28th | 8 PM - late
Appendix Project Space | alley between 26th and 27th Avenues off of NE Alberta Street in Portland, Oregon

On Saturday North Coast Seed and River Street Studios will have their annual summer kick-off open house and art show & sell. Join the 50+ artists and commercial creatives as they open their studios. Meet artist, tour spaces, learn techniques, and explore two historic buildings by Portland's eastside waterfront.

Open House and Art Show & Sell
June 29th | 4-10 PM
North Coast Seed | 2127 N Albina Ave
River Street Studios | 820 N River Street 97227
Just one block apart in the NOPO Junction neighborhood, off the yellow max albina/mississippi station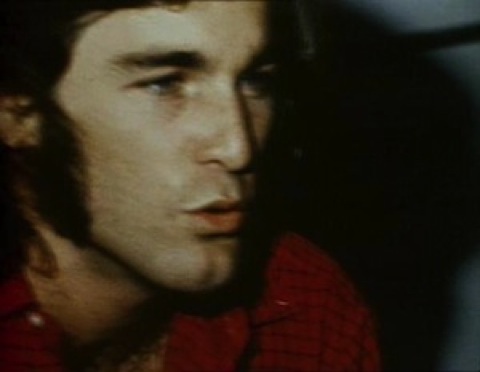 Dumb Angel is a cursed title.
It served as the working title of the Smile recordings, Brian Wilson's legendarily failed effort to create a "teenage symphony for God". It was also Brian Wilson's nickname for his doomed younger brother (and fellow Beach Boy) Dennis.
Dennis Wilson came to light in the 1970s. He recorded his masterwork Pacific Ocean Blue, befriended Charles Manson, and starred opposite James Taylor and Warren Oates in Two-Lane Blacktop. But Dennis Wilson also burnt out in the 1970s, descending into an alcoholic darkness and death spiral.
Dumb Angel is a monument, an epitaph, and a seance.

Dumb Angel | Mike Bray, Isami Ching, Brooks Dierdorff, Surabhi Ghosh, Nika Kaiser, Donald Morgan, Jack Ryan, & Jesse Sugarmann
June 29 - July 12, 2013
Opening | June 29th | 7-10 PM
Ditch Projects @ 12128 | 12900 NW Marina Way. Portland, OR 97231