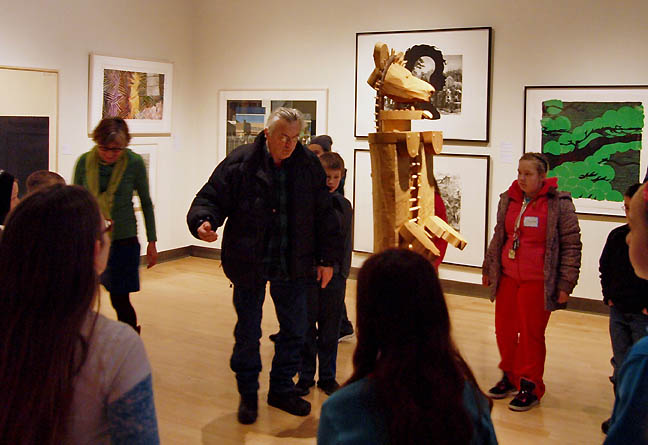 Rick Bartow telling stories and sharing wisdom with youth at Missoula Art Museum
We are deeply saddened to report that
Rick Bartow
passed away yesterday April 2nd. Based in Newport Oregon Rick had grown into the role of the sage, wise old man and as he'd tell you he went about this the hard way. His zootrophical sculptures and 2D works revealed this. In particular his paintings and drawings of birds seemed to speak of the fragility and mortality of life while his bear and wolf sculptures spoke of a kind of continuity in existence. I got to know him a little on a trip to Missoula where he wowed everyone with a storytelling and dance performance around one of his sculptures on display from Jordan Schnitzer's collection (above). He was 69 and a Vietnam Veteran. His
40 year retrospective is currently touring for the few years
.
To tell the truth, I was somewhat shy around him but I always liked the way his work was a lot like his personage... insinuating itself with a wide swath of silence and mystery. I remember one time having dinner with Newport Oregon's artist/mayor Sandy Roumagoux and the tabletop was designed with Rick's birds. It was the single best seafood meal I'd ever had... steamed muscles. Yet I kept moving my plate so the birds could see the shellfish... I told Rick about this once and he chuckled.
Overall, Rick himself seemed to marvel at the tricks and games time could play and he will be greatly missed. He was one of those rare poetic artists who seemed to tap into timeless things, both cheerful and frightening... illuminating both as something other than strangers.
There aren't that many great story tellers in the art world like Rick and we will miss him.
Thanks for signing in, . Now you can comment. (sign out)
(If you haven't left a comment here before, you may need to be approved by the site owner before your comment will appear. Until then, it won't appear on the entry. Thanks for waiting.)