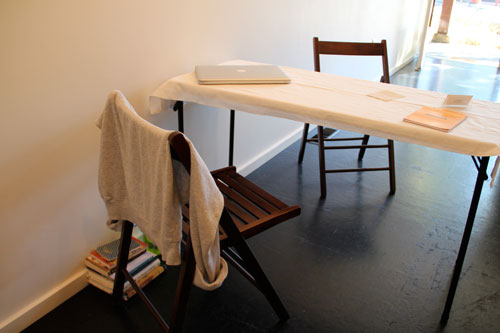 Jennifer Ambrust at Nationale
Jennifer Ambrust, who has been offering free advice to members of nationale for the past few years has recently retired from her web and graphic design work to launch a new creative consulting firm, Ambrust & Co. The next session of Free Advice hosted by Ambrust will take place on Saturday, the 16th. "Working intuitively from a wealth of scholastic and experiential knowledge including creative entrepreneurship, artist mentorship, small business & gallery administration, graphic & web design, Critical Theory, cooking & nutrition, yoga, Jungian psychology, Buddhism, and energetics, Armbrust meets one-on-one with participants, proffering an alchemy of observational insights, resource referrals, recommendations and somatic experiences in response to expressed queries."
Free Advice | Jennifer Ambrust
February 16th | 12-2 PM
Free for gallery members | $5 for non-members
Reservations welcome | info@nationale.us
Nationale | 811 E Burnside

Katherine Groesbeck at Place
Seattle-based artist Katherine Groesbeck will be conducting a wish-making performance this Saturday complete birthday cakes. "Even though I know longer believe in the magic of genies, birthday candles, or shooting stars, I still make wishes just in case I'm wrong. The remnants of my inner child compel me to continue wishing. For the next eight weeks I will explore the magic and the lure of wish making." Coinciding with Groesbeck's festive goings-on, performance artist Michael Reinsch will be turning art audience into consumer as he turns out art-on-demand. "This project utilizes retail strategies adopted from made to order production such as speed, efficiency, and attention to high customer service standards. The viewer orders pieces of art from a menu board posted behind a professionally manufactured service counter." Adrienne Huckabone will also have a new video work on view that fetishizes the imagery of advertising.
Katherine Groesbeck | Wish Making & Practicalities
Michael Reinsch | On Demand
Opening Reception | February 16th | 5-9 PM
White Gallery | Place | Third floor of the Pioneer Mall | 700 SW 5th Ave