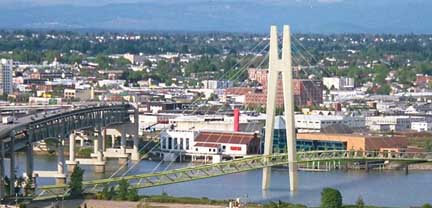 Proposed pedestrian and light rail bridge as designed by ZGF
>
Oldenberg (1976)
Here's a chance for budding designers, architects and well... armchair architects. We have
discussed this previously on PORT
but most of the design conscious people in Portland who saw the rather preliminary image for the new pedestrian, cycle and light rail bridge just south of the hideous looking Marquam Bridge by ZGF were pretty unimpressed. To be fair to ZGF, its just a preliminary, on the other hand it's top heavy and very static "clothespin" form almost seemed like a Claes Oldenberg.
In the spirit of better design, PORT is going to have a lil contest so y'all can give it your best shot. You can even choose to use
this high-res image
(courtesy of Brad Carlyle) if you want.
Rules are simple:
Email jpeg's to me at jeff At portlandart Dot net by December 21st and we will post images of everything that stands out. Highly conceptual, impossible to build ideas, such as a bridge made of banana peels or Vera Katz statues are fine, though if it gets built you are going to be the first to use it and answer the angry mob at the other end. Anyone can enter, prizes will be as conceptual as the designs.
Erasmus Bridge, Rotterdam and way better than the ZGF clunker
Some major design issues to keep in mind are the terrifically ugly
Marquam Bridge
just to the north and the sleek and modern South Waterfront with its
aerial tram
which forms its western terminus.
Personally, I like ideas like the
Nescio bridge
in the Netherlands (though it isn't architecturally assertive enough for this site) and the ultra assertive
Erasmus bridge in Rotterdam
, which seems a bit much for our setting since Mt hood will make anything like that look like human vanity. Of course
Calatrava
is a name that has to be brought up here but I'd like to see something like what
Denton Corker Marshall did with the Webb Bridge
, though this needs to accommodate light rail so it needs requires a beefier solution than a single use pedestrian crossing.
Portland with its
great collection of bridges
deserves an excellent design, not merely a contemporary looking design.