Striving to be fresh and radical?
Jerry Saltz is the kind of critic who cares about his art scene, he doesn't just exploit it and his latest piece on
the health of New York's scene is an interesting read
. He doesn't just present the situation as pure doom though, he points out some bright spots and simply seems tired of the lack of radical ideas.... hardly a problem exclusive to New York. The piece also seems to wish for many of the things that Portland has (yet the Oregonian's coverage is a tad over obsessed with our liberating lack of money without pointing out its benefits... there is a middle ground of course). No New York's scene isn't dead and no Portland isn't the center of the universe but there are lessons to be learned from both. The secret is simply how to be fresh or even innovative, then get the credit for it? The words are so simple but the task is daunting.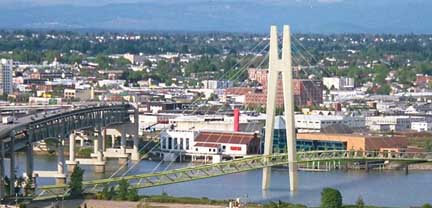 Proposed pedestrian and light rail bridge as designed by ZGF
Also, what does everyone think of the ZGF design proposal for
a new bridge over the Willamette that was in the Oregonian
a bit ago? I think it is a decent design but top heavy, slightly unoriginal and a little inelegant, besides the nearby Marquam Bridge is a terrible design and
the reason the Fremont Bridge is so good
. The Marquam's bad design almost begs for something so good that that it is rendered invisible. Besides is "decent" really good enough for something that bridges OMSI with the South Waterfront and
the Aerial Tram
?... we have a design reputation to uphold and there needs to be a serious design competition. Why not invite
Calatrava
,
Denton Corker Marshall
,
shop
, and maybe Norman Foster to take a shot at this? Besides we have one of the best bridge collections in the the world, but it needs the highest quality addition. This just doesn't cut it.
Posted by Jeff Jahn on October 11, 2007 at 12:11 | Comments (6)
---
I find the ZGF new bridge design proposal boring. It either needs to stand on its own energy drawing everything to it -or- somehow work with and add to the other architecture around it.
In the second case I like the Eliel Saarinen quote, "Always design a thing by considering it in its next larger context - a chair in a room, a room in a house, a house in an environment, an environment in a city plan." But honestly I don't know how to make it fit with the banal Marquam design.
So to stand on it's own, next to a banal design and not be dragged down, it really needs to show some aesthetic innovation. Maybe I'm missing some of the current design's attributes by this particular proposal jpg. But, I would rather see that balance more toward aesthetic concerns than pointA-to-pointB structural logic.
I don't have any academic background in architecture. But I've spent a *lot* of time around Portland shooting (a single frame can take me 3 hours to 5 hours) so I do spend time looking at things.
...unfortunately you'd be looking right at the Marquam when you are mid-span on this new bridge.
Posted by: bradc at October 12, 2007 12:02 PM
Great points Brad... a central distracting mass isnt good enough. Calatrava (ala bridge of Europe in Orleans) or Denton Corker (ala web bridge) would be a smarter design decision. Th more I think about this I dislike it. Maybe PORT should hold a design off using Google's sketch up?
Ill round up a prize or two and well publish the best designs. Stay tuned and Ill get full info. Brad... could you possibly get me a decent photo from a similar vantage and we can distribute them to contestants..
this could be interesting
Posted by: Double J at October 12, 2007 04:16 PM
I'm shooting this weekend around town so I should be able to get you a similarly vantaged image.
Posted by: bradc at October 12, 2007 05:38 PM
Can we use something other than Sketch Up? Pen & Ink?
Posted by: Sean Casey at October 14, 2007 08:19 PM
Yes anything you want to use is fine.. make amodel if you want.
Posted by: Double J at October 15, 2007 10:20 AM
If you want a low-res jpg for sketching you can download it at:
http://bradcarlile.com/blog/?p=221
I also sent Jeff a high-res image, you can bug him for that.
Posted by: bradc at October 15, 2007 06:11 PM
Post a comment
Thanks for signing in, . Now you can comment. (sign out)
(If you haven't left a comment here before, you may need to be approved by the site owner before your comment will appear. Until then, it won't appear on the entry. Thanks for waiting.)