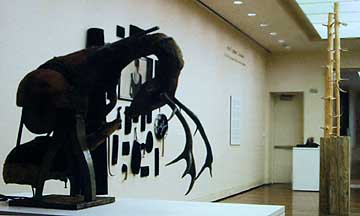 Michael Schulze's Vater and Sohn (FG left)
Like the
opportunistic Camouflage
, the
Portland Art Museum
has yet another new contemporary group show called Rock/Paper/Scissors that went up this past weekend in the Suwyn gallery.
It is a small scale exploration of post WWII European art and is especially nice because it is culled mostly from the museum's collection. More scholarly than bombastic and appropriately sober considering Europe's need for extensive
Marshall Plan
reconstruction after the war, the work tends to highlight raw materials and basic human needs like food, shelter and personal contact.
There is an understandable sense of morbid alienation here but I suspect that malaise and senseless loss is slightly of unimaginable to anyone who has never visited a war zone or major disaster scene. Needless to say one shouldn't expect flashy visual fireworks, expect a thoughtful quiet show punctuated with the more bitter tasting aesthetics of asceticism.
Upon entering it immediately reminded me of my visit to Dachau during high school. This is probably because the work of Christian Boltanski which deals directly with the holocaust was immediately visible on the far wall. Then again I believe all art from 1944 to the present has been influenced by that event.
The title evokes the children's game as a metaphor for different strategies to deal with objects… everything here is sculptural in some way.
British artists like
Lynn Chadwick
and Anthony Caro's most formative experiences took place during the Hitler's horrifying blitz where V2 rockets forced Londoners underground in a constant state of alarm that makes our terror alert levels sound like Casey Kasem's American Top 40 broadcast. Chadwick's alienation is the most palpable here with his
Two Lying Figures on a Base
. The figures seem to me like the living buried alive and memorialized.
Abakanowicz's entire Embryology at the 1980 Venice Biennale
Poland's
Magdalena Abakanowicz
worked under a politically repressive regime with simple materials like burlap. These humble elements were favored by the influential Arte Povera movement in Italy and laid the groundwork for later artist like Judd, Flavin and Smithson but Abakanowicz is more indebted to the Italians than the Americans. The partial Embryology series seen on view here (
Embryology 100
) evokes hunger, fetal states and a sense of change biding its time to erupt in a way that was very true to Cold War era Poland.
Wolfgang Laib's
Reishaus
, 1989 (Miller-Meigs Collection)
Wolfgang Laib's
Reishaus
is an ascetic historical rumination on both medieval burial chambers as well as a meditation on impromptu grain storage and the eastern practice of leaving offerings at temples. Laib is one of my favorite artists and his quiet unassuming meditation on the necessities of life as well as the unavoidability of death are always poignant.
Other than Laib, Abakanowicz, Caro and Chadwick the most rewarding work on display is Michael Schulze's
Vater and Sohn
. It is a strange mechanical contraption consisting of motors 2 deer and a gun as a meditation on black forest folk traditions and the father son dynamic (a loaded topic considering Schulze was of the first generation that had nothing to do with the Nazis).
Without Beuys, CoBRA, or Anselm Kiefer this show is hardly an authoritative exploration of post war art but it is a way to reintroduce elements of the collection in a way that even the most seasoned art goers might find illuminating. This is a very welcome, even surprising addition. The fact that it has such an important historical background shows just how interesting PAM's collection can be if used correctly.
Chief Curator Bruce Guenther has a nice statement regarding the show, " A preoccupation with order- and time-based conceptual abstraction marks the present in European object making. Like the spontaneity of the children's game rock / paper / scissors, European sculpture presents itself for an immediate response from the viewer to image, material, process-emotional and intellectual resonance will follow."
It may not be a blockbuster or overtly entertaining but this is what museums are here for, considered open-ended analysis of ideas, historical context and objects. It is also a great compliment to
von Rydingsvard's exhibition upstairs
.