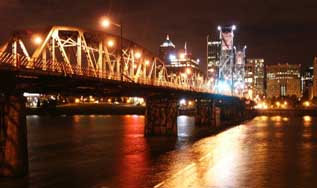 Portland is changing on a weekly basis and the latest critical i (my longrunning monthly column for
NWdrizzle
) does a little midterm report card for the numerous art districts in town. Read it
here
.
The most notable finding is that a large # of very sophisticated graduates from good art schools continue to lead and redefine the sophistication level of the city. It seems like every young person in Portland is an artist.
Overall, it isn't the institutions or galleries leading the way it's the almost goldrush phenomena of the artists scene that continues to be where the best action is in PDX (as many of us like to call it). That said, the fact that there are 2 newly minted arts districts and most of the galleries and institutions are becoming more cutting edge seems to back up Portland's reputation as a progressive city on the move.
Want more portland blogs?
Ultrapdx
covers Portland's very active fashion scene
Eva Lake's Lovelake
covers her experience as an artist and gallerist
Portland Food
covers the very good and expansive restaurant scene in PDX (my recommendations
clarklewis
and
Bluehour
)
and if you really want to dive into the Portland experience check out these blog spots:
Orblogs
and
Urbanhonking
Thanks for the link. I didn't know about your site and have been enjoying it!
Thanks for signing in, . Now you can comment. (sign out)
(If you haven't left a comment here before, you may need to be approved by the site owner before your comment will appear. Until then, it won't appear on the entry. Thanks for waiting.)