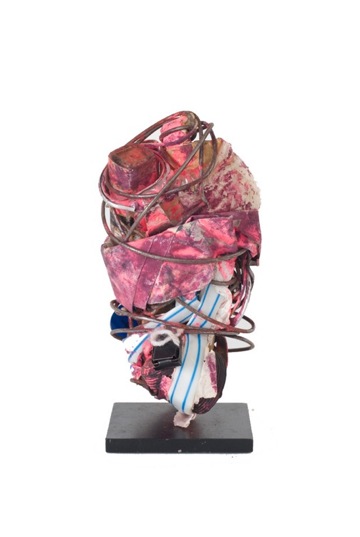 Philadelphia Wireman
Untitled (wire, paper, plastic), c. 1970-1975
wire, found objects
4 x 2 1/2 x 2 inches
PW 1019
www.adamsandollman.com/

Vaginal Davis' paintings of women on repurposed surfaces are made using glycerin, tempera, watercolor pencils, food coloring, mascara, nail polish, & other beauty products. Her small works are self-portraits which also show her respect and admiration for movie stars, and imagined women of the past. According to Davis, they depict "women trapped in the bodies of women."
Davis' works will be presented along with wire and found material assemblages by the Philadelphia Wireman. Wireman's bundles consist of different gauges of wire wrapped around everyday objects and materials. Their maker, who has always remained unidentified, was able to communicate such power and energy through his transformation of ordinary materials. The pieces are often compared to African power objects and other ritualized traditions, but the works resonate equally with art practices. So intriguing.

VAGINAL DAVIS & PHILADELPHIA WIREMAN
May 3 - June 1, 2013
Reception | May 3 | 6-9 pm
Adams and Ollman | 811 East Burnside #213. Portland, Oregon 97214

nationale.us/aidan-koch-the-marble-hand-2013

For her show at Nationale Aidan Koch has appropriated the anthropologist's distanced lens, threading together, rearranging, and questioning fixed history. Her exhibit carries on her interest in form and storytelling which come from observing carefully rendered human forms from long ago. Once idolized and idealized she sought out to see if these works still contain power and attraction.

I want to travel only on the curve of an arm... | Aidan Koch
May 2 - June 2, 2013
Opening | Friday, May 3 | 6-9 PM
NATIONALE | 811 E Burnside. Portland, OR

www.rocksboxfineart.com/node/75

"All this twaddle, the existence of God, atheism, determinism, liberation, societies, death, etc., are pieces of a chess game called language, and they are amusing only if one does not preoccupy oneself with 'winning or losing this game of chess."
-Marcel Duchamp
& that's all the information I have too.

(You) New Bad Things (Video)| Chase Allgood, Chase Biado, Ashby Lee Collinson, Matthew Clifford Green, Jason Hirata
May 4 - May 26, 2013
Reception | May 4 | 9-11 PM
ROCKSBOXCONTEMPORARYFINEART | 6540 N.INTERSTATE AVE. @ PORTLAND BLVD/ROSA PARKS WAY. Portland, Oregon 97217

http://www.clark.edu/news_events/archer/images/ShantellPUB.jpg

Internationally acclaimed visual artist Shantell Martin is expanding conventional definitions of drawing and animation to transform visual experience in the design, fashion and music. Martin has collaborated with photographers and brands alike. In February 2012, she was one of four artists commissioned by Nike iD to make a piece of work and a limited edition shoe to celebrate the 40th anniversary of the Nike Cortez. She also creates murals in a range of contexts .

Shantell Martin
Multimedia Performance | May 6 | 6 PM | Archer Gallery
Lecture | May 7 | 7 PM | PUB 161
Archer Gallery @ Clark College | 1933 Fort Vancouver Way. Vancouver, WA