Portland doesn't shut down its scene with a bunch of perfunctory Summer group shows like a lot of cities. This July was no exception with a wonderful pile of more serious shows, many of which come down this weekend. I'll also have a very long and involved review for one show up later this weekend. Till then here are a few waning shows that deserve some more attention: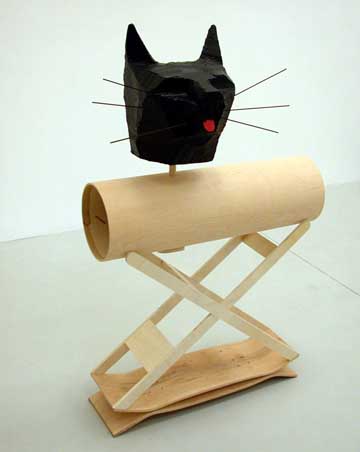 Donald Morgan's
Egyptian One Eighty
at Rock's Box
Donald Morgan's Hunters and Collectors at
Rock's Box
continues what has become the strongest altspace exhibition series in Portland since the Haze Gallery of 2004. The show itself is filled with tons of allegorical constructions that reference everything from Egyptian funerary accoutrements to the show's eponymous piece consisting of a zebra hide and mid century sportsmen's hats. It's all about the artist's rather catholic and somewhat syncretic tastes which for me felt like watching the discovery channel for an afternoon (not bad if the weather weren't so nice). Maybe it's not
the best show Rock's Box has done recently
as it feels a tad slick and referentially impressive for the sake of being academically impressive but still it's well done. Show ends Sunday August 3rd.
Owen's
useless, incorruptible, secret
at
Reed College
Melody Owen's show at Elizabeth Leach
was all over the place, probably because the artist had literally been in Iceland, Paris and Quebec. I found her collages and sculptures to be her strongest suit… but it was her Caseworks show at
Reed College's Hauser Library
titled
useless, incorruptible, secret
that was the
tour de force
(apologies, pun intended). In it she summoned
Brancusi's endless columns
out of card catalogs elements... creating a tangible sense of information made unavailable, while acknowledging its existence. The notebooks (though not without their charm) seemed mere doodles by comparison. Reed show is still up, Liz Leach gallery show ends tomorrow August 2nd.
Also at
Elizabeth Leach, Jaq Chartier's Full Spectrum
simply proves why she is one of the most interesting science as abstraction artists out there. Pieces like
Warp Sequence
let a newfound structural entropy creep into her rather controlled experiments in color but it's the very straight laced works like
Chart w/11 Whites
and the slightly entropic infusion series that create the most visual suspense. Show closes this Saturday August 2nd.
Ellen George and Jerry Mayer's
Things Turning
at the 9 gallery (inside
Bluesky
) is a poetic kinetic ballet of two elements. One steel rod turns constantly at an obvious but not speedy rate... the other scrapes away at a slow, barely perceptible pace. Both trace along the concrete floor while inviting all sorts of readings. Is one a second hand?... is the other an hour hand?... are they two people Mayer and George perhaps? Or is it intergenerational, the old "youth in contrast to experience" dynamic?
Holly Andres, Untitled (from Sparrow Lane) 2007
Holly Andres' Sparrow Lane at Quality Pictures
invites all sorts of comparisons to the
Yale school of very staged girl photographers
and she's certainly capable of holding her own though she needs to develop a way to distance herself from them. To my eyes it's her near satanic penchant for pattern and color that if explored less conventionally could distinguish her. I also felt the ramp space installation of more traditional memento images allowed the viewer to construct more open ended narratives… the candles were a nice touch too. The need for her to develop quickly is key because her work is selling well and she has a solo show at Robert Mann gallery in New York in October 2008. Ends Saturday August 2nd.
In the Everett Station Lofts Charles Olson's The
Agony at Obsolesce
at
Tractor gallery
gives me yet another good reason to check this space every month. Consisting of a series of old fashioned I Mac's and a series of pressure sensitive pads the viewer can walk on the pads and watch the artist's face scream in agony. This would be a bit lame if it weren't for the fact that most of the pressure sensitive pads have broken. So if you sadistically want to make Charles scream you have to deal with some frustration yourself, a hilarious BF Skinner extinction burst moment in a glitch infused environment. It's amusing artist torture in the old Nil/Field gallery space that has launched so many careers. Olson has even spruced the space up a bit making it one of the nicest lil project rooms in the city. Keep watching this gallery.
Buswell's
Fan
at Tilt
Though it has ended now Benjamin Buswell's
Tennessee
(
Tilt's final show
) didn't disappoint. The centerpiece was an upside-down model of a fan arched gothic cathedral. The amusing part being that it's a model and the stonemasons who built these structures over generations didn't use models. Thus it's a reflexive remaining of the past, while acknowledging how absurd the practice is. Also on view the two drawings of the Spruce Goose's engines seemed perfunctory by comparison (though the theme of single-minded goals was held). All said and done, the work was much better than his silly MFA fodder piece from the 2006 Oregon Biennial where two goo covered cameros were locked in a 69 position embrace. Thankfully he's left the world of amusing his art school buddies and started to measure the scope of human activities and ambition. His next solo show needs to be larger and even more thought out. Make it count.