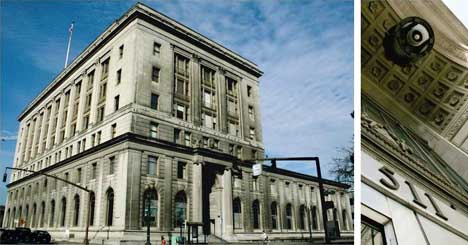 In what will probably be the biggest Portland art news of 2008, PNCA has announced they have been given
the green light to acquire the historic 511 building by the GSA and Department of Education
.
PORT reported in detail on this last fall
(and were the first to recognize the importance of it to the local art world). PNCA is tied to both Portland's hot new design economy (Ziba, Allied Works, W+K etc)and the West Hills money that recently funded PAM's 100,000,000+ expansion and
continuing endowment campaign
... so yes they can do it. This is a major investment in Portland's future not just an art school realestate opportunity.
What this likely means:
-Big new Brad Cloepfil project in the architect's home town... we were just
discussing his Clyfford Still Museum
last week. Im about 99.9999999% certain Cloepfil will get the job, he's the campus' master planner. Hell his office even overlooks the 511 building a little.
-More public galleries on the
North Park Blocks
giving Portland an opportunity to extend the Park Plocks in the future into a world class cultural enclave.
-Expanded facilities and presence for PNCA which will finally own a building... befitting its status as the fastest growing art school enrollment in the country.
-Allow PNCA to regain the institutional patina it lost when it separated from the Portland Art Museum in the 90's.
-Portland is now really starting to make impressive strides in the visual arts after years of doing the necessary groundwork... Portland is the 21st century Santa Fe as an artist's city... with the additional bonus of being a big enough and real enough city to be able to absorb the eventual tourist element while remaining an artist enclave (Santa Fe never had a chance against the tourists).
-Maybe just maybe... a cool new public art project in the 511 building or the North Park blocks... yes I'm hinting at something big.
Ummm, can anyone else say SUPERFANTASTIQUE!!!!!!!!!!!!!!
Thanks for signing in, . Now you can comment. (sign out)
(If you haven't left a comment here before, you may need to be approved by the site owner before your comment will appear. Until then, it won't appear on the entry. Thanks for waiting.)