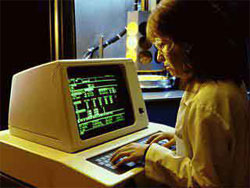 This week's roundup is short and sweet. A couple of items that are curiously linked made their way across the information super highway to the sprawling offices of PORT.
First, an article in the
New York Times
on Saturday got me thinking about politically/socially engaged art as a catalyst for change and how that change doesn't always equal the artist's enthusiasm for the cause. Though the man in the article, Duraid Lahham, is an actor his sentiments cross genres. In context with the announcement, at the end of the Roundup, that
PICA
sent out, it seems a perfect opportunity to engage in a dialogue about political art and the expectations that artists have for their work.
COME TOGETHER/ Social Action
TBA: 06 Festival"I encourage everyone to do their own research and find out more about The American War in Vietnam and all of the other American Wars that have been happening ever since, sometimes covertly and other times, as in the current situation in Iraq, outrageously overtly…"
-Harrell Fletcher
PROJECT DESCRIPTION: In conjunction with Harrell Fletcher's TBA exhibition, The American War, PICA is looking for volunteers to participate in COME TOGETHER/Social Action. COME TOGETHER is a social platform devised by Harrell Fletcher with the aim of bringing a diverse community together to give ten-minute talks about their direct or indirect experience with the American war in Vietnam. The idea is that ten people each select one person to speak on the subject and share their experiences. The selector doesn't have to personally know the speaker they select, but they are responsible for making sure the speaker comes to the event, and for introducing him or her. The talks can be formal or informal, poetry, soapbox, personal memoir, whatever the person finds meaningful on the topic. After each talk, there may be a few minutes of questions and answers, and then the next speaker is introduced, and so on.
VOLUNTEER:
-10 participants to select 1 speaker each & introduce speaker on
Sunday, Sept 10 at an appointed time
-10 participants to speak on Sunday September 10, 12:30 – 3pm
-We are looking for diversity in all ages, genders, etc.
-Volunteers should feel comfortable speaking to a crowd of 30+ people
(w/microphone)
-Two vouchers to any PICA TBA Festival performance will be offered to
each participant (except for Laurie Anderson)
WHERE: Corberry Press : Building A
NW 17th and NW Northrup
CONTACT: David Banyan at 503-242-1419 x223, david@pica.org. PLEASE RESPOND NO LATER THAN FRIDAY AUGUST 25.