Weekly Web Roundup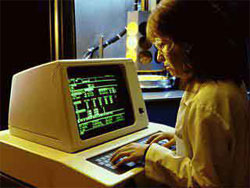 The 2006 Oregon Biennial
For this week's Weekly Web Roundup the focus is on the
2006 Oregon Biennial
. I haven't been in to see it yet. Lame, I know, but I'm going on Saturday. So, with that, it seems to me that a collection of the reviews might be in order. Much like the discussion surrounding the artist statement, reading a review beforehand can have a similar effect. Will it taint the way one thinks about the work and the exhibition as a whole? Surely, they will call up issues that one might not have noticed going in cold.
The Portland Mercury
gives us a double review by Chas Bowie and John Motley.
Both conclude that it is the strongest group show of the year. Little negative criticism and lots of wonder. Not a very descriptive set of reviews but their enthusiasm seems sure to get somebody through the door to have a look.
Richard Speer in the
Willamette Weekly
gives good description. Oddly enough, the negative criticism and wealthy descriptions are what's making me anxious to get to the museum.
TJ Norris offers up his account on his
weblog
. An exhaustive account of the work, the opening and a little gossip.
Joseph Gallivan of the
Portland Tribune
lets a couple of artists talk about their work and the process of the biennial in his brief article. His opening sentence ("
The Oregon Biennial is a fun and practical way to take the temperature of the state's art scene — at least, the work of those artists ambitious enough to enter the competition.
" ) points to a topic to be investigated with a bit more depth in the last set of articles linked to here.
Which are D.K. Row's Oregonian
review
and
interview
, a minor theme in which, aside from talking about the work, he focuses on the notion of modifying the future selection process for the Biennial. To be sure, a balance between jury and invitation would help to include those that don't readily participate in mainstream ventures. It certainly would aid the process if that invitation came from a curator dedicated to the region's art. A balance, however, is the key.
Instead of a ridiculous site I thought I'd share an honest plea. If you're feeling generous you might want to head over
here
. The state of world affairs has left many in need and artists are no exception.
Posted by Melia Donovan on August 04, 2006 at 10:56 | Comments (4)
---
I haven't been able to get to the Biennial yet, but it sounds pretty good. I think I have already seen a lot of the stuff that is there, but it will be exciting to see it all together. Everyone sounds pretty proud of it.
And just a question for everyone, did I miss something on First Thursday, because I didn't see any shows that were very exciting last night. Does anyone have any suggestions on good shows that I might have missed?
Posted by: Calvin Carl at August 4, 2006 12:08 PM
I was disappointed with the DK Row piece in the Oregonian, there just wasn't much to it. As the newspaper's art critic, I wanted to be left with some direction on how to perceive, interpret, and judge the artwork in the Biennial.
And in general the article just didn't seem to have any weight to it and he seems to be repeating himself on certain points which as a frequent reader of his writing about PAM I've already gotten. (This includes a perception of a general disdain for the organization which I think is unfortunate and more insider focused than helping us in the public much.)
What am I seeing? What is it about? Is it good? The Oregonian should make a committment to cover those important points in any art review, then let the reader decide for his or her self.
Posted by: olh at August 4, 2006 01:15 PM
i really liked jonathan leach's paintings at tilt and liz harris' drawings at motel. the here + now show at elizabeth leach was somewhat interesting. and i'm excited to check out bean and dan gilsdorf's window project and video at portland modern.
Posted by: melia at August 4, 2006 01:16 PM
The show is solid and one can't criticize a museum for being museumy... in fact they deserve praise for it, we have needed a museumy benchmark for some time now because the scene is so active.
The fact remains though it is a bit overfull, and doesnt represent too much of the best work in the state over the last 2 years, and it shouldnt be expected to with such a new curator. Also a best of the best show can be really dull, unless new pieces are comissioned. Biennials should be full of youngsters making a play and pillars of the art scene taking an obligatory bow if they dont have major new works comissioned specifically for the show.
What it is... is solid, maybe to the point of risking very little outside of Chandra and Jesse. It doesnt have that many stunning moments and of them most of them are already old news to us.
Basically, it is a very even show and that is something to be proud of if you need to show an outsider, unless they are Hans Ulrich Obrist (take him to the studios of the best and only a few are in this show).
Wheras the 1999 Oregon Biennial had many more high points and was a lot more memorable (it included some risky failures even). The 1999 biennial reshaped Portland's scene as the single most influential art show in the state's history, period.
As a side note, the 1999 curator Katherine Kanjo was just appointed the curator of UC Santa Barbera.
By comparison this show is a reflection of what we already knew and David "Death" Row's points about the future of the biennial are very valid. After Core Sample this seems like a more tepid museum version of that sprawling series of 30+ shows... along with a few artists that should have been given a talking durin their recent MFA critiques. Some like Tres and Hayward are solid.

I can say one thing, Sean Healy's solo show in September will absolutely outclass this group show (James Lavadour's current show at PDX already is outclassing it). Ive seen Healy's work, it's no contest and he still has room to grow. Lavadour is simply one of the best painters on the planet.
Portland ceased being a group show focused city in 2004 when galleries (especially Haze) gave rise to a series of solo shows that were each better than any Oregon Biennial. 2003 had so many massive group shows like IAE, Machine Works, Blood and guts forever, The Best Coast, the Modern Zoo, the 2003 Oregon Biennial, Core Sample and the battle of the Artist Curators that we burnt out on group shows.
What the Oregon biennial needs to do is find a way to matter in this hyperactive scene, and that means a stronger show, not a more solid show.
Still, dont get me wrong it's a good show, a safe show (because the museum could not afford to mess this up after 2003)... I point this out because people hated the 1999 Oregon Biennial, people werent ready for it. This is the biennial people were ready for...it's here, I like it and I expect a lot more from 2008.
Having spoken with Jennifer I'm not too worried... she and the museum needed to provide a solid base from which to expand upon their program, so they did and they did a solid job. Next time people wont be satisfied with that.

Posted by: Double J at August 4, 2006 04:11 PM
Post a comment
Thanks for signing in, . Now you can comment. (sign out)
(If you haven't left a comment here before, you may need to be approved by the site owner before your comment will appear. Until then, it won't appear on the entry. Thanks for waiting.)