Around the web... now with Voltron references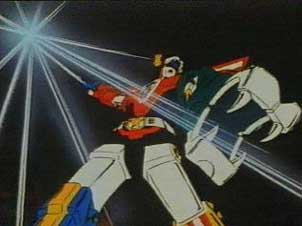 Voltron
There are a few things to take note out there right now and I think the Berlin Biennial, having been curated by artists and not curators
curating artists to curate artists
was a great plan.
Check out Adrian Searle's review in the Guardian here
. Artists usually don't think linearly, and the good ones don't make too many decisions out of fear. Many professional curators do when faced with a survey show and that's why I think this Berlin Biennial is making the right sort of waves. Kara Walker did a similar thing at the Metropolitan,
read Roberta Smith's take in the NYT's
. Trying to please too many masters or making too many second guesses makes for dull, intellectually stewed shows (i.e. mushy with no hard edges).
Also, the latest
Visual Codec
(the online monthly visual arts magazine designed to enhance communication between Vancouver, Seattle and Portland's scenes) is out now. People from outside the region might not realize that the British Columbia, Washington and Oregon corridor is a kind of burgeoning I-5 international art zone and lately everyone has gotten a lot more connected. Some call the region Cascadia (Transylvainia was already taken) and the three territories have a lot in common but different. Vancouver is in many ways the most "inward" psychologically but not as an international gateway to Asia. Seattle creates some very organized work but is easilly the most sarcastic city in North America (billioniares and Kelsey Grammer's connection have that effect). Portland is "much more floral color wise with this profusive energy" (according to the
late Linda Farris
). I took that to mean less inward and somewhat more iconoclastic...probably due to the fact that the city is reawakening to its ambitions with a vengeance. It's all good and I suspect we may try to combine all three cities into one giant
Voltron like
robot sometime in the future.
I penned this article on PDA
for the latest issue.
April also marks
my last month of doing the Critical i articles for NWdrizzle magazine
. Lets just say "i" have a lot of gigs both online and off-line that require my attention, change is inevitable. My complete archives for the last
5 years can be found here
. Also, April 1 was my 7 year anniversary of living in Portland, it just keeps getting more interesting and its gratifying to know that all this is actually having some kind of effect. There has been a proliferation of voices lately and it's especially nice that some of them are so
thoughtful
.
Thanks for signing in, . Now you can comment. (sign out)
(If you haven't left a comment here before, you may need to be approved by the site owner before your comment will appear. Until then, it won't appear on the entry. Thanks for waiting.)