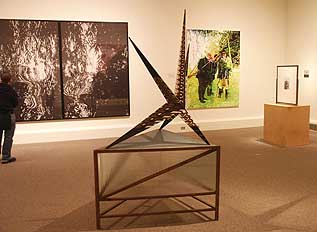 L to R works by:
Stephan Thiel, David Thorpe, Eric Schmidt, Richard Prince and Tim Eitel
I've been thinking about the Ovitz family collection show (New Trajectories I: Relocations) since
I reviewed part one a few weeks ago
and several themes for this half of the review have since presented themselves. Figuration was the most academic way to approach these mostly recognizable works but that's too easy.
Instead, in part one of my review, Thorpe, Handelman, Eukawa, Mehretu and Karen Davie's images and forms seemed to be pressing out against the picture plane, threatening to burst their boundaries. As for the remaining works for this review, whether abstract or figurative, all seem to draw attention inward... they traffic in fascination and a kind of narcissism. This also makes sense; Ovitz is involved in representing Hollywood talent, most of whom need this kind of magnetism to make a living. There are lots of very attractive extras out there but it takes "something" to be a star. Likewise, some of these works hold up and some of them are a bit like discussing Christian Slater as a Jack Nicholson rip off.
Untitled Genre Scene (After The Party #1)
Delia Brown is similar to many of the old master court painters not because of technique but because she presents social situations where patrons and other influential art world types are included as a kind of mocking "in crowd" acknowledgement. In
Untitled Genre Scene (After The Party #1)
we get just that, a critique in vapidity while being complicit with it. As a collector Ovitz purchased this early on in 2000, supporting a young career that ever since has seemed to thrive on its careerism.
Brown is an important artist in understanding the times and the careerist dance artists must shimmy to be successful (she drew a series of herself and her dealer as mother and daughter years ago). Yet, the question of this piece's success as art is difficult to ascertain, it's painted well but slightly naive. Still something tells me its conceits like Diet Coke and Doritos amongst the champaign will always keep her at second tier. Is Brown a supporting actress who won't ever get a metaphorical Oscar from the art academy? Probably! Still, I like to root for this underdog and Ovitz gets points for supporting her early on. Brown isn't that great but she's emblematic and that is something.
In The Movie
(2001)
Francesca Gabbiani also gets points for being soooo Hollywood. Her intricate collages recreate interior sets from movies, a kind of double artifice that to some might equate reality (especially in LA). Her
In The Movie
recreates a set from The Shining but the only thing that is menacing is the incessant patterning of the carpet. To complete the artifice of artifice, the frames seem to be integral parts of the work. Nice touch.
The gravitational pull of internalized pattern is even more developed in James Siena's
Four Nesting Spirals (corners)
and its how he utilizes the subtle variations of the hand to set up a quivering visual frequency that makes him interesting. He's no Paul Klee but pretty good. The problem with the work in this show is not a one of them is a "Great" work of art but most are ok to good, another sign of the times. I suspect weve grown impatient and expect greatness at every turn but an active collector like Ovitz reveals how rare it is amongst young artists.
Robert Olsen's
Untitled Chair
(Police Station) 1999
For example, Robert Olsen paints Hopperesque objects that had some of the pop appeal of Ed Ruscha (America and LA's greatest living artist). Sure these are well done but ultimately this seems like craftsmanship rather than very challenging art. They simply fulfill my expectations of an ok to good painting which after the Delia Brown was already sated and mocked. Same for Leipzig painter Tim Eitel and the little watercolors of Nigel Cooke. Also, I see the refined appeal of Graham Little's intricate drawings as well but after seeing Leonardo's sketchbooks years ago these seem dull too. I'm spoiled and know Leonardo is not a fair comparison, but even Little's ghostliness seems too contrived for me. I prefer Delia Brown's conceptual Gordian Knot of careerism. At least Brown's work is more honest to the time. If Ovitz enjoys them though... good on him, it won't end up in Jansen's Art History, and it doesn't have to.
The real duds of the show include Tommy White's
After Hours
(Jenny Saville is much better) and Cosima Von Bonin's identity politics laden
Men Suddenly in Black
textile work lacks the wit of a good Kara Walker or a bad work by the late Martin Kippenberger. This just isn't one of Bonin's stronger works.
Richard Prince,
Untitled (Publicity)
The Richard Prince on hand is pretty quiet too, just a press photo of Allen Ginsberg and some hand written jokes. I really need to see Prince's upcoming retrospective at the Guggenheim before I judge this piece but right now I'm lumping it in with his Camero hoods. It is funny and trite but not in the perceptive way his best works like the Marlboro man etc. can be. Richard Prince is the most overrated artist of the moment, but ever since Warhol reinvented the art world it has needed a Warhol clone to remind people of the fact. RP=AW and Prince does have some important work in that role.
There are couple of real gems though, Stephen Thiel's
Weiden IV
is an amazing reduction of a photograph into a negative image (Thiel removes the black backing of the photo with a scalpel, revealing the shape of the image's silhouettes). Last but not least, German painter Eric Schmidt's
Caricature of a Confidential Nature
shows some promise. It has that paint by numbers kitsch and its ridiculous impasto is well handled but he's not really anywhere near as good as
Daniel Richter
or
Norbert Bisky
in terms of sarcastic German angst. At least Ovitz is taking a chance on him and we get to see some of his adventures in very recent German art.
Overall, although few of these works are all that amazing (there are local artists like Henk Pander, Ellen George and Bruce Conkle etc. who can whip Mark Handelman, Tommy White and Aya Ueukawa no problem) a lot of it is very solid and important for some Portlanders to see. What I miss is the sense that any of these artists had the kind of intellectual foment around them like a great collector Gertrude Stein helped to catalyze around Matisse and Picasso. It just doesn't seem like there is anything at stake or an involvement other than a collector needing something to collect (at least Ovitz collects early). That isn't wrong but Charles Saatchi is the last collector to empower the artists he collected enough to eclipsed him.
Right now England has artists for celebrities and Ill take that any day over artists that cater to celebrities. I guess I'm just waiting for an artist who can redirect American culture and the artist closest to it here, Richard Prince, just isn't up to the task. Honestly I'm not certain if the right collectors exist to make it happen either… the fact that David Thorpe is at least bringing the subject up is encouraging though. There is a yearning out there to combine Blake and Frank Lloyd Wright but Thorpe just doesnt have the genius to stand on those shoulders.
Tomorrow is the last day of this show
. There will be a second exhibition from the Ovitz Family Collection that opens in a few weeks (featuring many Gregory Crewdsons) and I promise to cover that as well.
New Trajectories I: Relocations
• through March 11th•
Cooley Art Gallery, Reed College
• 3203 SE Woodstock Blvd • Tel 503.777.7790
Part 1 of my review of the Ovitz Family Collection: New Trajectories I: Relocations