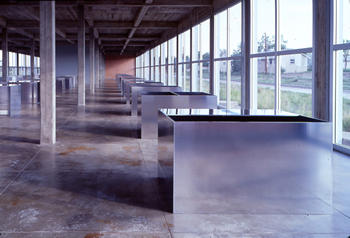 Definitely check out Tyler Green's post on
Marfa here
. The much abused and arguably abusive word "minimalism" has become so bastardized in the last 15 years that "minimal" and machined aluminum have become synonymous with yuppie aesthetics. If you drive a Lexus or
Audi TT
go home and count the # of milled aluminum items in your abode... see what I mean. It does show how influential Judd is though.
Still, it is definitely a long overdue opportunity to take back the essential experience of Judd, Flavin, De Maria, Irwin, Sonnier and Jo Baer away from the balsamic vinegar crowd and their "minimal" décor lingo. These artists were/are intellectuals who didn't see man as the measure of all things and acknowledged like Shakespeare did in Hamlet that, "There are more things in heaven and earth….than are dreamt of in your philosophy."
Currently, too many young artists are just sponging sweat off of Judd's back, but lack the rigorous ascetic iconoclasm. The man was a philosopher not a careerist and his works at
Chinati
are a great antidote to the intensely vain art that is literally in vogue. Besides, I suspect
James Turrell's Roden Crater
will be a more successful way to assume astro vivid focus than some pied wallpaper piper will ever achieve.
Sometimes, doing things the hard way is the only way.
Thanks for signing in, . Now you can comment. (sign out)
(If you haven't left a comment here before, you may need to be approved by the site owner before your comment will appear. Until then, it won't appear on the entry. Thanks for waiting.)