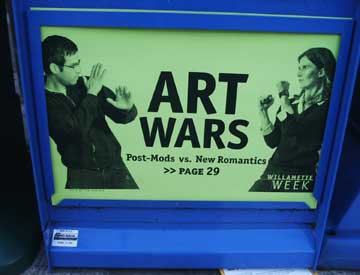 The Willamette Week (our Pulitzer Prize winning weekly) has this image plastered on boxes throughout town depicting Sean Healy and Jacqueline Ehlis mock Kung Fu fighting. Visual art is the big game in Portland and this generalist paper is trying to suss out the aesthetic agendas of the over 10,000+ artists in this city of 2.1 million. With new artists arriving each day good luck! Read the doomed thing
here
. (I apologize in advance, I'm mentioned).
Needless to say I disagree with a lot of the silly particulars and the flakey absolutism of it all but its existence contributes to the general sense that there is something going on here (it could be compared to the music scene in Seattle in the 90's, not 1994 either).
When I took the quiz I polled as a post-mod... so silly, frankly history is cyclical and we aren't post anything.
Actually,
the cover story
in the same issue about live/work space is very good.
I do think one can sift through artists by determining those who aren't satisfied with the morass of everyday life and do something about it. It's an existentialist problem coupled to a romantic notion but both Harrell Fletcher and Jacqueline Ehlis have that kind of romantic ambition.
Whearas other artists don't have the ambition to change things. They just want to fit in with a group and get a gallery they think is cool. These opportunists aren't post-mods or untalented, they are just less noble than the real deals.
For discussion's sake here is a list of some grievances with the article:
A) I think the WWeek is confusing an artist's temperament with aesthetic movements. Some artists are very confident well adjusted individuals and others are reclusive, skittish, retiring or just plain odd lurkers. Both are valid strategies used by artists to get people to look at their work. Some use mass media PR like a personal weapon and others simply choose to be lower key and deny the media machine any fodder. Portland is full of independent minded people who come here to get away from the slicker and more typical New York and LA media personas.
Specifically, I call the ones who put on a shy act the Hug Me's. It's a pretty common hipster affectation. Hug Me's make all sorts of art that cries out for love and friends. Other artists aren't so needy and blanch at the idea of art which purposefully tries to make everyone feel less self conscious, enforcing mediocrity as a social code. The less needy and more generous artists craft art and personalities that are more vigorous than are normally experienced. Most everyone on that too short to be meaningful list of 19 fits in this category.
B) Only 2 groups, one conceptual... the other experience driven is just too didactic and simple. For example, the so called post-mod Harrell Fletcher's
learning to love you more projects
(in the last 2 Whitney Biennials) are designed to instigate shared interconnected communal experiences, like
this choral piece
. In that case Harrell's instructions specifically called for a transcendental experience and it turned out pretty good.
Harrell and I have spoken at length about how Postmodernism's fetish of a disconnected world is out of date with the reality of instant messaging and spy cameras everywhere. Harrell is trying to get beyond all that and get back at human connections. Other artists like Healy, Ehlis and hundreds not mentioned like
Bruce Conkle
,
James Boulton
and
Ellen George
also want to connect and reconfigure
C) The premise of Post-Mods as idea driven, text based and analytical does not jibe with their alleged role models of Jeff Koons and Damien Hirst. Neither Hirst nor Koons are remotely text based, both use their faces to generate vast PR and both use presentation and pop for visual effects that purposefully mollify conceptual heft as just another form of window dressing. Better choices: Bruce Nauman, Joseph Kosuth and Liam Gillick who also have personas…. See a trend here; successful artists have larger than life extensions of themselves that they develop to insulate themselves from tabloid press. Its necessary due to the extreme stupidity of most press.
Other Portland publications have art scene press too:
Joseph Gallivan (of the Portland Tribune) is writing some really good stuff and muses on the
aesthetic merits of crack pipe ephemera
. Although calling Ehlis "serine" is a misnomer. She's more traditional but it's some of the loudest minimalism I've seen in years. Loud minimalism isnt anywhere near as typical as randy installation art made of dubious trash is.
In the Oregonian, DK or "death" Row finally took the kid gloves off and gave Disjecta
a good whupp'n
.
The Mercury's Chas Bowie writes about
artists jumping the shark
. This is his first good bit of writing since he jumped the shark himself. It happened precisely when Bowie stopped writing art criticism to focus on hipster writing, A.K.A. nostalgic navel-gazing and scrounging around your room for trinkets to digress upon. (ok most lame art critics do that but Bowie can be much better than that) Really, I'm only half-kidding, more bits like this and I'll start reading them religiously again.