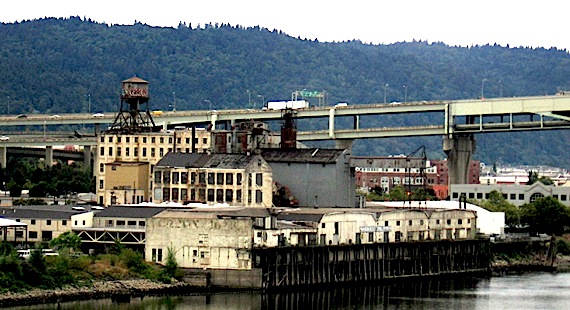 Centennial Mills (before partial demolition)
The
remaining Centennial Mills structures at the northern edge of the Pearl District and the last major historical building cluster still sitting upon the Willamette River is still in peril
and tonight developer Jordan Schnitzer and historian Chet Orloff along with Patricia Gardner (President, Pearl District Neighborhood Association) will discuss the building with the community. There is tremendous historical texture at the site and we have covered it numerous times
here
and
here
as has
Portland Architecture
and frankly its a complicated project that doesn't pencil out financially very easily (pollution cleanup, degraded structures, etc). That's why the news that the
PDC was backing away from a deal last year was so disheartening as Schnitzer was interested in it beyond simple economic terms
. Culturally it was an opportunity to both mine and preserve our past... something that has been rapidly been erased as
exemplified by the Lovejoy columns
. It could have been a moment to articulate Portland's ethos through placemaking. Now it is in limbo and the first public meeting is being held at 6:00 today.
The opportunities go beyond the sorts of developments that we have seen in other US Cities, instead think
Thief's Island in Oslo
... only with a Portland identity both new and old?
Recently we lost the
Portland Gasco building
because a suitable 3rd way could not be found and the preservation/future development question has become a civic crisis. In this case a third way was on the table...
Thursday, January 21, 6:00PM
1315 NW Overton (Pure Space in the Pearl District)
I will update with thoughts afterwards...
Thanks for signing in, . Now you can comment. (sign out)
(If you haven't left a comment here before, you may need to be approved by the site owner before your comment will appear. Until then, it won't appear on the entry. Thanks for waiting.)