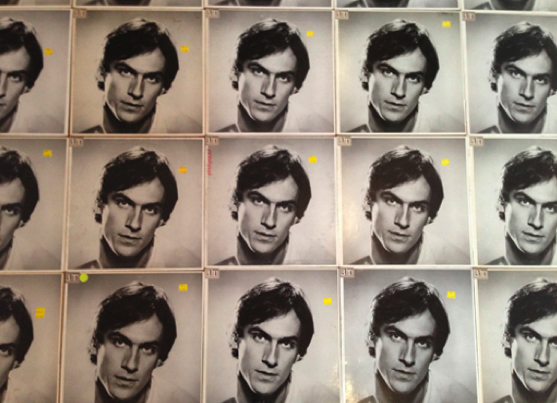 http://fourteen30.com/
Addressing the topic of gay bullying with a series of minimalist works, Philip Iosca presented HOPEFULLY I BECOME THE UNIVERSE at Pacific Northwest College of Art in 2011 to critical acclaim. Previous exhibitions include Water Sports at 12128, Portland; Eveything Matters All The Time Cleaners at Ace Hotel, Portland; Catch All, PDX Across The Hall, Portland; Amsterdam Biennial, Amsterdam and Portland; as well as an invisible monument for Car Hole Gallery in Summer of 2010. In 2011, Iosca published his book of poems, Ballad of the Sad Young Men.
Iosca is a graduate of Rhode Island School of Design and Weiden+Kennedy's 12 Program. He lives and works in Portland, Oregon
MOMENT, MONUMENT | Philip Iosca
March 15th - April 14, 2013
Opening Event | March 15th | 6-8PM
FOURTEEN30 CONTEMPORARY | 1501 SW Market Street, Portland, Oregon 97201
http://fourteen30.com/

http://cal.pnca.edu/e/697?s=20130316
The Feldman Gallery + Project Space presents the Keep Hope Alive Block Party, a one day event put on by the Critical Art Ensemble.
For the Block Party, CAE responds to inequitable distribution of resources with a block party acknowledging that while the majority of wealth may be in the hands of the very few, the many have a handful of remaining assets to give us pleasure including Sustenance (soup kitchen open all afternoon); Delirium (forty-ounce bottles of Miller High Life for those of age, and Big Gulps of Mountain Dew for under-agers); and Hope (raffle tickets offering big cash prizes, so that for a lucky few, economic mobility will not only be downward.)
The Block Party happens on NW 13th between NW Johnson and NW Kerney from 12-5pm on March 16.
Critical Art Ensemble (CAE) is a collective of tactical media practitioners; computer graphics, wetware, video, photography, text art, book art, and performance. Formed in 1987 in Tallahassee, Florida, CAE focuses on the exploration of the intersections between art, critical theory, technology, and political activism. CAE has authored six books on cultural production and political economy.
Critical Art Ensemble is presented with the sponsorship of The Andy Warhol Foundation for the Visual Arts, Portland's Regional Arts and Culture Council, and the Oregon Cultural Trust.
Keep Hope Alive Block Party | Critical Art Ensemble
March 16th 2013 | 12-5 PM
The Feldman Gallery + Project Space | NW 13th between NW Johnson and NW Kerney
http://cal.pnca.edu/e/697?s=20130316

Ned Colclough, Body Talk. Photo courtesy of the artist and Nicelle Beauchene Gallery.
http://www.pica.org/programs/detail.aspx?eventid=928

Michihiro Kosuge, Bridge. Photo: Aaron Johanson, courtesy of Laura Russo Gallery.
http://www.pica.org/programs/detail.aspx?eventid=928
An intergenerational pairing of sculptures by Brooklyn-based Ned Colclough and Portlander Michihiro Kosuge opens at PICA on Saturday, March 16th with an artist talk Sunday, March 17th.
Using Bauhaus theater, Ikebana and Arte Povera as points of departure, Ned Colclough's sculptural assemblages encompass a visual style where formalism, minimalism, and neo-modernism are abstracted. His sculptural elements (found wood, stone, rope, and plaster) become orchestrated compositions. Colclough lends a lyrical and poetic relationship to both material and object. He is a recent recipient of the 140 Foundation Emerging Artist Grant and lives and works in Brooklyn.
Michihiro Kosuge echoes both architectural and organic forms in his work. His sculptures are not only playful and meditative, but also grounded in context. Kosuge emphasizes the surfaces of the different types of stone he uses by contrasting textures. Some areas he leaves quarry-rough, while others are polished to glassy smoothness.
New Arrangements | Ned Colclough & Michihiro Kosuge
March 16th - May 11, 2013
Opening Event | March 16th | 6-8 PM
Portland Institute for Contemporary Art (PICA) | 415 SW 10th Ave, Suite 300
http://www.pica.org/programs/detail.aspx?eventid=928

http://ditchprojects.com/index.php?/upcoming/yellow-white-or-grey/
In Ashby Lee Collinson's video work, psychosexual landscape is central; a character and entity that takes on bodily forms towards an intimate ecology. Focusing her lens primarily on estuaries, dunes, and plutonic rock formations, she captures a constant cycle of geologic transition, immanence, and aporia. Tuned in, James Herman plays the part of an ingenious wayward traveler transmuting his experiences into sculptures. With found materials, he playfully calculates and encrypts natural processes; generating adhock arrangements. Reconfiguring dumbfoundedly, his work embodies narratives such as rock formations and the sunrise. Playing the part of timekeeper, Jason Urick uses looped field recordings from Collinson's travels, punctuating the space with the uncanny and familiar.
Yellow, White or Grey| New work by Ashby Lee Collinson, James Herman, and Jason Urick
March 16th - April 6, 2013
Opening Event | March 16th | 6-9 PM
Ditch Projects | 303 S. 5th Avenue #165
Springfield OR 97477
http://www.ditchprojects.com/

A Persistant Hum, Patrick Collier
http://www.placepdx.com/
Sense of a Sack, comes from Jacques Lacan's Seminaire 23 in which he writes "The astonishing thing is that form gives nothing but the sack, or if you like the bubble." This particular body of Collier's work takes this idea as its point of departure by moving from largely formal considerations to a place where meaning begins to appear. Collier would like to remind us that when words fail, there still remains the idea of (need for) words.
Patrick Collier is a visual artist and writer. Collier has shown nationally, and has been written about in Sculpture and Art in America. He occasionally curates and ran a small, critically successful gallery in Chicago. He is currently involved in research on the psycholinguistics of visual poetry and holds an MFA from the University of Illinois at Chicago.

Chamber 2, Nim Wunnan
http://www.placepdx.com/
Using semi-transparent membranes and two-way mirrors, the viewers' experience becomes the exhibit for the rest of the audience. Wunnan hopes to create a context in which altered perceptions, non-neurotypical states of mind, and intimacy can be engaged in public by a mixed audience. The configuration of the chambers will allow individuals to experience intense or disorienting sensations in private while exposing their experience to the rest of the gallery (Whaaa?). The work is a 2 parter and he is currently showing Chamber 1 until March 23rd at False Front. Cool.
Nim Wunnan lives and works in Portland, OR. He is the founder of Research Club, a community supported think-tank, which provides opportunities for those to share the things they know and care about with others.

Practice Makes Perfect., Katherine Groesbeck
http://www.placepdx.com/
Practice is the act of engaging in an activity again and again, for the purpose of improving or mastering it. "Practice makes perfect." Does repetition serve to create mastery and knowledge or does it decrease the value and meaning of the activity or behavior? The performance-based installation utilizes seemingly private rooms, time limitations, repetitive activity and absurdity to create an experiment on the value of practice, work ethic, repetition and structure.

On Demand, Michael Reinsch
http://www.placepdx.com/
This is a performance event activated by the viewer as consumer. This project utilizes retail strategies adopted from made to order production such as speed, efficiency, and attention to high customer service standards. The viewer orders pieces of art from a menu board posted behind a professionally manufactured service counter. This art-on-demand is generated by trained expert artists, the pieces are priced in the 5 to 10 dollar range and are ready in minutes.
Michael Reinsch is a multidisciplinary artist and Professor based in Portland, Oregon. His work incorporates performance and activated props to explore human connection and disconnection, often through themes of celebration and melancholy.
Check out the videos from his February 16th exhibit Grand Opening Special. Reinsch charged $1 a minute for a make-out session with the artist with a maximum of 3 minutes.

HD Sensations, Adrienne Huckabone (with collaborators Gabi Villasenor & Michael Bunsen)
http://www.placepdx.com/
A video environment full of daily sensations and objects that you can virtually reach out and touch. Using the language of advertising, HD Sensations gives the viewer an isolated view of pleasures derived from everyday life.
An excerpt from the Amazon DVD Description:
Indulge even more in the comfort of your own home! Escape into the mundane pleasures of HD Sensations. Beautiful scenes from daily life are presented to you in an exquisite HD DVD. Let stress drift away with a relaxing view of cutting into an avocado, or get lost in the calming scenery of popping bubble wrap. HD Sensations is a vacation for your senses. So just sit back and indulge, virtually!
Available Soon on Amazon.com!

Sense of a Sack | Patrick Collier
Chamber 2 | Nim Wunnan
Practice Makes Perfect. | Katherine Groesbeck
On Demand | Michael Reinsch
HD Sensations | Adrienne Huckabone (with collaborators Gabi Villasenor & Michael Bunsen)
Opening Event | March 16th | 5-9 PM
Place | 3rd floor of Pioneer Place mall, 700 SW 5th Ave, Portland, OR 97204
http://www.placepdx.com/