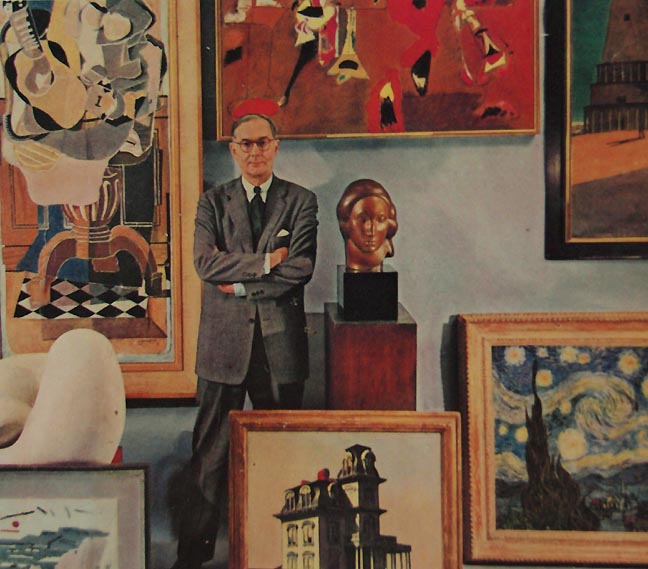 Alfred Barr Jr.
It's been seventy-five years since
Alfred H. Barr Jr.'s exhibition Cubism and Abstract Art
. If you go to any museum that has modern art, his influence is visible in the organization and artists selected. Throughout the museum and curatorial world Barr's shows and clout are controversial topics - and should be. Why should it be controversial? Anyone that has been that successful in creating a paradigm that still exists today has to be examined. It also happens that the paradigm that Barr created is the common understanding of modernism. On the one hand, it is not possible for everyone to have such clarity of thought on such new and difficult subjects, and on the other if there were a first rule of modernism, it would be to overturn the rules of your forefathers. So lets take a look at how Cubism and Abstract Art interacts with the notion of modernism and the period.
Hindsight makes the past clear. There is one caveat about modernism that is often overlooked: every modernist statement was active within a time period where all these manifestos, artists' statements and methods of science and industry were emphatic, pointed, aggressive, unquestionable, didactic - something to have faith in. These voices create Truth. In my examination of the Cubism and Abstract Art I can't help but want for such an entrance point into the contemporary art conversations. And, apparently, critics can't help but want the past to be as open-ended as the present is. Overall, it's not that I agree with Barr in a totalitarian sense, but his clairvoyant ability to share difficult subjects with the public is something to idealize and strive towards.
Barr with MoMA Trustees and Picasso's Les Demoiselles d'Avignon (a key acquisition)
Alfred H. Barr Jr. received his B.A. and M.A from Princeton University and received his Ph. D. from Harvard. He taught three years at Wellesley College where he offered the first Modern Art class and used the notion of treating his students as, "faculty." This notion is something that relates to his famous notion of museum as, "
a laboratory; in its experiments, the public is invited to participate
." After three years of teaching, he was awarded a Carnegie Fellowship and appointed as the first director of the Museum of Modern Art. It is said that he almost didn't get the job because he was dressed shabbily. As director, the first show he put together at MoMA was Cézanne, Gauguin, Seurat, van Gogh. Some of highlight shows of his career are Fantastic Art, Dada, Surrealism; Picasso: Fifty Years of his Art; Van Gogh Show (1935) and the point of examination in this paper, Cubism and Abstract Art. Throughout his career he worked passionately as both an advocate and educator of modern art. His relentless drive to create hundreds of papers, books, and shows on modernity that distilled ideas over time can be thanked for shaping our contemporary reception and perception of many artists who make up the modern canon of art and the shape not just the way we organize modernism but contemporary art in museums.
In art museums today there are often too many visual conversations to really engage in any one of them. It also doesn't help when the explanation or statements about the shows are lacking in content and context, but just make small homogenizing sweeps at a time frame or idea. Not to say that this is every show, but in the greater art world of today we are stuck with comments like, "
the decline of art criticism
," "
the end of art,
" "
the death of painting
," and my new favorite "
reality as art as trash as art
." The spirit of the times is not a call to action, an examination of trending styles, or words that inspire faith. In a specific, funny-sad truth it is piles of trash in museums or galleries that get cleaned up by janitors to then decompose in a landfill. Such fatalistic and negative terms are not surprising in today's society. The language of "visual art" is increasingly abstract, convoluted and decentralized. It is of growing importance for the public (layman, art enthusiast, and various professionals) to seek clarity from our cultural experts (historians, critics, and museologists). It is impossible to talk about everything. It is not impossible to talk about a paradigm one creates.
The continuously expanding and blurring of every element in life and art is as confusing as Marcel Duchamp could have wanted or dreamed. It is ironic - in a time where there is an imperative need for clarification/simplification (to point out an entrance point) for this new and often borderless art/culture, the writing is becoming equally convoluted. It doesn't help that the economic-realities of a post 9/11 world dried up much of the fertile land where insightful criticism happened, developed, and flourished into clarified thoughts.
"Arts journalism as we used to know it is sinking with the ship…. The problem is that the cuts [to newspapers] are deepening an already miserable shortage of resources, set against a cultural universe that continues to expand [emphasis mine]. We are past the tipping point: it has become acceptable to run a paper with just a skeletal culture staff. Specialized writers are giving way to generalists. Culture sections are being tossed overboard (standalone book review sections, in particular, are a dying breed). Article lengths and "news holes" (space for editorial content) are shrinking. All this has eviscerated newspapers' ability to deliver quality arts coverage, which, as a result, must migrate elsewhere…. Many experts believe that daily newspapers will never find a way back to sustaining solid arts journalism. Magazines are doing marginally better, but they cannot shoulder the burden of timely local arts coverage, especially for non-specialist readers — and some are folding." -
András Szántó in the Art Newspaper
Much of the art writing that is happening now is not just technical speak trapped within the conversation of art that the Ivory Tower grows - it has become at times meta-jargon (or a simple travelogue description... Barr presented an understanding and a structure for such also his own understanding of art was more complicated than the version he touted to the general public, but that's fine he did want to expand the franchise). It is a common notion for artist or critic alike to speak in references or particular vocabulary that when boiled down might not really say much or anything. The x-rayed statement shows only references referencing other references. This is not saying that Barr was not part of the Ivory Tower but he worked to turn everyone into a faculty member - allowing a larger demographic into the abstract conversations where complex art becomes accessible. To be in the NBA is 99.99% impossible for the 5'9" Alex Rauch, with his small hands, but he can play basketball. Just like sports there are many levels of play in art.
Right now there is a greater liminal darkness around general understanding of post-disciplinary art today. Our understanding of contemporary art is similarly difficult to the work of the previous hundred years. The continual over-turning of modernism, technological and information revolutions of the past 100 years have left us with false realities and
ego casting
, where one is trained to expect advancement on a regular occasion - despite effort. It is a strange time in the USA where getting fired or flunking is of little agency because there are other ways to get by. Thinking, it seems, is not always a priority. This may be a poor example, but it seems to be a visible theme within institutional settings and often continues into the "Real World" of employment.
When the effort is too great, many people in society just shut down. Viewers find when engaging in difficult art that the society built upon perpetual advancement is nowhere to be found. How, then, is the viewer to know or believe that something is at the end of the tunnel? The lack of accessible contemporary language doesn't just hurt the viewers trying to engage with art, it also hinders the artists. Where could one find filler for the educational void?
Filling this hole often falls on the museums – specifically the educational department. The educational department separate, from the curatorial department, has the job of interpreting their shows for the general public, minority demographics, donors, and children. A tall order! It makes sense, after all, why they have their own department? – I guess. There is something there that doesn't sit well, though. It seems like a break in the system. It is a strange notion having interrupters for the interpretation. It really makes me ask the question: does the first party (the curatorial department) really get it. It is like an echoing of the notion of meta-jargon. In a few contexts it doesn't matter if people even go to the museum – it good enough for the people of the community to know the museum is there, preserving their history, raising morale! Hypothetically, they will go at some point. Then, they do go and feel lost, not understanding how these things are part of their culture. They stop and get disconnected, looking like they have just ate a lemon or are so indifferent as to not even to give the work a second look. But, if they go and connect, something special can happen! Art can be a healing force—even something spiritual. The imagination kicks in and abstract and autonomous understanding happen inside the viewer. Is the lack of spirituality because of the break in museology? Maybe we need more "Missionaries."
In their early history, museums were thought of places of Truth and infallibility. Now they have been humanized, turning them into just another institution to be questioned and not to be trusted– one more part of a Foucauldian panopticon. The distrust of large museums is not altogether a bad thing. It does add an element of dynamism. The negative thing is that it takes the Truth and the authority experts in a field should have and turns them into a maybe. Even in the information age, one does not have time to be an expert in everything. This is not a discouragement to research Truth as much as you can for yourself. But maybe outside of the notion that museums are now part of the panopticon there is an element between authority and faith that is positive.
One reason to talk about the positive effects of faith is that according to the census the non-religious population in the USA has increased from 8% in 1990 to 15% in 2008. This is not a statement saying that religion is inherently good or bad; it is an examination of a trend. The rise of individuals "lacking faith" is a concerning factor that points to a larger overall problem that is apparent in museums and art today.
Is this a problem between science and faith? Some scholars say that faith and science are separate. This is just not true. For example, science to the layman is not just the massive taxonomization to find the best answers for the questions in life but also often stands for capital T "Truth" – more like faith. The professional scientist thinks more in terms of the best solution for the problem at the time. So on the one hand, the layman generally considers science a kind of faith and on the other hand, the two can operate at the same time. It should be noted that there is aggregated evidence that shows
positive effects on day-to-day welfare of the spiritually active
.
This is where this art historical "Missionary" figure of Barr seems as important as ever in this confusing time. It is naïve to think that modernism and the industrial revolution was a less confusing time than it is now. The elements in our daily life casting fog on our mind, vision, and spirituality have only changed.
One of Barr's largest criticisms was being a "Missionary for the Modern." His passionate advocation of modernism is shown especially strong and clear in Cubism and Abstract Art. The dust jacket that could have been a banal object is now a figure that has shaped modern visual culture. This dust jacket covering the show's catalog lives on in infamy. Edward Tufte says, "The art chart serves several purposes: a dust jacket for the catalog, a table of contents for the show, an organizing history of modern art displayed throughout the museum itself, and a symbol of the entire enterprise." Many criticisms come from his omissions from the chart and "causal inferences." This show did end up being tremendously influential on the canon of modernism. That said, one cannot anticipate how important a show will be. In the same vein, no show can be wholly encompassing. So while other people may still want other things, in Barr's paradigm that notion goes back to the turning over of modernism. It is important to build off the work of our forefathers. If our ancestors had done it all, we would be out of work. It should be taken into account that any attempt to encompass anything in a totalitarian sense will fall short. Barr was not trying to be a dictator and say, "this is all that happened and there is nothing else." He was putting together a show that ended up being significantly communicable. He was working on refining these notions for some time. This show was a shining moment where many years of smaller essays and lectures solidified.
That is why one should have a hard time labeling the lines on the map of modernism "causal." They are well informed and researched. The show and catalogue should be seen as part of the blooming collection of a new museum. The dust jacket could be seen as a great work of advertising for the show. Its flow and sharing of intense connections is brilliant. Visually teaching visual culture. Reading the preface in the catalog, Barr states that this show is "not in a controversial sprit…" and is "in no sense a pioneer effort…" and he "wishes the text to be considered as a series of notes accompanying the illustrations without any pretensions to originality or inclusiveness." The notions that he was stating what was already agreed upon by scholars of the time is still agreed upon now. It is only he way he said it and the limitations.
The map of modernism could have been a crazier map. Which then would make it more inclusive, accurate, less casual and looking more like a map of the Paris metro system. The beauty of Cubism and Abstract Art is that it is digestible. This is not to say that it is simple. It really is not that simple. It looks like some scientific chart denoting infallibility. That is a success: utilizing the great graphic design, research, and a didactic sensibility of the time. Each section is broken down to a page or two with accompanying pictures that are referenced in the text. Prior to the text in each movement is a brief chronology and summary.
Since the missionary has been dead now for some time, he could be considered more a prophet. And if modern art had a bible this wouldn't be it. It would be a great sermon, or cliff notes. The catalogue has such a great framework that delivers a solid foundation that it is still being talked about today and implemented in museums. Many curators lack this kind of vision in a show. He may not have been saying anything new, but no one else said it like he did. His parameters were and are guidelines for basic understanding of great works of modernist art around the turn of the 20th century. In a time of information and technology where more and more things are becoming meta-themselves, where can faith be generated? Our strong words and works are something to believe in and stand behind as Barr stood behind Cubism and Abstract Art. It is important not to forget the most basic element within all humans – our fallibility.