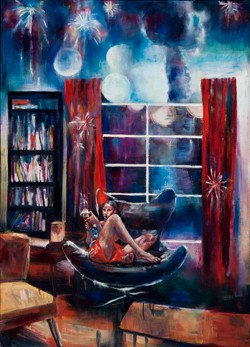 Laura Ross-Paul's Remote (2011)
Tomorrow, the excellent Hoffman Gallery at Lewis & Clark College opens an exhibition celebrating the 20th anniversary of the establishment of the Bonnie Bronson Fund, featuring new work by the Bonnie Bronson Fellows, who happen to be some of the Pacific Northwest's most influential contemporary artists. The show runs through Dec 11th but don't wait, besides a show like this will have a homecoming atmosphere at the opening from 6:30-8:00PM tomorrow. It has also become a tribute to Joan Shipley who passed away in the last week. Shipley had long worked to make the Bronson Awards what they have been.
How to typify the list of awardees who will be on display? Well it generally goes to prominent mid-career women but sometimes men. Also, true to that inconsistent form it tends to go to influential educators, but not always. Since 2008 the award has increasing focused on new media artists who were prominent vangaurd trail blazers in the 1990's who have become important regional to international practitioners as of late. If anything the award signals mid-career local celebrities who are launching a second phase of their careers nationally so this exhibition promises to be one not to miss. In fact, it's the ability to develop artists over a decade plus that has distinguished Portland from many other art cities in the USA.
The Bronson Fellows (all of whom are participating):
Christine Bourdette (1992)
Judy Cooke (1993)
Ronna Neuenschwander (1994)
Fernanda D'Agostino (1995)
Carolyn King (1996)
Lucinda Parker (1997)
Judy Hill (1998)
Adriene Cruz (1999)
Helen Lessick (2000)
Ann Hughes (2001)
Malia Jensen (2002)
Christopher Rauschenberg (2003)
Kristy Edmunds (2004)
Paul Sutinen (2005)
Bill Will (2006)
Laura Ross-Paul (2007)
MK Guth (2008)
Marie Watt (2009)
David Eckard (2010)
Nan Curtis (2011)

Opening Reception
September 7, 6:30 to 8 p.m.

Artist's Talk with Helen Lessick
September 8 at 5 p.m.
Miller Center for Humanities, Room 105

Thanks for signing in, . Now you can comment. (sign out)
(If you haven't left a comment here before, you may need to be approved by the site owner before your comment will appear. Until then, it won't appear on the entry. Thanks for waiting.)