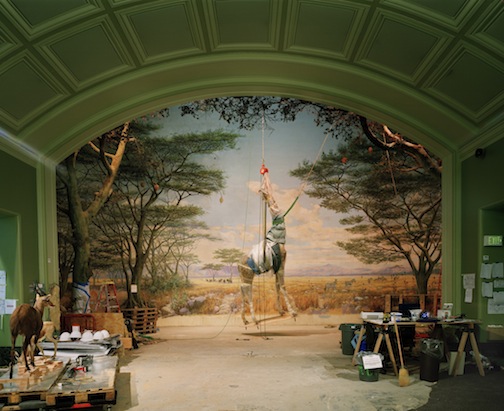 "Giraffe", California Academy of Sciences, 2005, Richard Barnes
The exhibition 'Animal Logic' up at
Blue Sky Gallery
is a question in the quirkiness of the human species. Rendered in large photographs, framed delicately and deliberately behind glass, these works are specimens in themselves.
Each photograph depicts the elaborate fabrication used to create the dioramas in Natural History Museums. And while the detritus of the set creation seems incredibly involved, it is the treatment of each set's inhabitants that is wont to provoke the viewer. Barnes does not relay whether or not each animal specimen is real or not, but the images have the desired effect of a strange horror. The animals seem so real, yet the brain knows they are not alive; they are strung up and held still, horrible corpses, desanctified and graceless in the shadow of a mimic of violence or alarm, a model's failed imitation of reality. And it is not that the animals themselves that are horrible; even as fakes or taxidermy, they are exquisitely beautiful. The horror stems from the mirror these creatures hold up to the human viewer. Unfinished, these sets are dioramas of human activity; photographing and displaying them are the acts that distinguish their content, designs to be considered at length. Our own activity, the habits of humans, is really what Barnes photographs here. The show should be called 'Human Logic', as it does not seem as if the animals really have anything to do with any of it. The most prominent photograph in the exhibition, "Flayed Man", from the Museum of Comparative Anatomy in Paris is the summation and summit of the exhibition, both conceptually and visually.
"Flayed Man", Museum of Comparative Anatomy, Paris, 2005, Richard Barnes
Man stands at the forefront of his army of skeletons, triumphant, beautiful, and somewhat haughty. The photographs seem to relay the ultimate energy and resources employed to preserve these animal models exactly as they are, yet the same cannot be said of their actual living environments. It is a baffling conundrum Barnes presents.
Why do we do what we do? We like to make models of the natural world; it's beauty and ferocity are incomparable. In every way do we stand in admiration and awe before it. We pout and stomp that nature is not our creation and then attempt to mimic it. How long will we be able to check our creation against reality? Against the reality that will be our own undoing? As we continue to destroy the natural world, will the diorama become our most accurate account of what it once was? 'Animal Logic' begs the answer.
'Animal Logic' will only be on display just a few more days, through July 3rd 2011.