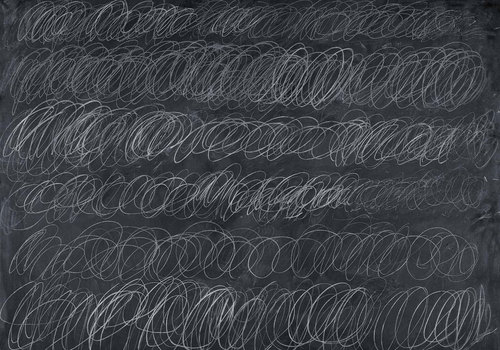 Cy Twombly" Cold Stream", White wax pencil on canvas (1966)
Cy Twombly has died at age 83 in Rome. Portlanders were lucky enough to enjoy this
major artist's work a year ago at the Portland Art Museum
.
"A pinnacle of the post–abstract expressionist generation, Cy Twombly redefined the parameters of painting. Fascinated by the immediacy of history and ancient myth, he created works rich with reference—Homeric myth, place, and intimate emotions. Twombly developed a vocabulary of signs and marks intended to be read metaphorically a world unto itself of picaresque scribbles, agitated sgraffito, and clotted, scatological impasto that ultimately defines a vast Elysian field of pleasure. I am forever seduced by the pull of gravity, the unpredictability of emotion, and the fluidity of his line as it conflates time—then is now, present is past. " -Bruce Guenther Chief Curator, Portland Art Museum
New York Times obit
LA Times obit
My feelings for Twombly are very personal. Twombly was the bridge between Paul Klee's poetic yet controlled automatism, Jackson Pollock and the next generation personified by Jasper Johns and Robert Rauschenberg, then onto Basquiat, Carroll Dunham, Terry Winters, Philip Taffe and even Ryan McGginnis or Julie Mehretu. For a Portland connection there is
Jessica Jackson Hutchins
. Overall, Twombly's work was a revelation to me, like uncovering a lost city. Twombly has always been an artist's artist, pervasive in his influence rather than the signal of a new paradigm. In fact, Twombly was there in Rauschenberg's inner circle when his first combines accreted the physical and the poetic (something Twombly had been doing for years already only more ephemerally).
Compared to Johns, Pollock and Rauschenberg Twombly's work was much more stoic, made up of the passage of time itself more than the objects and struggles of daily life. To my eyes Twombly's work always seemed to be beyond the physical and the iconic and at their best dwelt in the sublime in a way that only the best works by Rothko, Martin and Pollock could match. Perhaps that is why Donald Judd savaged his 1964 show so, Twombly was the painter he never became but wanted so deeply to be.
Untitled (The Mathematical Dream of Ashurbanipal, (2000-2009) shown at PAM last year
Twombly was more process than progression and the works were always more akin to the event horizon before the time and space warping process of a black hole destroyed matter. His early crayon works are some of my very favorites... with a loose gestural quality that formed a bedrock that other artists like Agnes Martin built their own styles upon. Twombly showed how to deal with Pollock's legacy by draining out all of the existential drama... in effect a arrow of asceticism shot from the bow of abstract expressionist bravura.
His sculptures had a similar Ozymandian quality... appearing ancient, with patinas that looked more like the exotic frozen gas and dust objects in the
Oort cloud
. Their quiet full intensity, made him the antipode of Giacometti's gaunt walking men.
Id even venture to say, Twombly destroyed Postmodernism's a-historical arguments, simply through tapping into the unstoppable erasure that is time itself and therefore painting more with history's mechanism's rather than its survivors.
Yes, somehow this American who lived in Italy since 1957 managed to make art for the long haul... whether patina or paint, scrawl, crayon or blackboard his work exemplifies the palimpsest of time better than any painter or sculptor since. Perhaps Twombly is the glue of 20th century postwar art? Perhaps Twombly was like the river itself rather than the banks, which contained yet always eroded next to its persistence? His work will always inspire me.