Patty Chang, "Shangri-La (Mirror Mountain Billboards)," 2005, photo by Patty Chang and David Kelley
PNCA's next MFA in Visual Studies lecture: Patty Chang at MoCC. Chang is a performer and image-maker whose "performances, or time-based sculptures, are examinations of the female experience."
Artist lecture • 6:30-8pm • February 18
Museum of Contemporary Craft
• 724 NW Davis
UO's Architecture department presents a lecture by Sergio Palleroni examining "the integration of sustainable practices to improve the lives of traditionally underserved communities worldwide." Palleroni is a UO alum.
Architect lecture • 12-1pm • February 19
White Stag Building
• 70 NW Couch • Room 451
Jenene Nagy, "Tidal" installed at Disjecta
Jenene Nagy's has been hosting informal Friday happy hours at Disjecta for people to experience and chat with her about her
Tidal
installation. This week she's offering a more formal presentation on her work in the form of a Q&A with artist Avantika Bawa. "The conversation will range from practice in general, site-specific and project-based works,
Tidal
in particular and how it came to be, and the influence of curatorial practice on artmaking."
Art discussion • 7pm • February 19
Disjecta
• 8371 N Interstate • 503.286.9449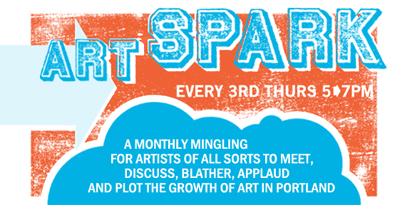 This month's Art Spark is hosted by Young Audiences at the Someday Lounge. "Young Audiences has been around for 50 years helping artists bring dynamic arts exploration to school kids. This Art Spark will showcase a little of it all with acoustic music, middle eastern drumming, vaudeville and some doodling."
Art gathering • 5-7pm • February 18
Art Spark @ Someday
• 125 NW 5th