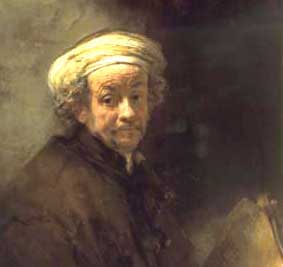 Rembrandt, "Self-Portrait as St. Paul (detail)"
The ongoing
Rembrandt show at PAM
is closing on Sunday, September 16. In conjunction with the closing of the exhibition, PAM will present
Rembrandt: The Artist and His Collection
, a lecture by Professor Arthur K. Wheelock Jr. exploring how Rembrandt's personal collection of artistic and natural treasuries influenced his work. The lecture is on
Friday, September 7
at 7pm in the Whitsell Auditorium. Tickets are $10 for non-members, and are available online or at the museum box office.
There will also be a symposium,
Rembrandt and Beyond
, the following day featuring Dr. Ronni Baer, H. Rodney Nevitt Jr., Ruud Priem, and Arthur K. Wheelock Jr. The symposium is on
Saturday, September 8
, from 10am to 2pm. Admission is $25, and includes a box lunch. Tickets are available online, or at the museum box office.
For those that need more on Rembrandt, the Met has a podcast for the Met's "The Age of Rembrandt" Exhibition Dates: September 18, 2007–January 6, 2008 Curator Walter Liedtke discusses works from the age of Rembrandt.
The podcast can be downloaded at: www.metmuseum.org/podcast/index.asp
Thanks for signing in, . Now you can comment. (sign out)
(If you haven't left a comment here before, you may need to be approved by the site owner before your comment will appear. Until then, it won't appear on the entry. Thanks for waiting.)