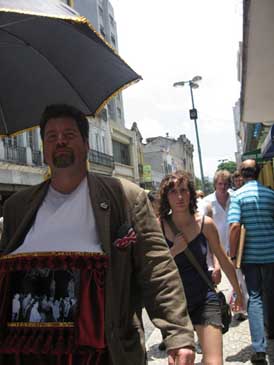 David Eckard on the streets of Rio
Despite the increasing real estate development and institutional maturation (for example Small A Projects was just accepted into
NADA
) Portland is still unique for being mostly defined by its people and I'm happy to report they have a rapidly increasing international reach. The artists are still the most influential and controversial force at work here and it will probably be that way for the next decade as Portland finds out how to support culture (it's an exciting vacuum for both artists and institutions that can also be challenging... especially in terms of press coverage, who in some cases take a very regional approach to not so regional work). The fact remains that the hoard of artists are the one forcing the non regional issue, which is as it should be for any scene worth a damn.
Thus, many of the "name" artists in town are developing increasingly serious reputations outside of Portland in 2007. Instead of waiting for Portland they have engaged the international nature of the art world and aren't waiting around for Mayor Potter or the Oregonian to give them a plaque (to be fair it just doesn't work that way, mayors and major newspapers are usually behind the curve, it is what they do). Already this year Bruce Conkle, MK Guth, Emily Ginsberg, Don Olsen, Tamsie Ringler, Nan Curtis and David Eckard spent January in Rio in a project set up with Ernesto Neto (though conveniently ignored by the O the
Tribune covered it nicely
).
Detail of Bruce Conkle's Jardim Psychic (Psychic Garden) carnivorous plants, air plants, plants that live in water, palm tree, coconut in a bucket, fish in another bucket, gemstones, rotor, water and fountain pumps, etc. @ A Gentil Carioca, Rio de Janeiro
Also after a 2006 with shows in Iceland etc.
Conkle is rumored to have a presence in New York
sometime this year and many other Oregonians are in similar negotitions so don't act surprised when it happens. Brittany Powell has already been
picked up by Modern Culture
(a nice NY gallery who are also avid PORT readers). Other artists like Damali Ayo, TJ Norris, Liz Haley, Eugenia Pardue, Craig Payne,
Laura Fritz
, Hilary Pfeifer or
Patrick Rock
(who lives across the street from me) have been more active elsewhere than at home too (the list is large). Chandra Bocci's last solo show was last year in San Francisco though it wasn't one of her
all-out efforts
(the road is made of yellow mustard packets).
Of course SF transplants Chris Johanson, Jo Jackson and Harrell Fletcher have been active internationally long before they moved here and I wouldn't be surprised if even more international artists followed suit. Possibly like like Santa fe but as a real city not a touristy Disneyland. In a related note, Portland's numerous bands (Decemberists, the Shins etc…) are already a big deal and the art and music scenes are completely intermixed (Menomena's Justin Harris is a
really excellent video installation artist too
and
Carson Ellis
is more than just her image defining work with the Decemberists and Weezer,
Ultra just interviewed E*Rock
so check it out). We already know there is something serious going on in Portland and all of the general articles that declare it as breaking news produce a chuckle or two around here, specifics please. Im just stating this to put the issue to bed. If someone publishes something questioning whether we are head in the sand regionalists (which is an old myth which died years ago)Ill just link right back here to debunk it. Also, let me know if I missed anything in the comments and if its significant Ill add it to the list.
The list of Portlanders showing outside of Portland in 2007:
Matt McCormick is showing at
the Moscow Biennial
, it starts today (Feb 22nd). The Uncertain States of America show will travel to Iceland as well.
Paul Middendorf is part of a project called Emergency Room up at
PS1 right now
(check it out if you are in New York for Armory week).
Jacqueline Ehlis
is in a museum show Dave Hickey is curating
Sean Healy's FBI building project opens in
Houston this year
(Summer or Fall) its a nice feather in the cap after last year's Thom Mayne Courthouse
Red 76 is currently showing at the Institute of Contemporary Art's "
Locally organized gravity
" in Pennsylvania
Patrick Rock has a dual show with Kieth Boadwee on April 20th at Queen's Nails Annex (an inspired pairing)
PORT's own Melia Donovan is showing at
McHenry Colleg
e in August
Sincerely John Head
are showing in Atlanta (June)
Brendan Clenaghen (in the Fall?) at Zolla/Lieberman, Chicago
David Corbett is showing at
65 Grand in Chicago
on April 28th
Jenene Nagy is showing at the Brewery in LA.
Vanessa Renwick is generally showing
most everwhere
Ellen George is showing in
Houston in October
.
The ever globe trotting
Matthew Picton
is in a show with Tara Donovan and Ingrid Calame (nice company mirroring the nice review he got from Christopher Knight) at Charlottsville's
Second Street Gallery in March
(He will also have more solo shows like San Francisco in April etc).
Both Dana Dart Mcclean and Wendy Red Star are currently showing at Laura Bartlett Gallery in London.
Jessica Jackson Hutchins is showing at
Milwaukee's INOVA
right now (in the 90's INOVA was one of my favorite international art institutions) and at Derek Eller Gallery in November
Also,Harrell Fletcher's the American War is up now at LA Art. After that Harrell's show is off to South America which will be interesting since he never intended the show for a non US audience.
There is so much much more, it is pretty difficult to keep track of it all.
(apologies to our international audience this next part may be confusing/amusing but it's something we have to deal with in a pioneering cultural situation)
Now let's also be clear, the only reason our largest paper, the Oregonian,
can write that the young and ambitious new wave of artists haven't been "passed" the "baton" in Portland yet
is the paper is either ignorant of or ignoring the scope of their activities around the globe (and in town). Portland's new wave of artists are the city's ambassadors, it has nothing to do with generational dominance as the new tide's sheer scope has simply expanded the playing field and yes that international outlook has pushed out some older artists out of galleries (but only some, it is natural).
Besides, even at home many of the "new wavers" have been given key University positions so even that shortsighted regionalist bias doesn't hold up well. The baton doesnt exist, this isnt a race it is an expansion and its just a bigger world. Such historical attention is absolutely deserved (Im a historian afterall) but the O is hurting its credibility by underestimating the activities of the new wave. Yes, as of today it seems like the O appreciates
the press releases
(which have been great for months) more
than the shows
, which they
have
ignored
. Also, Harrell Fletcher was selected for 2 consecutive Whitney Biennials before a full length article appeared in the O (it came on the occsasion that he might get a PSU University position). The O has done good things too like DK's "11 artists you should know" article many years ago. What has soured that outlook?
I partly understand the issue, people like myself and the critics at the WWeek, Mercury and even Row's predecessor Randy Gragg have picked horses in the new tide giving the O's current coverage less room to champion but it is beyond that now, some of the new wave are already mid career locally and increasingly hot outside of regional circles. Everyone (including the dealers and collectors) are more serious and many have stopped reading the O alltogether. This saddens me. Though to its credit and DK's the O does have a large amount of visual arts coverage. If they want to be the rear-guard, protectionist, regional voice that occasionally writes about very famous artists when they have a museum show then fine... but a whole audience is tuning out (this has been good for PORT so my motives here are altruistic).
The new tide cannot be stemmed, Portland is no longer an isolated place (and hasn't been for years) and it cannot be covered as if it is. All of Portland's publications (including PORT) need to ask what they are promoting, perpetuating and how they are critiquing what goes on now, because it will define Portland for decades.
I find the subject tiring but after 100 people (I started counting) asked me about this since January this simply had to be laid out. It is time because a sophisticated audience is the only thing that keeps the artists, dealers and non profits from being pushed out by development (hence the creation of PORT). Hopefully, I'll never have to return to this subject again, these are just common sense issues.