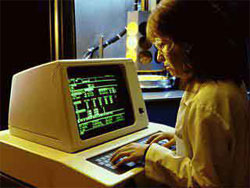 There are a lot of great resources for researching art and ideas online and around town. Academic, as well as public libraries hold an incredible supply of information in the greater Portland area. In addition, online resources grow daily and the ability to peruse through a catalog in New York or LA is incredibly easy. Please feel free share the resources that you know of by adding them to the list below in the comments that follow this entry.
Local
Public
Oregon College of Art and Craft
is both academic as well as public since their library is a part of the
Washington County Cooperative Library Services
which are an excellent group of libraries in the western suburbs. Through this site you can access their
online databases
(Reference being the most relevant for Art). A library card is required for the database search.
Part of what prompted doing some research on researching came from an email that
Bean Gilsdorf
sent into PORT about an excellent find at the
Multnomah County Library
. They have recently acquired a revised, adapted, updated and translated version of Emmanuel Bénézit's 14 volume Dictionnaire Critique et Documentaire des Peintres, Sculpteurs, Dessinateurs et Graveurs published in 1999 which is non circulating and available at the Central Branch on the 3rd floor.
Academic
(and available to the general public)
PNCA
You may access this library as a part of the publc at large for no fee but it's $75/year to borrow.
PSU
As a memebr of the public you may access the collection in a non-circulating manner or pay $50/year to borrow.
Marylhurst
Borrowing priviledges are given to library card holders from Clackamas, Multnomah and Wahington County.
Museum/Art Organization/Gallery
The
Portland Art Museum's Library
is non-circulating, free and open to the public . Their online database is searchable by typing rex into the library name section and signing in as a guest. The library also contains materials that are not catalogued but accessible through the staff.
PICA
also has a a non-circulating resource room that's $2 to enter if you are not a member. This is not searchable online.
Small A Projects
has a video library that is open to the public. Published on their website is a list of their holdings. Some titles are loaned out, others are for in house viewing only.
Out of Town
New York
The New York Public Library has a searchable image database called the
NYPL Digital Gallery
. Within it you access almost half a million images "digitized from primary sources and printed rarities in the collections of The New York Public Library, including illuminated manuscripts, historical maps, vintage posters, rare prints and photographs, illustrated books, printed ephemera, and more." Take a look. The images are gorgeous.
In addition the NYPL also has a research guide for
art research
and their
Art and Architecture Collection
can lead you around the web for additional information.
LA
In LA the
Getty
has a searchable catalog.
Online
General
If you find something online that you can't access physically because you don't live in or won't be visiting New York, LA or some other magical, far off land try searching for that particular title
here
. Simply enter the title or subject on the first page. When you've found your selection on the next page it will prompt you for your zip code. After that, it gives you a list of libraries near you that hold that title. Often, if it's not at your home library, they can get these materials for you through interlibrary loan (a fee can sometimes be required)
Google has added
Google Scholar
to it's search engines. Here "you can search across many disciplines and sources: peer-reviewed papers, theses, books, abstracts and articles, from academic publishers, professional societies, preprint repositories, universities and other scholarly organizations."
L-net
allows you access to a reference librarian 24/7 for your late night scholarly research.
Art-Related
Artcyclopedia
The Paris WebMuseum
World Wide Art Resources
Artsource