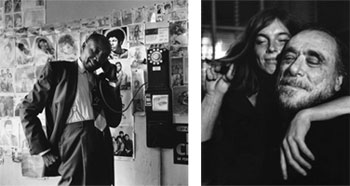 Yes, a fashionable boutique that sits among the smart young businesses on lower Burnside, has been hanging art on the walls since they opened two years ago. This month is their most sophisticated and impressive showing to date. Lawrence Robbin spent a year living in Los Angeles in the mid-1970s as a photographer for the radical Los Angeles Vanguard. Documenting everything from notable personalities such as Charles Bukowski to absurd and bittersweet street scenes, these black and white photos capture not only the spirit and the style of the era, but also highlighted the tenderness, humor, and emotional complexity of the subjects. Although the photos stand on their own as historical documents, Robbin's appreciation of composition and mastery of closing the shutter at the right moment give them life as works of art. Tonight, Robbin will be up from California to present fifteen works in the LA76 series.
Lawrence Robbin • LA76
Artist Reception • Tuesday, June 20th • 7 to 10p
Yes • 811 E Burnside
Definitely a pretty amazing show for Yes to have in their boutique. Too bad I can't make it to the reception tonight.
Thanks for signing in, . Now you can comment. (sign out)
(If you haven't left a comment here before, you may need to be approved by the site owner before your comment will appear. Until then, it won't appear on the entry. Thanks for waiting.)