Mi Wu at Ogle
Mi Wu
's minimalish installation at Ogle
was one of the better things on view this month. Consisting of delicate installations of flour, they just beg to be trampled. This sets up a cognitive dissonance between respect for effort and art vs. the typical child-like impulse to destroy for the fun of it. Even the gallery's red stained floors add to the cool of this show. Frankly, I might just like this simply because I like
Wolfgang Laib
so much. Ogle Gallery, 310 NW Broadway, ends April 29th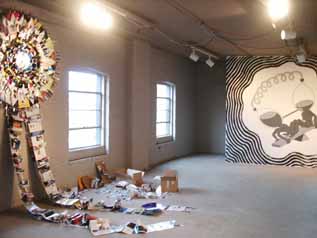 Paige Saez's Art Forum (left), Scott Harrison (right)
Boredom: I learned it by watching you
@
PAC
You can tell it's a freshman curatorial effort from the title which intentionally lowers the bar while making a clumsy attempt at passive aggressiveness by adding the overly verbose subtitle. Tip, if the title is awkward it uses up whatever sympathy the awkward works might otherwise have enjoyed. Better titles would have been, "Uneasy", "Ho Hum", "Stilted","Ponderous", "Predictable" or "Formulaic" (which is my personal fav here). Titles frame the conversation about the show and the poseur title here just makes me want to gauge levels of amatuerism (but Ill be nice and go beyond that).
Now for the work, which can be sorted into three categories, "sharing tired conceits about ennui", "overcooked academic posturing executed poorly" and "lame excuses, excused lamely?" Three decent works that share tired conceits about ennui are Paige Saez's giant fair ribbon titled "Art Forum" (guess what its made of?), Scott Harrison's "Another Hideous, Non-Functioning Being for the Northwest's Avant Garde" and Andi Kovel's "Color Theory Manipulated." Kovel's works are modified found objects which we saw over a year ago the Savage gallery. These three are the best works in the show and are not featured very prominently. If you like tired conceits about the silliness of Art Forum, the now out of date notions of Northwest artists as being isolated and bad paintings from thrift stores that celebrate their badness then the works by these three artists is for you. You might also need to stop stewing in your own sarcasm. Then again one of the charms of the art world is its near limiteless opportunities for multilayered sarcasm (which is somehow different than watching TV?).
detail of Foucault's Draw (left), Henderson's chandelier made of apples with a long title is in the center of the room
True Harvest Henderson's Expropriation/Absence Myth (I dreamed we all rose at once to destroy and reclaim it) isn't poorly executed but it is full of overcooked academic posturing and just because it was probably intentional doesn't make it any better. Peter Foucault's "Draw" is guilty of all of the sins like posturing and overcooked academia but includes a poorly executed presentation (just use the video monitors next time).
Much of the other work here simply falls into the "lame excuses, excused lamely" category. The biggest problem with lowering the bar is if you still fail it's even sadder. If this was thinned out and reconfigured to feature the strongest works then this would have been the purposeful disappointment as advertised in the title, right now its a laundry list of formulaic work.
Still, this was a virgin curatorial effort and though it isn't as good as some of the shows I've seen at the Hall Gallery warehouse space I applaud PAC for facilitating this. It's a step in the right direction and they took risks asking novice curators (Josh Arseneau and Gabriel Flores) to tackle the job. It takes a few stumbles to get it right. Despite that the Portland Art Center itself still needs a hit show to prove why they are more than just a provider of space (and I suspect they will). Also, what's up with the omnipresent and ponderous wall text here? Had they left only the wall text this show would have been spot on institutional critique.