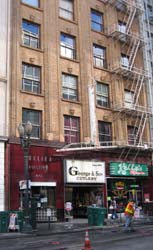 Justin Oswald has just announced that he will be closing the doors of Gallery 500 on December 1, after a final show that opens next week with work by Troy Briggs and Nicholas Di Genova. He's being secretive about future plans for now, but Oswald definitely isn't shutting the doors on Portland - we can expect more from him in the coming months. He writes, "I have a strong desire to discover alternate ways to continue re-invigorating the Portland art scene via new efforts and projects. How and when these ventures will come to light has yet to be announced, but I am committed to this city..."
During the past 3 years, we've seen the space at 420 SW Washington evolve from the best Thursday night party pad to a legitimate gallery. Let's hope the trend continues in Oswald's next venture.
Yes, it is a good time to move onto better things. Justin grew a great deal in the last year alone and whatever he does next in art here will be more exciting than G5. ...this isnt so much a sad day as the beginning of something exciting. Time to retool.
Thanks for signing in, . Now you can comment. (sign out)
(If you haven't left a comment here before, you may need to be approved by the site owner before your comment will appear. Until then, it won't appear on the entry. Thanks for waiting.)