Wow, the new Mark Wooley Gallery is incredible and hosts a formidable group show of national artists.
I can't think of a more ideal space for exhibitions: giant movable walls, a beautiful wood floor, lots and lots of space. This is a beautiful coup for portland, and the send off show delivers on the promise of this space.
I had time to pop in at the opening just long enough to take some pix, so I thought I would share them so you can take a look at the luxurious space for yourself.
By the way, as I'm writing it's only nine, so there's still time to catch the all night dance party!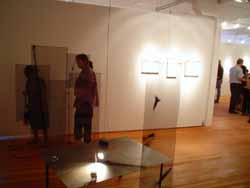 Thanks for signing in, . Now you can comment. (sign out)
(If you haven't left a comment here before, you may need to be approved by the site owner before your comment will appear. Until then, it won't appear on the entry. Thanks for waiting.)