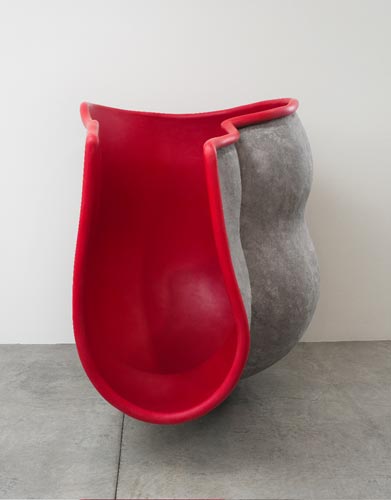 redpocket, 2009, fiberglass
Meet Los Angeles based sculptor, Peter Shelton Wednesday, April 13, 6:00 PM at his show in the Miller Gallery in the Mark Building.
Shelton will discuss his work which includes three recent large-scale sculptures and a selection of drawings currently on view as the latest in the Miller-Meigs series shows. Described as, "Manifestly precise in execution and explicitly physical, the works are focused on the interrelationships between image, surface, and prevailing theories of abstraction. Playing with color and silhouette, Shelton invents a fresh vocabulary of abstract signifiers from memories of the human body and the structures of architecture."
Normally these events are open only to Contemporary Art Council members (one of the best ways to learn about contemporary art in the city) so this is a great way to check out this important program... [*disclosure I am a past Vice President]
Because there are refreshments please RSVP to contemporaryartcouncil@gmail.com or 503-276-4267 ext. 2.
Peter Shelton
through June 12,
Reception Wednesday, April 13, 6:00 PM,
Miller Gallery in the Mark Building
Portland Art Museum
1219 SW Park Avenue
Thanks for signing in, . Now you can comment. (sign out)
(If you haven't left a comment here before, you may need to be approved by the site owner before your comment will appear. Until then, it won't appear on the entry. Thanks for waiting.)