UO's medical and athletic center, designed by ZGF
Eugene Sandoval, lead architect at
ZGF
, is speaking at UO White Stag this week for their Architecture & Allied Arts' spring lecture series. Lectures are free and open to the public.
Architecture lecture • 12-1pm • May 19
UO Portland
• White Stag Building Event Room • 70 NW Couch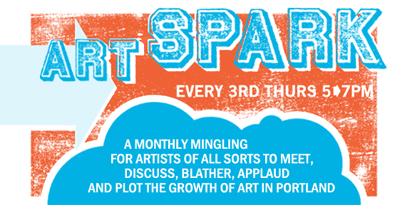 TILT Export, a curating project run by Josh Smith and former PORTstar Jenene Nagy, is hosting Art Spark at Vendetta this month. Dubbing the event "curatorial speed dating," the pair is soliciting artists to "knock their socks off." Send in images ahead of time to
tilt@jjfab.com
with "Art Spark" in the subject line, then show up at the event to present your project idea to TILT Export in five minutes. Participants will be considered for upcoming TILT Export projects being planned in other cities. A number of other local curators will be in attendance as well, including Avantika Bawa of Aquaspace, Derek Faust of Doppler PDX, and Damien Gilley of IGLOO.
Art adventure • 5-7pm • May 20
Art Spark @ Vendetta
• 4306 N Williams
Thanks for signing in, . Now you can comment. (sign out)
(If you haven't left a comment here before, you may need to be approved by the site owner before your comment will appear. Until then, it won't appear on the entry. Thanks for waiting.)