Memory/Frequency is a tightly curated show that explores cognitive dissonances and synchronicities through the work of three PNCA professors; Carl Diehl, Lennie Pitkin and Tracey Cockrell. It's a taut, liminally fringed show at Worksound that is even more mysterious for the fact that its curator has chosen to remain anonymous. Rest assured though, whomever put these three in one place definitely knows their stuff.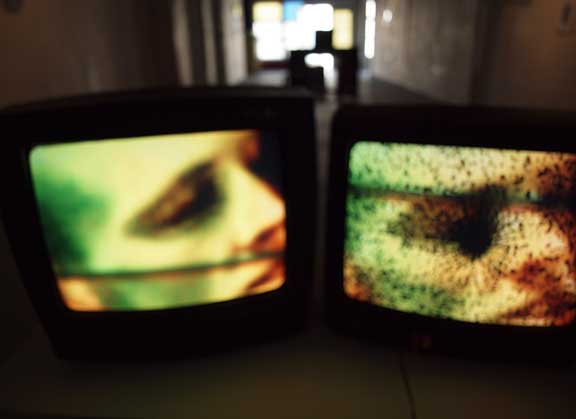 Carl Diehl's
Puzzling the Ficto-Quizzical (w/Weird Fiction) digital/electronic video, 2009
photo Jeff Jahn
As shows go, Memory/Frequency is uneasy in character but excellent and it is perversely infused with too much information, synchronicity and intriguingly large swaths of negated logic. For example if you were there for the opening only Pitkin's work was intelligible as the band Weird Fiction (including Diehl, Mack McFarland, Jeff Richardson, Zack Benfinld and Vihn Manson) took the stage. Despite the interesting crossover, I enjoyed the show infinitely more than the band.
Installation vie of Lennie Pitkin's Everyday Disasters at Worksound
For example, Pitkin's Everyday Disaster Series consists of prints combining a satellite image and text. The configuration reminds me a bit of
Sophie Calle
. Each image be it; storm, volcano, ice shelf or plankton bloom is accompanied with a text that weaves disparate stories of human and natural activity. One of the best ones is Cyclone 06B over Sri Lanka, which consists of a black and white satellite image of the storm and a text detailing the ethnic strife between the Tamils and Singhalese in Sri Lanka. It's only when the storm clears out the area around the Tamil headquarters that the Sri Lankan military launches a surprise attack killing 8,000 Tamils while loosing 3,800 of their own during the initial attack and cleanup operations. Other prints describing the Wilkin's ice shelf or the plight of displaced Darfur refugee's on the slopes of a very dangerous volcano similarly reveal the inadequate mainstream media coverage of these events.
It also challenges our own awareness of such synchronicitous events… were we buying ice cream or having a pedicure when these events were happening. The prospects of this information limbs and helps us understand the limits of our conscious awareness to the constant barrage of bad news in the world. Do we as Americans choose to follow the plight of Anna Nicole Smith and ignore the Sri Lankan situation because we are simply wee-minded celeb-utard trackers or because the truth and extent of human suffering is so vast it is paralyzing? Clearly some are doing what they can and Pitkin's prints poses a vexing question… will humanitarian efforts ever be "enough" on a planet that both sustains and destroys us?
Carl Diehl's
Derelict Theory Objects
Carl Diehl's Work in Memory/Frequency is a strange dark voyage into a cave of media overloaded paralysis, paranormal conjecture, schizoid jargon and rank paranoia. With its trippy convulsions of multiple images the work reminds me a bit of the very talented and greatly missed Jeremy Blake, only a lot more paranoid and hyperactive. Carl's most prominent project to date was the
Video Gentleman's collective show that quirkily kicked off the NAAU's Couture Series
and I see a similar lo-fi analog aesthetic confluence here… only a lot more disturbing.
For instance, one Barnes Foundation like wall cluster contains a poster touting "panopticonciousness" is
Derelict Theory Objects
suggests a certain amount of alien brain infiltration has occurred and the rather officious sounding jargon. The end sentence of the frame which contains text suggests that, "the panopticconscousness objector considers learning how and when to blink," in the face of constant information bombardment. It sounds totally schizophrenic, not dissimilar to the sort of things that some very troubled people shout on Portland streets but there is a grain of truth here…. in that how one chooses to drop out of the media stream is key to having an identity and unique point of view. Yet at this point I'm slightly worried about the artist whom Ive followed for years but only in small doses.
detail of
Derelict Theory Objects
Cracked Memex
Next, I encountered a work station desk outfitted with earphones, some analog audio equipment, a video screen flashing with imagery, a pad of paper and another imbedded screen that strobes official looking documents way too quickly for any human to read. It's called
Cracked Memex
. From the derelict theory object tableau description I surmise this is the same memex described as, "Vannevar Bush's marvelous memex promised to expand the reach of the human mind, amplifying associational structures, correlating the contents of the world. Born obsolete, it never made it past vaporware."
Vennevar Bush
was a real person, in fact he was responsible for the Manhattan Project and considered a precursor to the internet. In the 30's his idea for the Memex was a, "device in which an individual stores all his books, records, and communications, and which is mechanized so that it may be consulted with exceeding speed and flexibility." Later in life he unsuccessfully tried to develop one which used microfilm.
Apparently in Diehl's hands a cracked version of the memex did make it beyond vaporware and the device ready for use here certainly pummels ones psyche with associations, much like that scene in Kubrick's a clockwork orange… except without the eyelids taped open. As information strobed I scribbled a few notes from the audio about "querty core," the "obliterati" and some mass "fear of levitation." Once again this is heavy on officious jargon but it makes some sense. For instance, I'm practically connected to some sort of querty keyboard every conscious minute of the day (smart phones, computers etc.) and the relentlessness of the images isn't that weird except for the rate of information and the jargon associated to it. It isn't any different that Tokyo or Times Square. Even the whispery voice in the earphones is a computer generated affair. Overall, it is paranoia and paralysis inducing rather than eye-opening.
detail of
Cracked Memex
At this point I became very worried about the artist so I asked a question on facebook about Diehl's sanity. Do I take this guy seriously or does he need help?
Answer, he's apparently very sane and quite reliable... so I suspect this multimedia sculpture or "cracked memex" is an analog for art itself. It expands the reach of the human mind through associations… sounds like any art with images or structure to me. In a way it's an update of Nam Jun Paik and it also resembles the ecclesiastical clusterfucks of Jason Rhoades, only more haunted. The work isn't quite a immersive or refined as theirs but I suspect Diehl could pull of a very convincing solo show if he went for greater object saturation and information overload.
Another 2 channel video piece
Puzzling the Ficto-Quizzical (w/Weird Fiction) digital/electronic video, 2009
plays with the synchronicity between screens. What appears on the right screen soon appears on the left, sometimes slightly altered. This creates an anticipatory
apophenia
slightly akin to video work by Laura Fritz but where hers is arch mysterious and full of fascinating space this work is more tuned to pop phenomena, echoing the way the often vapid actions of celebrities get echoed around the mainstream gossip hound media. It leaves one brain feeling like they've been channel surfing for twenty minutes.
Sundown (Landscape Anarchitecture Series)
The final video in back room is
Sundown (Landscape Anarchitecture Series)
. Though the title references
Gordon Matta Clark's Architecture Serie
s, it's most related to
Jeremy Blake's Winchester House
video. Like Blake's it is a slow, weird and dense piece and I wonder if it wouldn't be more realized and immersive on a much larger TV screen? The change of pace in contrast to the rest of Diehl's often rapid fire work is very effective but I'm not certain the TV on the floor does it much justice.
Overall, I get the sense Diehl cleared his closet out for this show… displaying a grouping from the past few years. This house cleaning also suggests he's ready for a more concentrated solo show perhaps? Hopefully, it will be one where the individual works could be more immersive and less overlapping in character as this type of art can become a blur of arcane experiences that reduce each other rather than amplify. I liked this effort but I suspect something more be right around the corner. Something weirder and more derelict?
Tracey Cockrell's
Noiseless
Of the three artists here Tracey Cockrell's work felt the most academic in nature. Her well crafted custom typewriters like
Noiseless
and
Quiet de Luxe
from her poemophone series only have certain keys, alluding to their poetic selections while evoking a nostalgic preoccupation with a keyboard not connected to a microprocessor. It's definitely not query-core.
Cockrell installation
The most satisfying work though is her sound installation, Excerpt, Central Park, NYC, August 8, 2009. A simple corner piled with cedar chips and a park bench invites visitors to sit and listen, but what clinches its success is the cedar. As the viewer sits and listens to the sounds of people passing by they might absent mindedly kick up the fragrant cedar chips. Scent is the sense most closely tied to memory and the cedar smell quickly brought to mind innumerable park situations.
Most of the sounds are simply those of people rushing by but the snippets of conversations are suggested. Only one regarding someone's "meanness"? is all that intelligible and the mind races while trying to string together some coherent narrative, this too is apophenia inducing (
Jeremy Blake
,
Laura Fritz
,
Anne Hamilton
and
Inigo Manglano-Ovalle
all are arch apophenists). It's also a good set up for February's Disquieted show at PAM, which features Tom Freidman, Andreas Gurskey, John Baldesari and Doug Aitken etc.
Overall, the synchronicities between Pitkin, Diehl and Cockrell made for one of the best curated shows in recent memory (pun intended) and I'm left wondering why we don't see more tight three-person shows like this?
Show runs through October 30st at
Worksound
Gallery Hours : Wednesday - Friday 2pm to 5pm
or by Appointments 415 516-0569