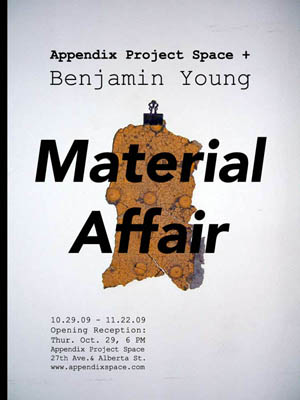 Appendix presents Benjamin Young's installation
Material Affair
. "In collaboration with collected materials, Young sculpturally explores the tension, process, and ecology of synthesized form."
Opening reception • 6-11pm • October 29
Appendix Project Space
• South alley b/w 26th and 27th on NE Alberta St. •
appendixspace@gmail.com
Jason Doizé
False Front presents Jason Doizé's
Hikikomori
. Inspired by a found online confession, Doizé began to explore the Japanese concept of
Hikikomori
, or acute social withdrawal. Doizé's artistic take on the phenomenon asks the question: "To what degree do we open our 'little home boxes' we inhabit and allow others in? Maybe the idea of shutting-in isn't foreign at all. Maybe in the end we're all hikikomori."
Opening reception • 6-10pm • October 29
False Front Studio
• 4518 NE 32nd •
jasondoize@mac.com
Thanks for signing in, . Now you can comment. (sign out)
(If you haven't left a comment here before, you may need to be approved by the site owner before your comment will appear. Until then, it won't appear on the entry. Thanks for waiting.)