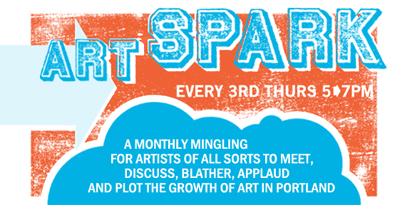 Portland Mural Defense
is facilitating Art Spark this month. They'll explore the importance and history of murals in Portland, and muralist Robin Dunitz will be present.
Art chat • 5-7pm • October 15
Art Spark @ Zaytoons
• 2236 NE Alberta
Gretchen Hogue
Ongoing at Ditch Projects: Gretchen Hogue's
ESCAPE ROUTES/disposable comfort
. "Unearthing new meaning in images pilfered from the detritus bins of the electronic age,
ESCAPE ROUTES/disposable comfort
constructs psychic landscapes for internal weather patterns. The models from an industrial safety catalog populate a distracted world of imperfect isolation and impenetrable protection. Endless loops trace the pulse of elusive escape routes, plotted and re-plotted, the internal blueprints for self-preservation."
Exhibition • October 10-31, 2009
Ditch Projects
• 305 S 5th Ave #190 Springfield, OR •
info@ditchprojects.com
Thanks for signing in, . Now you can comment. (sign out)
(If you haven't left a comment here before, you may need to be approved by the site owner before your comment will appear. Until then, it won't appear on the entry. Thanks for waiting.)