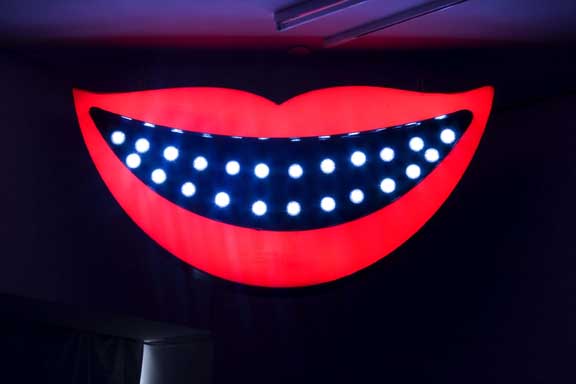 Biggers' Cheshire (2008)
The latest additions to the Portland Art Museum's contemporary collection are two of
Sanford Biggers
' "Cheshire" works; a video piece and a newly installed wall/floor sculpture with a LED light show. Both purchases were made possible through fund's provided by the
Contemporary Art Council
. They will both be on display through August 30th as part of
Biggers' show in the ongoing Miller-Meigs series
.
The Cheshire sculpture acts both as as a sign and light show performance, with its teeth approximating the Cheshire cat's winking but toothy smile. Like most of Biggers' more recent work its tough to categorize because it is somewhat pop, a performance prop, a literary reference and an ostensible rebus... not unlike Biggers' symbolic trees or the Cheshire Cat's smile in the Alice in Wonderland story. Biggers is interested in accumulating varied sources and syncretizing them so that the sampled elements are all coexist in a recognizable stew of elements relevant in the past and present as a continuum for the future. I particularly like how Cheshire's lights seem blink in relation to the music being played in the room (Biggers own rendition of
Strange Fruit
, a poem then song written to condemn racial violence, especially lynchings).
Still from Cheshire (2007) video
The Cheshire video is one of Biggers' "Tree Series", depicting several men climbing trees to the soundtrack of Strange Fruit. It is
currently on display with and relates to the large scale sculpture Blossom
with its tree growing through a piano and the Cheshire mouth sculpture. Both of the tree works explore the lives of men as expressed through how they move through systematic societal patterns.
I'm a big fan of tree's in art (
Goya
, Ruebens, Van Ruisdael, Freidrich, Cezanne, Klee and
Mondian
all being important tree artists) and Biggers' Cheshire video is an interesting addition to PAM's growing thread of interesting tree pieces in the collection. In addition to a
Gauguin
, Derain, Kenneth Snellson's Forest Devil and forest of photographs there are a lot of noteworthy trees in PAM's collection.
There's Theo Van Doesberg's Tree (1916) acquired from the artist's widow by Jan de Graaff
Ernst Ludwig Kirchner's Fir Trees (C. 1925) gifted to PAM by the legendary Curt Valentine
Kevin Appel's House: North View Through Court (1999) Jubitz Center for Modern and Contemporary Art, 4th Floor
Tom Cramer's Redwood Forest (1999)
The list goes on and on with works by other local artists like Michael Brophy", David Rosenak and numerous sculptures carved from tees etc.
What I can say is that trees in art almost always have a romantic quality to them.