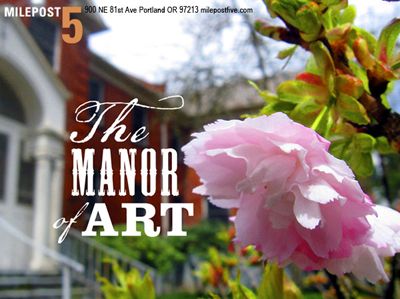 MP5's ambitious group exhibition, performance, and music series
Manor of Art
opens this weekend. Following in the tradition of Portland group experiences like the
Modern Zoo
,
Manor of Art
presents over 100 artists transforming the yet-to-be-renovated rooms of MP5's
Studios
building. The event lasts for 10 days, and also includes a series of music shows and experimental theater performances. More information and the full schedule
is here
.
Opening event • 6-9pm • August 14
Milepost 5
• 900 NE 81st Ave • 503.998.4878
Ryan Sarah Murphy
Also launching this weekend at MP5: TJ Norris'
The Grid
will open in the MP5
3
exhibition space.
The Grid
features 27 international artists using small-scale works to explore the concept of the grid, "seen as a way to organize, divide and separate... both ideas and formalities." The show runs August 14 - October 17, 2009, and will have its opening reception next weekend.
Opening reception • 7-9pm • August 22
Milepost 5
• 900 NE 81st Ave • 503.998.4878
Thanks for signing in, . Now you can comment. (sign out)
(If you haven't left a comment here before, you may need to be approved by the site owner before your comment will appear. Until then, it won't appear on the entry. Thanks for waiting.)