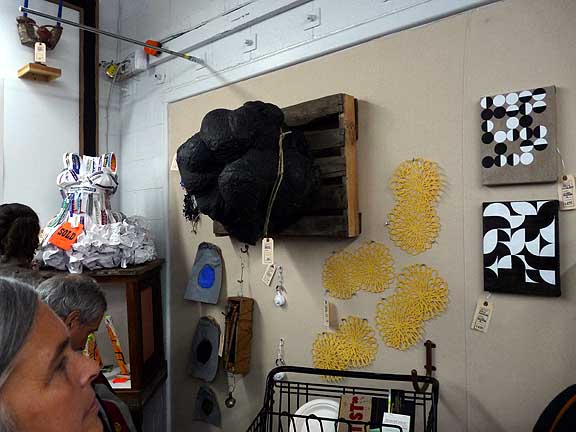 Taking a page from Claes Oldenberg, artist and local businessman John Brodie gave a large crowd of Portland artists and collectors reason to celebrate a little, despite the down economy with
STORE For A Month
. The work was affordably priced with some real gems. Works by Paige Saez (the gold cutouts) and PORT's own Arcy Douglass (the stark black and white paintings) were some of my favorites.
Josh Arseneau's altered books
Storm Tharp's work didn't last long
Josh Smith's Trap #2 was a highlight... Id like to see this Michael Heizer-esque contraption at an enormous scale.
Glenda always steals the show with the best hair and glasses in Portland
STORE For A Month proprietor John Brodie in a JB painted suit.
Video of the opening
Nathan Gibson's skull-like offering
Jack Dingo Ryan's diorama was another highlight.
Cutouts by the talented Paige Saez
Overall a spirit lifting event that shows the backbone and core of Portland's art scene... it isnt ruled by museum's, galleries or even collectors, it's a community of artists that show locally and internationally who are very willing to let one another participate. As you can see, even some of this bargain work is very very good.
Thanks for signing in, . Now you can comment. (sign out)
(If you haven't left a comment here before, you may need to be approved by the site owner before your comment will appear. Until then, it won't appear on the entry. Thanks for waiting.)