Dinh Q. Lê, Signs and Signals From the Periphery, installation view
The sound of rushing water greets visitors as they walk into the Elizabeth Leach Gallery. Not the calming sound of a river, but the insistent, pounding surge of a pump pouring full force into a plastic bucket. It brings just a little bit of the chaos of a street in Ho Chi Minh City to this quiet gallery on a quiet block in Portland, Oregon.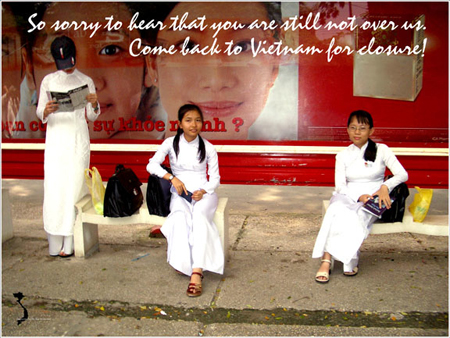 Dinh Q. Lê, "So Sorry [from the series Vietnam Destination for the New Millennium]," 2005
Dinh Q. Lê was born in Vietnam in 1968 and raised in the United States. He returned to Vietnam as an adult in the late 1990s. Much of Lê's work seeks to reconcile his American upbringing with his Vietnamese roots, and his perceptions of Vietnamese life as both a foreigner and a man who has come home. In 2006, he participated in
Here and Now
, a group exhibition at Elizabeth Leach. The show featured four international artists whose work explores the complex relationship between ethnic and national identity.
Dinh Q. Lê, Signs and Signals From the Periphery, installation view
In
Signs and Signals from the Periphery
, Lê introduces us to an intriguing phenomenon that has emerged from the Vietnamese economy. Black market businesses, from illegal porn sales to illicit gas stations, have developed a system of signs to indicate their availability. Bicycles are a popular form of transportation, and their repair stations are marked everywhere by inventive tire sculptures. In order to distinguish themselves from the competition, many vendors have created distinctive shapes or wrapped tires in colorful plastic. Rushing fountains indicate water pumps for sale. Gas stations are identified by paper funnels or plastic jugs protruding from small red bricks, and porn shops by unmarked DVDs glinting in the sun. These objects, drawn directly from their represented trade, are the disposable ephemera of an equally transitory system of commerce, transformed into a network of signs that rely on a seemingly effortless cultural understanding.
Dinh Q. Lê, "The Infrastructure of Nationalism I," 2009
Coming from a critical tradition obsessed with signs, signifiers, and simulacra, it is astonishing to encounter this system. Lê has taken great pains to highlight the connection between Western semiotics and Vietnamese ingenuity. Purchasing the tire structures and bicycle displays whole from street vendors
1
, he shipped them to the U.S. and re-presented them as readymades with titles like
The Infrastructure of Nationalism
and
I am Large. I Contain Multitudes
. What is nationalism, but a system of signs packaged as beliefs and sold to citizenry? As you gaze into the dozens of mirrors perched on the back of
I am Large
, the gallery reflecting at every angle, it is impossible not to imagine the teeming multitudes of a busy Vietnamese street reflecting back at you instead, captured in the tangled symbolism of economy and culture.
Dinh Q. Lê, "Gasoline 4 Sale Signals," 2009
In titling the show
Signs and Signals From the Periphery
, Lê highlights not only the relationship between sign (DVD) and signified (porn for sale), but also the relationship between cultural source and cultural consumer. Modern art world parlance teaches us that the periphery is a cultural space that operates outside of, but in dialogue with, the mainstream. It is to this periphery that the cultural "other" is so frequently assigned, and at this periphery that we so often return to lap up the "innocent" genius. From Gauguin's passion for Tahitian women to the modern passion for outsider street art, Western art history has a time-honored love affair with otherness, and Lê teases this out with his peripheral signals. Accompanying the sculptures are a series of photographs showing the signs for bicycle repair, gasoline and pornography in their original locations.
These objects come from somewhere
, the photographs insist,
and it is a place that you may not readily understand
.
Dinh Q. Lê, "Untitled (Tom Cruise & Willam Dafoe, Born on the 4th of July/Highway 1)," 2000
In drawing out the viewer's cultural awareness, Lê calls attention to his own multiculturalism. He is a Vietnamese man who grew up and learned to make art in America, then returned to Vietnam as an American artist. To understand his heritage, Lê must parse family customs from American interpretations, untangling a cross-cultural relationship marked by a relatively recent and bloody war. After a decade back in Vietnam, does he still see these signs and signals through hybrid or Americanized eyes? And from what periphery is Lê working - the American artist in Vietnam or the Vietnamese immigrant in America?
The answer, we assume, lies somewhere in between. Globalism, pluralism, and all sorts of other post-colonial-isms have opened up a world of cultural interchange where nationality is abstract and ethnicity is, at best, problematic. In
Signs and Signals From the Periphery
, Lê taps into a rich critical discourse surrounding the increasingly international field of art making. By aestheticizing an economic phenomenon and bringing it across continents, Lê has grounded the process of representation in the "real" exchange of commerce and culture.
1
The gallery informs me that the woman who owned the mirrored bicycle resisted Lê's initial overtures. He had to return several times to her shop of bicycle mirrors and accessories before he convinced her that he really, truly wanted to purchase
everything
. This anecdote, and the bicycle's current $20,000 price tag (edition of three), points to that infamous but persistent disconnect between the use-value and the art-value of objects.
Signs and Signals From the Periphery
will be on view at the
Elizabeth Leach Gallery
through June 15, 2009.
Though I still havn't seen Sanford Biggers at PAM or Bethany Ides at Worksound, I felt that Dinh's was the most impressive solo show this month in Portland. It's also the best show Ive ever seen him put on.
Also, I thought chaining a bicycle to the tree out front was another nice touch.