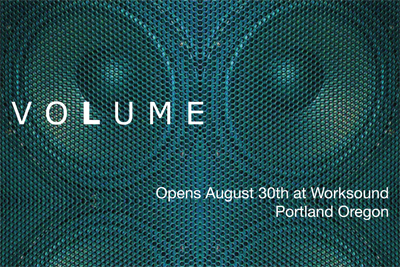 Portland's art community has truly been stepping up to reexamine and re-imagine our fair city as it grows, and, more importantly, to guide its growth. Continuing the discourse opened by exhibitions like last month's
PDXplore
and the recently opened
Suddenly
, PORT's own
Jeff Jahn
is curating
Volume
, which opens this weekend at Worksound.
Volume
, Jahn's first non-institutional warehouse show since 2005, surveys "how Portland's art scene addresses, redirects, abuses and redefines space." Housed in one of the oldest buildings on the eastside, Worksound is especially well suited to the exploration of the development of the city and its once gritty/industrial Central Eastside (Arts) Industrial District. The exhibit features a lecture in late September by Arun Jain, Chief Urban Designer, City of Portland.
Opening reception • 7-9:30pm • August 30
Also open for First Friday
Lecture • 7pm • September 23
Worksound
• 820 SE Alder •
mojomodou@gmail.com
AudioCinema's third annual AudioCinema Visual Collection exhibition opens this weekend. It's an immense warehouse show exhibiting over 50 artists in a "mixed media event," with everything from painting to sculpture to installation to performance to fashion. Featured artists include veterans Troy Briggs, Samantha Wall, Bean Gilsdorf, and Cyrus Smith, as well as new additions Chris Haberman, Alex Steckly, and the House of Badger. The D'Merde Salon will also be present with a fashion show. With the mission statement,
Build community, culture, and camaraderie in a non-competitive atmosphere
, AudioCinema has succeeded in presenting a wide, visually sumptuous, and surprisingly uncrowded variety of work in their annual AC/VC programming.
Opening reception • 6pm-2am • August 30
Free before 10pm, $8 after 10pm
AudioCinema
• 226 SE Madison • 503.467.4554
And if you're still not satisfied on Saturday night, head north to Rererato for the
Free Form Film Fest
. The FFFF is a traveling festival of experimental film shorts and music by loaf-i and inner mission productions.
Film Fest • 7pm • August 30 • Suggest donation $5
Rererato
• 5135 NE 42nd AVE •
info@rererato.com
*removed
PORT is not a platform for trolling its writers or grinding a flamer's axe.