Portland is unique as a scene defined mostly by its artists, not its institutions or galleries and there are several interesting out of town art shows for Portlanders opening in the next few days.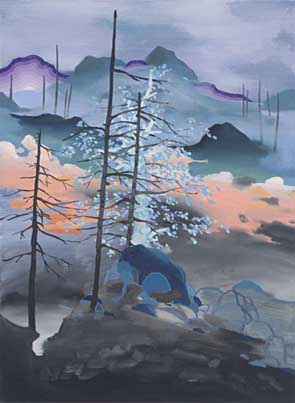 Adam Sorensen's National Park
Today Adam Sorensen makes his debut at
Seattle's James Harris Gallery
. Sorensen's break out solo show
at Elizabeth Leach last year
had us expecting more and this looks like a serious effort. His work was even collected by the CW network last year. (Sorensen has switched his representation in Portland to
PDX Contemporary Art
too).
Another Portland favorite Bwana Spoons has an excellent looking show at
Giant Robot's gallery
in the East Village which opens on Saturday.
Former Portlander, Anna Fidler is also in a show in NY at Little Cakes Gallery (625 East 6th Street #1B). Check it out if your there.
Thanks for signing in, . Now you can comment. (sign out)
(If you haven't left a comment here before, you may need to be approved by the site owner before your comment will appear. Until then, it won't appear on the entry. Thanks for waiting.)