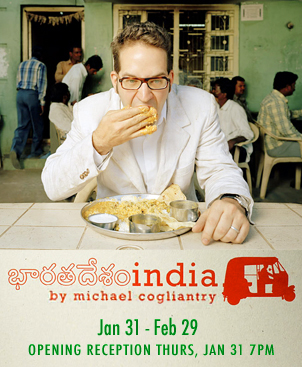 Opening this week at Rererato:
Two Thousand Kilometers in Two Weeks: Photographer Michael Cogliantry Takes on India in a Rickshaw
. In December 2006,
Cogliantry
traveled from the Malabar Coast of Cochin (Kochin) to Hyderabad, documenting his travels along the way. For this exhibition, Cogliantry presents a series of self portraits taken during the trip, forming a "unique narrative" that expresses his journey of self discovery through the eyes of a fictional character. There will also be a book signing at the opening.
Opening reception • 7-10pm • January 31
Rererato
• 5135 NE 42nd AVE •
info@rererato.com
Thanks for signing in, . Now you can comment. (sign out)
(If you haven't left a comment here before, you may need to be approved by the site owner before your comment will appear. Until then, it won't appear on the entry. Thanks for waiting.)